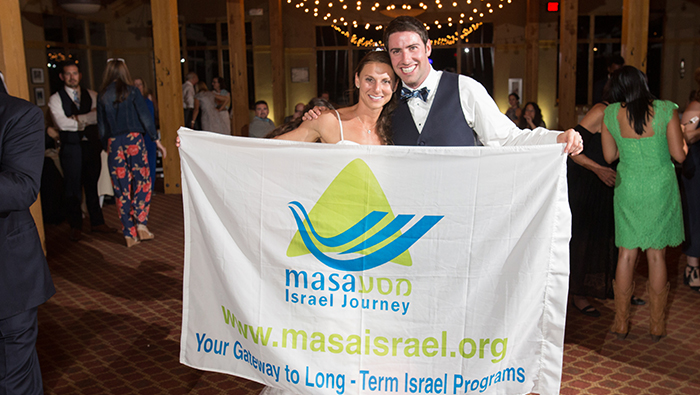 PHOTO: Seth Reder, a Boring, OR, native, met his wife Debbie Stone when the two were teaching English in a low-performing school in Israel as participants in the Masa Israel Teaching Fellowship, an initiative of Masa Israel Journey in partnership with the Ministry of Education and The Jewish Agency for Israel. The couple is now expecting their first child. Photo by Charles Townsend Photography
An Oregon native and his wife, who met and fell in love while volunteering in Israel in 2013, are now preparing to welcome their first child, just in time for Tu B'Av – better known as the Jewish holiday of love.
Seth Reder, now 31, who grew up in Boring, was participating in Masa Israel Teaching Fellows in 2013 when he first crossed paths with Debbie Stone.
Reder and Stone are among the more than 800 young professionals that Masa Israel Journey has brought into the classroom at low-performing schools across the country since 2011, when it launched MITF in partnership with the Israeli government's Ministry of Education and The Jewish Agency for Israel. "Masa Israel Teaching Fellows offers young people the rare opportunity to develop their professional skills and engage in self-discovery while having a deep impact on the ground in Israel," says Tamar Zilbershatz, Masa Israel's director of gap and service programs.
Reder and Stone worked as teachers' assistants and led small group instruction, connecting with students – and one another.
"I will always be indebted to Masa because it allowed me to live in Israel and gain both professional and life experience," Stone says. "Not only did I come back a changed person with a newfound Jewish identity, but also was fortunate enough to meet my incredible husband in the process."
After returning from the fellowship, Reder and Stone, who hails from Connecticut, moved to Denver, where they parlayed their experiences as Masa Israel Teaching Fellows into careers in education. Stone now teaches seventh grade history, and Reder is the associate director of leadership programs for Hillel U, a new program that equips Hillel professionals with the tools and knowledge to better serve students on campus. Reder, who joined the Hillel U staff in June 2017, develops leadership programs, educational trainings and onboarding practices for all Hillel professionals.
The couple is also involved in Denver's Jewish community; they are members of Denver's Young Jewish Professionals network and are active Masa Israel Journey alumni, encouraging others to follow in their Masa Israel Journey footsteps – whether or not it leads to marriage and a baby!
"My Masa Israel Journey experience has truly shaped who I am as an individual, both personally and professionally," Reder says. "In addition to having a phenomenal experience learning and growing in Israel, Masa Israel helped me to find my passion as a Jewish professional and educator, and led me to the greatest gift of all; my family! To say that Masa changed my life is an understatement – it was the start of my new journey in becoming who I am today."
Masa Israel Journey is the leader in immersive international experiences in Israel. Masa Israel connects young people ages 18-30 who are seeking to enrich their personal and professional growth with the top gap year, study abroad, service-learning and career development opportunities. Through subsidized, individually tailored programs, developed and implemented in collaboration with The Jewish Agency for Israel and the Government of Israel, Masa participants immerse themselves in the community and embark on a journey that will change both the course of their lives, and of the Jewish people's future. More info at @MasaIsrael and on Facebook.