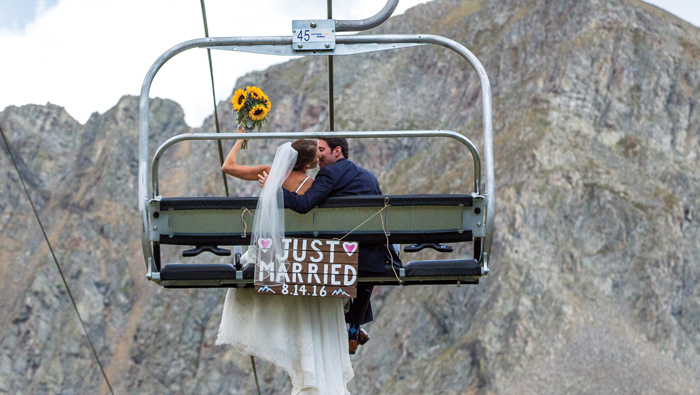 For Seth and Debbie (nee Stone) Reder, a spontaneous and career-oriented trip to Israel turned out to be romantically life-changing. Seth, who was raised in Boring, OR, recalls meeting Debbie on the flight to Israel. Both were participating in a MASA Israel Teaching Fellows program, where they would live and work in Netanya for the year. Both had worked in higher education throughout their careers, so they had plenty to talk about.
The mutual interest in education "is something that bonded us," Seth says.
"We were also the oldest of the group. Living in Netanya, we were 27 and 28 and the others were right out of college. Everyone called us the grandma and the grandpa of the group," he jokes.
What Seth left out of the story of meeting Debbie on the plane is that they had connected on Facebook before the plane meet-up. Members in the Netanya cohort were getting acquainted on a group page, and when Debbie and Seth realized they were on the same flight to Tel Aviv from JFK, they began messaging back and forth. They decided to find each other at the airport.
"I had just said goodbye to my parents, and I texted him to see where he was. He said he's the guy with the guitar on his back, so I looked around near the gate and there he was. That was the first time I ever saw him," Debbie recalls. "I actually left him on the plane when we landed in London. We didn't have much time to get through Heathrow, and I didn't want to miss the flight to Tel Aviv. I had planned ahead and booked a seat at the front of the plane, and he hadn't."
A few minutes after she arrived at the gate for Tel Aviv, Seth came running down the hall. Both made the flight.
The two discovered the MASA Israel Teaching Fellows program after having done Birthright trips. Seth, who left Boring for college in California, was working in higher education when he received an email from MASA asking if he would be interested in living and working in Israel for a year. He had always wanted to find a deeper connection to Judaism and decided to go for it.
In Boring, Seth and his siblings were raised Jewish, but the lack of community made it difficult to feel deeply connected. "Most of my Jewish identity came later in life," Seth explains. Debbie was raised in Fairfield, CT, and was involved in a large Jewish community. For her, going to Israel at age 27 was an opportunity to gain teaching experience abroad. "I just wanted to do something out of my comfort zone," she says.
In Netanya, the two took advantage of programming and day trips offered by MASA. They didn't start dating until two months into the trip.
"It was really wonderful to experience the country together," Seth says. Debbie's apartment was a floor above his, and they were able to spend plenty of time together. "We had similar interests because of higher education, so that helped," he says.
During Hanukkah vacation, the two flew to Paris, and both went to Poland as part of a MASA delegation.
After the year ended, both were offered jobs with Hillel International, Debbie at the University of Virginia and Seth at the University of Central Florida. Distance kept them apart, but didn't stop them from planning a future together. They eventually decided to leave the Hillel jobs and move to Colorado, where they married on Aug. 14 at Arapahoe Basin at 11,000 feet elevation.
"Our guests had to ride up in ski lifts," Seth says. So did the couple and their officiant, Rabbi Joel Newman of Bnai Vail, which serves the Jewish community of the Western Slope of Colorado.
"It was a beautiful and memorable wedding," says Rabbi Newman. "We were 11,550 feet closer to God. Surrounded by the forest and mountains, the wedding took on a spiritual feeling that you rarely can find. It was a bright and sunny day, so as the couple got off the chairlift, there was nothing but rarified sunlight shining down upon them and a light breeze.
"What I love about officiating at weddings in the mountains of Colorado is the response of those attending, 'Oh, my God…this is so beautiful.' "
Seth brought Debbie to his hometown of Boring for the first time before the wedding. It was her first trip to Oregon and the West Coast.
"Boring is very beautiful, and it was great to see where he grew up," Debbie says. Seth's parents recently moved to Colorado, but his siblings, a brother and a sister, live in Portland.
In Colorado, just outside of Denver, Debbie is now a seventh-grade history teacher, and Seth is working on his Ph.D. in education at the University of Northern Colorado. They have been back to Israel several times to staff Birthright trips together, something they hope to continue to do in the future.
"We are so grateful we got that email from MASA propelling us to say, why not, I'll go to Israel. We both took the chance and little did we know we would meet each other," Debbie says.
Photo by Charles Townsend Bessent