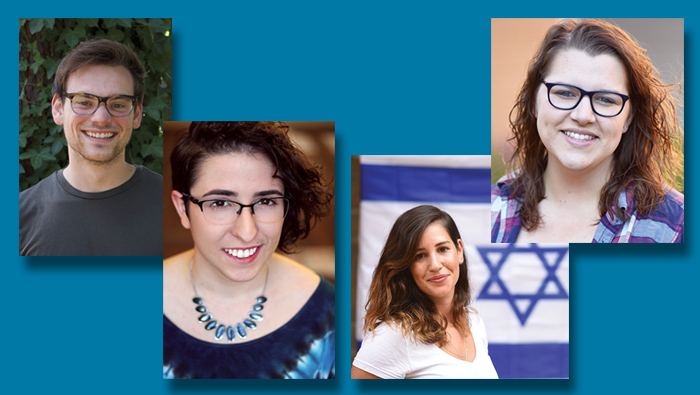 Oregon Hillel welcomes Israel engagement fellow
By Josh Kornblum
Loren Murphy was born in a small town in Vermont, growing up in the community with a small Jewish populatin. After his family moved to Tempe, AZ, Loren attended Arizona State University and embraced Judaism more seriously than he had. Traveling to Israel on ASU Hillel's Birthright trip enhanced that connection.
This newfound passion steered Murphy to apply for and land the position of Israel Engagement Fellow at Oregon Hillel serving the University of Oregon and Oregon State University. Hillel's Israel Engagement Fellow program was created through generous two-year commitments made by the Zidell Family Foundation and the Paul & Julie Candau Philanthropic Fund of The Jewish Community Foundation of the East Bay, who established matching gifts that tripled each new or increased gift made to Oregon Hillel during 2017 and 2018.
"My job focuses on both the University of Oregon and Oregon State University campuses, and is to first and foremost be a resource and mentor for students," says Loren. "I am the primary contact for all Israel-related topics ranging from student organizations, Israel education, supervising our Digital Ambassador program through a partnership with Israel 21c and the Jewish Federation of Greater Portland, and new initiatives like bringing Artists for Israel to our campuses this year. I am also responsible to register students to Israel on Birthright, and more importantly to follow up with them upon their return to ensure they maintain a strong connection to Israel and Judaism in a personally meaningful way."
Hillel is a resource for students interested in engaging in Jewish culture of all types, and Loren's passion for spreading interest in Israel and Judaism will strengthen those goals.  For more information about Hillel or our Israel programs, contact Loren@OregonHillel.org.
Josh Kornblum is senior from southern California at the University of Oregon and is Oregon Hillel's student Journalism intern for the 2017/2018 academic year
Tivnu gets recognition and new resident advisor
Tivnu: Building Justice, the first Jewish gap year program in the United States, has been selected for inclusion in the 2017 edition of the prestigious "Slingshot, A Resource Guide to Jewish Innovation." Tivnu, which calls Portland home, may be the first in the city to receive this honor. "Slingshot" describes itself as "an annual compilation of the most inspiring and innovative organizations, projects and programs in the North American Jewish community today." The guide has been published since 2005 and highlights organizations that have "particular resonance among the next generation." Evaluators assess applications through the criteria of innovation, impact, strong leadership in the field and organizational effectiveness.
In other Tivnu news, Ellie Goldman has been selected as the new resident advisor for Tivnu. Gap year participants live together as they explore connections between Jewish life and social justice. Options include the building track or a direct service and advocacy track.
A West Coast transplant, Ellie recently graduated from Kalamazoo College, where she studied in the Department of Religion. She has also spent time living in Tel Aviv, Israel and Dakar, Senegal. Ellie feels lucky to have been part of various Jewish communities that made her feel at home, inspired and called to action, including her hometown havurah, Temple Sholom of Cincinnati, the Nesiya Institute and her campus Hillel. She is excited to join Tivnu and help participants build community, explore Jewish life and expand their capacities to work for justice.
Hillel adds two to team
The Greater Portland Hillel has two new team members to expand Jewish experiences for students on campuses in the Portland metro area.
Elyssa joined the PDX Hillel team on July 31, as the new Jewish Experience Engagement Associate and Ezra Fellow. She is a recent graduate of Michigan State University who built her own major in the College of Sciences, focusing on her passions: religion, anthropology, and people's health and well-being. Elyssa was very involved in Hillel as an undergraduate and is thrilled to have the opportunity to continue her commitment in the Jewish community here in Portland.
Elyssa's role involves engaging Jewish students on both Lewis & Clark and Portland State University campuses. As an Ezra Fellow, she has the chance to expand her knowledge of Jewish texts and practices. In addition to attending conferences throughout the year, Elyssa will also study with a chevruta study partner each week. As the Jewish Experience Engagement Fellow and Ezra Fellow, she will be well-suited to engage Jewish students on both campuses.
With both of these positions, she will be able to better engage Jewish students on the two college campuses in discussions on any and all topics relating to Judaism.
Hagit Ojalvo joined PDX Hillel on Aug. 2 as the Israel Fellow through the Jewish Agency for Israel. Hagit was born and raised in a small town near Haifa, and graduated in 2017 with her bachelor's degree in special education and hearing disabilities. Hagit decided to join this team not only for a new adventure, but also to build a bridge between the Portland Jewish student community and Israel.
Greater Portland Hillel's mission is to enrich the lives of Jewish undergraduate and graduate students so that they may enrich the Jewish people and the world.