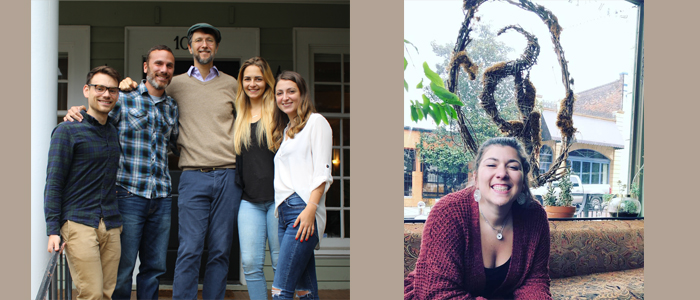 Pictured above: The Oregon Hillel Foundation's University of Oregon staff, from left to right, Loren Murphy, Andy Gitelson, Rabbi Meir Goldstein, Kaya Rubinstein & Maddie Schaeffer and Oregon State University staff Evana Kvasnick, right.
By Will Rubin
A cadre of new staff members at Oregon Hillel are making their presence known on the campuses of the University of Oregon and Oregon State University.
Nearly everything Oregon Hillel does, from interacting with students at both schools to long-range development planning, has been revamped or formalized with the help of the new arrivals: Israel Engagement Coordinator, Kaya Rubinstein; Director of Student Jewish Life, Evana Kvasnik; Development Associate, Maddie Schaeffer and Rabbi Meir Goldstein, who serves as Senior Jewish Educator. Kvasnik and Rachel Chodorow-Reich, who serves as director of Jewish learning and spirituality, are both based out of Corvallis and are primarily involved with the fast-growing Hillel presence at Oregon State.
"We were never going to expand our programming and connect with more students than we had been, just based on the sheer numbers," Gitelson said. "One person can only serve so many students. So adding staff was first and foremost, because more bodies and more boots on the ground means that we can meet more students, listen better, create more content and have real relationships with students."
Prior to relocating to Eugene, Goldstein worked for the Hillel at Dartmouth College in Hanover, New Hampshire. An experience at Oregon Hillel about 20 years ago led Goldstein to pursue further Jewish educational opportunities. He earned a Master of Rabbinic Studies degree in 2003 and ordination in 2006 from the Ziegler School of Rabbinic Studies at American Jewish University.
"I come back to the place where I was most inspired, working with young adults, because it's a really exciting time in their lives," Goldstein said. "They're smart and questioning, and are looking both at who they are and who they want to be and their place in the world. They have visions for how to put their effort into the world to make it a better place. I wouldn't move away from it for the world."
Schaeffer signed on to work for Oregon Hillel after graduating from the University of Maryland earlier this year. She became heavily involved in Maryland Hillel while a student and interned for Hillel International during her senior year.
One of Schaeffer's primary goals as a development associate is to build a network of donors and non-students who take an interest in Jewish life on campus. She also serves as a mentor to several University of Oregon students, as does every member of the staff. Each employee has a portfolio of students, not all of whom are Jewish, as part of an incubator model Gitelson instituted in place of a traditional student leadership board.
"There's not a lot of religion with the development position, so it's nice to see students as a staff member," Schaeffer said. "Students on the West Coast seem to be a lot more into the community aspect than strict religious observance, so some students you see every Friday, while others I only see on campus. But, they know who I am, and I don't care how you practice Judaism as long as you're respectful of everyone else."
Kvasnik moved out west from St. Paul, Minnesota, where she had worked for synagogues since her high school years. Many of her friends in the same field began working for Hillels and suggested she try to do the same. Contacts at Hillel International helped steer her in the direction of Oregon Hillel.
"I knew one of the biggest things we needed to do was to be more visible around campus," Kvasnik said. "We were on campus with a sukkah and had a lot of people stopping, by whether they were Jewish or not, and we were able to answer their questions and engage with them in different ways. We're looking for more ways to keep up that presence on campus and continue to ask the students how we can be there for them and support them."
Working with students at Oregon State has given Kvasnik a different perspective on college life. She attended a large state school in Minnesota, which felt disjointed at times. The smaller feel of the university in Corvallis and the college town as a whole embrace people from all walks of life. She tries to match that atmosphere by helping students find their niche within the broader Jewish community as a whole.
"Often, we'll hear students say that they're too busy to get involved, even though they are interested in Hillel," Gitelson said. "We should be listening to them, listen to where their priorities already sit, and then figure out the best way to either involve them organically or see if there's a way to partner in the space they're in."
Rubinstein was very involved in Jewish life while a student at the University of Central Florida. She graduated with a degree in hospitality management with a focus on tourism. After trying some jobs within that field, she chose to focus on what made the most significant impact on her during her time at UCF.
Having heard good things about Oregon Hillel, she inquired about the open Israel Engagement Coordinator position. Born and raised in Tel Aviv until her family moved to the United States when she was 11 years old, she couldn't pass up the opportunity to engage with students about all things Israel.
"I'm excited to be giving back to students what I received," Rubinstein said. "Having such an incredible staff at UCF made such an impact on me. I wanted to be part of other students having an experience about what Judaism means to them and what Israel means to them."
For more information on Oregon Hillel, visit oregonhillel.org.