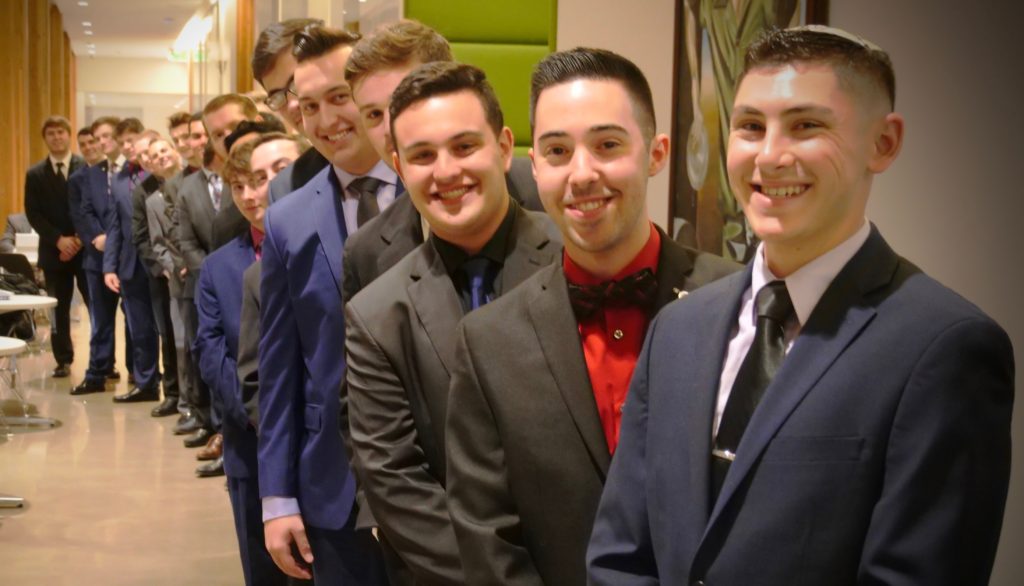 PHOTO: Refounding fathers of Sigma Alpha Mu at University of Oregon.
By Sam Klebanow
Many students find a second home at Oregon Hillel. Hillel is an organization for Jewish students, and its mission is to provide a Jewish home away from home and enrich the lives of students so that they may enhance the lives of the Jewish people and the world. The organization provides a valuable service to the Jewish community and the University of Oregon as a whole through programs such as Challah for Hunger and the Min Zidell Matzo Ball Soup Hotline. In winter of 2017, however, Oregon Hillel went above and beyond during the organization's Winter Ski Retreat, where students have the chance to recreate and relax.
During that weekend, Michael Borovinsky, a senior at UO and native Southern Californian, wanted to supplement his college experience with another Jewish extracurricular activity alongside Hillel. By chance, he was randomly placed in the same cabin with two other like-minded men, Justin Asarch and Jake Snyder, and the group really clicked. The three discovered that they had similar values and decided to start their own fraternity. That night they contacted the Sigma Alpha Mu fraternity's national organization and expressed their interest in "recolonizing" a chapter at the University of Oregon.
After meeting with Sammy's (Sigma Alpha Mu's) executive director, they realized recolonizing could be an uphill battle. Though this undertaking would be tedious, Hillel was glad to help Sigma Alpha Mu get initiated and provide a place to hold chapter meetings. Not only did that occur, but Andy Gitelson, Oregon Hillel's executive director, provided the Oregon Sammy brothers with an extensive list of locals from the Willamette Valley area to help.
Oregon Hillel's director of engagement, Lauren Murphy, was a fraternity brother of Sigma Alpha Mu at Arizona State University. Hillel's unofficial partnership grew when Murphy became Sigma Alpha Mu Oregon's chapter advisor. According to Borovinsky, "We would be nothing without Lauren. He's helped us all across the board with communications and outreach, organizing our financial books, and the list goes on and on."
Since Murphy's initial involvement with the chapter, Sammy has managed to recharter at the University of Oregon. Not only that, Sigma Alpha Mu has grown with 28 fraternity members in just under 18 months on the Oregon campus and has recruited an eight-man fall pledge class. In less than 2 years, Sammy no longer meets at the Hillel house and now congregates at one of their two off-campus houses for chapter and other meetings.
"The return of Sigma Alpha Mu to the University of Oregon is a testament to Jewish men on campus seeking an outlet for brotherhood and finding support for that vision," says Sigma Alpha Mu Executive Director Andy Huston. "Justin, Michael and Jake were able to bring this vision to life because staff from Hillel, Sigma Alpha Mu and the University of Oregon were aligned to help this endeavor succeed. These student leaders and the class of men recruited to become refounding fathers of the chapter represent the true ideals of the fraternity. We celebrate their success and are grateful to the staff at Hillel for their ongoing support."
Sammy's growth is not only a testament to the caliber and work ethic but also to the Hillel staff's genuine care for the community. Hillel's commitment to enriching Jewish life is shown day-by-day through its staff's readiness to help with student affairs. Murphy's direct involvement with the rechartered fraternity and Gitelson's support are just small demonstrations of the lengths to which they'd go for their community members, showing how Hillel can really be a student's second home.
Sam Klebanow is an intern at Oregon Hillel and a member of the UO Class of 2019.
Sigma Alpha Mu
Sigma Alpha Mu Fraternity was founded in 1909 as a fraternity of Jewish men; it opened its membership to all men of good moral character in 1953. Today, the fraternity has 55 active chapters and colonies across the United States and Canada with about 3,000 undergraduate members and 56,000 living alumni.
A Sigma Alpha Mu – or Sammy – chapter was active at the University of Oregon from 1930 to 1960 and was rechartered in 2018.