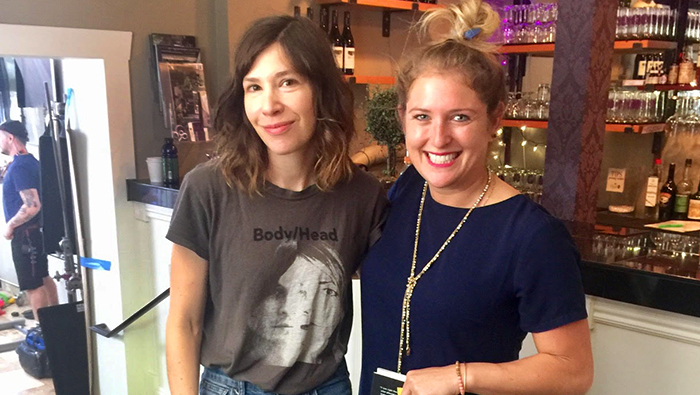 Photo: "Portlandia" co-creator and co-star Carrie Brownstein with Opal 28 owner Margot Feves.
Opal 28 had an exciting June with recognition of its very Portland vibe from two distinctly different media realms. On June 30 the cast and crew of IFC hit show Portlandia stopped by to film an episode. Also last month, Oregon Bride Magazine named the intimate event Best Intimate Venue, 75 people or less.
Portlandia, a sketch-comedy series that parodies life in Portland, has won four Primetime Emmys since it came on the air in 2011. In January the show's creators and costars Fred Armisen and Carrie Brownstein revealed that Portlandia's eighth season in 2018 would be its last.
Opal 28 will be part of Portlandia lore, when the episode filmed there airs next winter. The intimate event venue is located on Northeast 28th Avenue and Glisan.
"A location scout happened to be walking by and peeked in the windows," explains Margot. "She had a vision for a romantic dinner scene in our Main Room!
Margot says being part of Portlandia was exciting.
"The crew came in around 6 am and transformed the venue into a whole new environment; as quickly as they set it up they took it down and by 2 pm the filming was complete," says Margot. "The cast and crew were so nice to work with!"
"Both Carrie and Fred were incredibly nice and much smaller in real life," she adds. "Carrie was happy to pose for a photo and was grateful to be in my space. Fred introduced himself right off the bat with a firm handshake and genuine 'how are you?'."
This isn't the first time Oregon Bride has recognized Opal 28. In 2014 Opal 28 won best new wedding site, in 2015 it won best venue for intimate gathering and best rehearsal dinner venue.
"Winning best venue for intimate gatherings is such an honor," says Margot. "Portland has so many unique places to get married so this award is especially flattering."
Other nominees include Lan Su Chinese Gardens, Eco Trust and Union Pine.
"My team and I pride ourselves on creating the most special day for our brides and grooms – alleviating as much planning stress as possible and making a comfortable and fun environment for any special occasion," says Margot.
Located in inner NE Portland, Opal 28 hosts intimate events such as weddings, bar/bat mitzvah, anniversaries, birthdays and corporate meetings.  The vintage building has been renovated into multiple great rooms, private outdoor patio and hotel style rooms for rent. It offers full service food and beverage, catering and event planning.
"It's a unique Portland wedding and event experience without being in a hotel with so many formalities," Margot told Oregon Jewish Life for a 2015 article. In the same article, she says the name was inspired by her grandmother Sadie Feves, z"l. "My late Gram Sadie's birthday is on Oct. 28. Opal is the October birthstone, and we are located on 28th Avenue."
Margot Talia Feves was named Margot after her Great-Grandmother Mae on her mother's side and Talia after her Great-Grandmother Tilla on her father's side of the family. Raised in Southwest Portland, Margot became a bat mitzvah at Congregation Neveh Shalom and was active in BBYO.
After graduating from the University of San Francisco with majors in business and communications, Margot moved to Chicago and worked in sales and marketing, predominantly in the hospitality and event industry. These skills have transferred into the development of her own private event space in inner Northeast Portland – Opal 28.
Margot returned to her Portland roots in 2010. Shortly after returning she started a dinner delivery service called Dinner At Your Door out of a rental kitchen space. In the process of looking for her own commercial kitchen, the concept for Opal 28 evolved.
Besides being an intimate event space, Opal 28 has a commercial kitchen and hotel-style apartment accommodations.
Opal 28, www.opal28.com, 971-544-7324, 510 NE 28th Ave., Portland, OR 97232