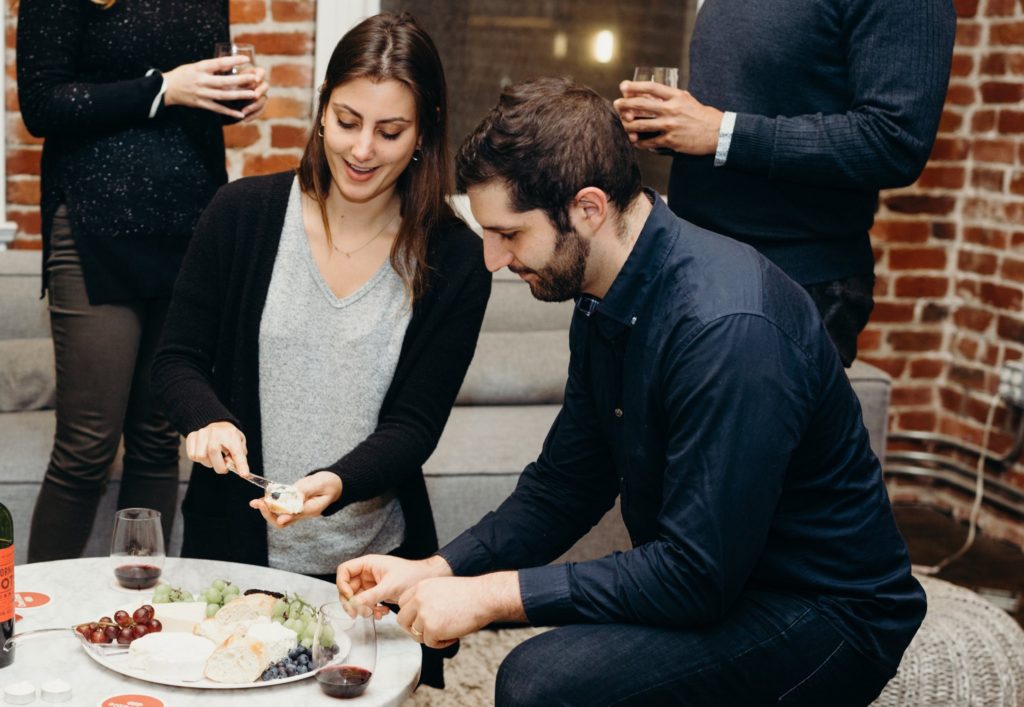 OneTable, the social dining platform for millennials to find their Friday at a Shabbat, has come to Portland with the generous support of the Jewish Federation of Greater Portland.
The program is managed by OneTable Associate Director of West Coast Programs Analucía Lopezrevoredo. "I am thrilled to be expanding OneTable to Portland, a city with unparalleled culinary imagination and personality, that is also home to a dynamic Jewish community diverse in culture, interest and practice," says Analucía.
To celebrate the launch, Analucía hosted a Nosh:pitality (what OneTable calls its hospitality workshops) on Feb. 20 – "Hummus is Where the Heart Is." To celebrate this monumental moment for Shabbat-loving foodies, they partnered with Aviv, a vegan restaurant that blends flavors from the Middle East with the Northwest's harvest and draws on inspiration from Chef Tal Caspi's life in Tel Aviv, Israel. At this event, participants learned the art of Israeli street food and hospitality from Caspi and left with ideas they can use at their own OneTable Shabbat dinners.
In February, 30 Shabbat dinners in the area brought in 215 unique guests. Thirty Shabbat hosts have signed on locally.
"The Jewish Federation is delighted to partner with OneTable and bring this unique Shabbat dinner experience to Portland," says JFGP President and CEO Marc N. Blattner. "We understand the benefits of sharing a communal table, celebrating Shabbat and the relationships it can build."
In addition to more of these workshops, OneTable will bring one-on-one Shabbat Coaching to Portland hosts who have questions about anything from how to cook for ten people to the best way to incorporate ritual into their dinner. Other resources include the Portland page of the website (dinners.onetable.org/landing/Portland), where participants can create and find Shabbat dinners in their areas and sorted by their interests, as well as a library of rituals (traditional and alternative), plus tips and tricks to being a great host or guest.
"I believe that our commitment to decentralizing Jewish leadership and empowering more young adults to become designers of their own Friday night Shabbat practice – one that is designed with their intersecting identities in mind – will positively impact young adult engagement and leadership," says Analucía.
dinners.onetable.org/landing/Portland