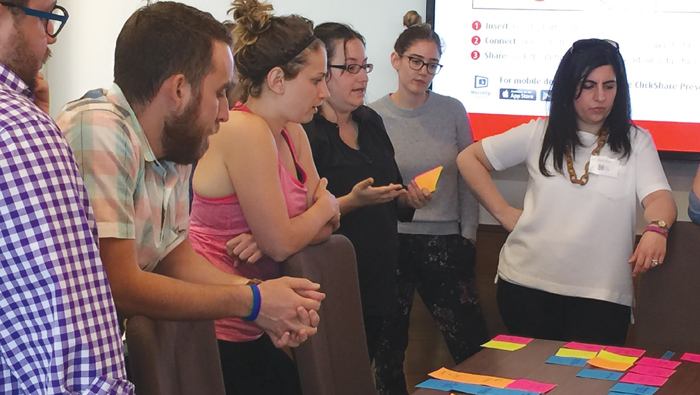 Whether it was the opportunity to meet new people, the chance to leverage one's charitable dollars, the desire to do good or all of the above, the first year of Oregon Jewish Community Foundation's Giving Council brought together 20 Jewish young professionals united by the common goal to collaborate and be impactful with their giving. Over six months, the members of the Giving Council worked as a group and experienced a form of philanthropy that enabled them to be generous in a more thoughtful and conscious way.
"The foundation is so pleased to provide a new program that offers young professionals in Portland a way to connect with the community and be philanthropic," says  OJCF Executive Director Julie Diamond.
Co-chaired by Sara Epstein and OJCF Board of Trustees member Andrew Rosengarten, the Giving Council members met monthly from January through June to share their views on Jewish values. They discussed what it means to give through a Jewish lens, decided what their giving priorities would be, pooled their charitable resources and eventually distributed grants to programs that met their criteria.
Discussing values and personal perspectives is a priority for giving circles, because it enables members to connect with one another and find common ground.
"With our group, each participant really had to wrestle with what Jewish giving meant to them personally. Then as a group, they had to come to a consensus around a shared vision," says Sonia Marie Leikam, OJCF's collaborative giving program coordinator and the group's facilitator.
"Working collaboratively was more challenging than I expected but in a good way," says Margot Feves, Giving Council participant. "While everyone in the group had Jewish values, we had different ideas on how those values applied to giving."
For this Giving Council, the members decided to support programming at organizations that exemplify the values of community, education and equity. The group invited 15 organizations to submit grant proposals for consideration. The Giving Council was specifically looking to support programming that provided assistance to girls, women, immigrants and refugees, while also addressing the issue of equity.
Members of the Giving Council's first cohort had $20,000 available to grant to local organizations. The pooled funds were a combination of the members' contributions (a minimum suggested donation of $500) plus $10,000 in matching funds from OJCF's Community Endowment Fund. In mid-May the group made its grant recommendations to support three organizations: Portland Jewish Academy, Girl Scouts of Oregon and SW Washington, and Sunshine Pantry (see box for details).
"The biggest success of the Giving Council, in my opinion, was not the funds that were granted but the thoughtful conversations between the members and their analysis of the potential grantees through a Jewish lens," says Leikam.
The group's thoughtful grant-making will impact the lives of a diverse populations in the  community: children of various ethnic backgrounds, girls whose mothers are currently serving prison terms, and homeless and at-risk families in need of the basic essentials in life.
"This generous grant will allow us to build on our successful pilot program with Neighborhood House, which focuses on peer-to-peer connections among preschoolers, by expanding the program to fully engage families and further our efforts to bridge two different but complementary communities," says PJA Executive Director Steve Albert. "Our hope is to offer children new opportunities and experiences which will enrich lives at school, build community and create strong relationships," adds Erika Saiers, PJA's director of early childhood education.
Margot Feves says the most rewarding part about participating in the Giving Council was the collaboration. "Despite some controversies the group was able to talk through differences and was able to come to an agreement regarding grant decisions that seemed to satisfy all the members."
Leikam and the Giving Council's co-chairs are recruiting members for the second cohort of the group. Looking forward, the group intends to continue engaging, educating and empowering Jewish professionals. In its second year, the Giving Council's programming will expand to include occasional pop-up events or educational salons to inform people about specific philanthropic areas of focus.
"OJCF's board of trustees is thrilled with the success of the Giving Council's first year," says Diamond. "The program has brought together an impressive group of individuals, who generously gave their time and resources to make a difference in our community. It will be exciting to see what lies ahead in year two!"
Gail Mandel is legacy development and marketing manager at the
Oregon Jewish Community Foundation.