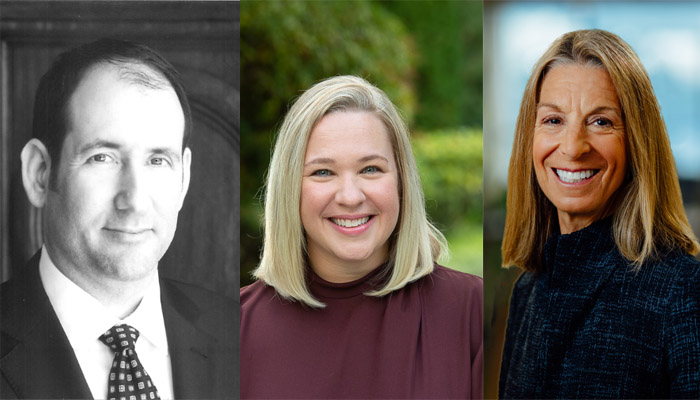 Photo: Glen Levy, Lindsay Krivosha and Sharon Morell
The Oregon Jewish Community Foundation is pleased to welcome Sharon Morell, Lindsay Krivosha and Glen Levy to its Board of Trustees.
Lindsay Krivosha is Portland born, from a family who has a strong history of involvement in OJCF.  Lindsay's father, Steve Kantor, was one of the founding board members of the Foundation and she's excited to carry on the tradition.  Lindsay is in her 11th year as a Financial Advisor, having worked in Financial Services in some capacity since graduating college. Outside of work and community involvement, she is kept very busy with her husband, Joel, and their two young children, Eddie and Abby.
Glen Levy and his wife Lisa moved to Portland from New York City in 2011.  Glen owns and operates a small blended portfolio of residential and commercial real estate located in New York, New Orleans and Portland.  Prior to his current endeavors, he spent a decade working in gourmet food manufacturing, specifically bread bakeries. He is past president of Congregation Beth Israel and has served on the OJCF Board on behalf of CBI for the last 2 years.   Glen is a founding and current board member of Stone Soup PDX.  In addition to supporting OJCF, the Jewish Federation of Greater Portland and other local Jewish agencies, Glen and Lisa are also ardent supporters of Harper's Playground, The Circus Project and Mercy Corps.
Born and raised in Portland, Sharon Morell is a past president of the Oregon Jewish Community Foundation and a long-standing member of the Foundation's Investment Committee. She has also served on the boards of Cedar Sinai Park, Congregation Beth Israel and the Mittleman Jewish Community Center. Her son Blake is a proud OJCYF program graduate. After a career in the investment industry, Sharon continues to act as a consultant for institutional retirement plans.
Additionally, OJCF is pleased that Jonathan Singer will be stepping into the role of Chair-Elect. Jonathan is a fifth-generation Portlander with deep roots in the community, where he remains active in civic and community affairs including on the boards of the Mittleman Jewish Community Center and Portland Jewish Academy. Before joining Barg Singer as a partner, he practiced law in the Washington, DC office of O'Melveny, a global law firm, and in the Portland office of Miller Nash Graham & Dunn. In his spare time, Jonathan enjoys listening to and playing jazz, traveling the world and to the Oregon coast, watching the Blazers, and spending time with his family.
"OJCF is deeply honored that Lindsay, Glen, Sharon, and Jonathan will be serving our community and the foundation in these increased roles," says Tara Siegman, Vice President of Philanthropy. "They demonstrate the words of Rabbi Tarfon in Pirkei Avot: You are not expected to complete the task, but neither are you free to avoid it. They are joining a board of leaders working activity to complete the task of improving our corner of the world."