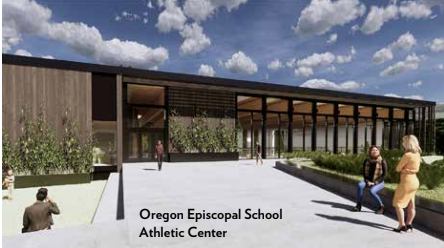 The unveiling of Oregon Episcopal School's newly remodeled and expanded athletic facility in the fall of 2021 is proving a winner for the entire community!
The open, airy and light-filled space in a woodsy setting energizes student-athletes and the physical education curriculum and connects pre-kindergarten through grade 12 students and families in new ways beyond athletics.
"We have finally built the community space about which we've always dreamed," says Missy Smith, CMAA, associate athletic director, coach and founder of the Oregon Girls' Sports Leadership Summit. "I don't know who loves this place more: students, teachers, parents, or alumni. The sky's the limit for what we can do because it's so functional and dynamic."
After years of discussion and planning, the 42,000-square-foot facility became a reality. The majority of construction occurred during the pandemic with students in remote learning.
"We asked our students what they needed in a gym and that was really the driving force behind the athletic center expansion and remodel," says Athletic Director Dennis Sullivan. "The athletics program was solid before, and now the new space has made it exceptional."
Community members love being able to step into the athletic center hallway to hear students playing, whether it's basketball, volleyball, or P.E. games, says Sullivan.
Students can meet in dedicated team rooms to bond before or after practice, do homework in the hub, reflect as a group, and be together. In addition, younger students are inspired by watching older students train and study, and older students can mentor younger student-athletes.
"Our students' desire to move in this space speaks louder than words," says Interim P.E. Department Chair and P.E. Teacher Scott Corris. "We have so much more space to work with in coordinating P.E. classes. It's pretty special when you come into work and you know that your curriculum and your lessons can be based on an amazing indoor space instead of worrying about the outside weather."
The new facility has two large gyms with capacity for many more spectators than before. There is also a dedicated space to hold awards from the schools' numerous achievements over the years. And the inviting space now matches the inclusivity of OES's longtime no-cut sports policy. Whether it's play, learning, or connection, there's no doubt the new space has been a boon to the community.
"It's a privilege and an honor to be able to coach in a facility like this one," says Brad Dawon, Girls' Varsity Basketball Coach. "It's enough to energize all the sports programs. I'm just grateful."