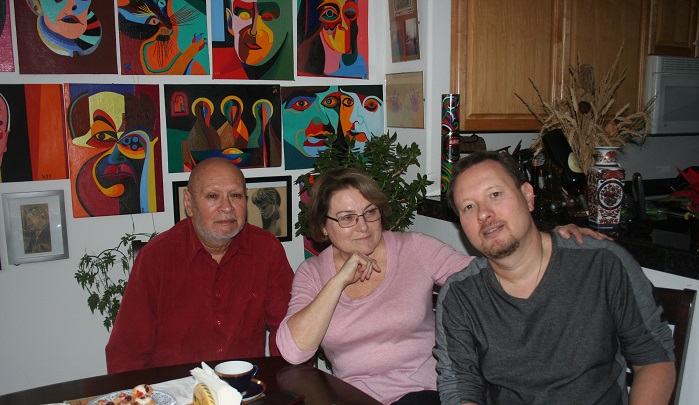 PHOTO: Boris Uan-Zo-li, his wife, Sventlana, and his son, Alexander, around their kitchen table in front of a wall full of paintings by Boris. Photo by Polina Olsen
Boris Uan-Zo-li's artwork reflects his fascinating life. Big, bold, varied and colorful, his paintings cover the walls of his Beaverton split-level home. The work is abstract, but his figures are identifiable and often instantly recognizable like the portraits of Woody Allen and personal hero Bob Dylan. I recently sat down around their kitchen table to talk to Boris and his wife, Svetlana, and son, Alexander.
"I love Woody Allen," Boris says in Russian as his son translates and Svetlana arranges a tray of delectable Russian treats. Alexander emigrated from Moscow to attend graduate school at Virginia Tech. He brought his parents here in 2010 along with 300 of Boris's paintings and mementos from the three-room apartment where three families once lived. "That was typical of Moscow," Svetlana says, looking around at her spacious home.
Boris Uan-Zo-li was born in Moscow, Russia, in 1938 to Lazarus Goykhman and Julie Uan-Zo-li. (Yes, Uan-Zo-li was his mother's name. More on that later.) His maternal grandfather, Wang Zo li, came from the Shandong province of China and studied Tibetan medicine in Japan. He moved to Russia, married a Cossack and was exiled outside of Moscow when Stalin banned Tibetan medicine. He had five children, including Boris' mother, Julie, all of whom worked as performers in the Russian circus.
"They connected to a rope with their hair and came down to the floor while drinking tea," Boris explains. "They also did magic tricks, and one brother jumped through the hoops." Julie met her husband, Boris' father, at a party in Moscow.
Lazarus Goykhman grew up in Odessa and worked as a civil engineer at a time when being Jewish didn't pose a problem. That was about to change.
"There was anti-Semitism during the czar," Alexander explains. "When Communism first took over, Jews were considered good Soviet citizens. That started changing with Stalin, and by 1948 it was all turned around. People say this was due to Israel being launched and allied with the USA."
In 1953 the government sent Lazarus to a Siberian labor camp until he emerged "fully rehabilitated" in 1955. His crime was mentioning his desire to emigrate to Israel while a "friend," who doubled as a KGB agent, recorded the conversation. He returned to the shared three-room Moscow apartment where his son, Boris, had been born in 1938.
"It was cozy with photographs," Boris says, "but an apartment is an apartment." He remembers three rooms, a bathroom and a kitchen with three tables, one for each family. A cabinet with a chute to the outdoors provided refrigeration.
Like his father, Boris always enjoyed drawing. Fearing an obviously Jewish surname would prevent his acceptance at college, Julie bribed officials to allow her son to take her maiden name. He graduated from the Moscow Power Institute while taking drawing classes, first at a museum and then from the famous Moscow Polygraphic Institute, now known as the Moscow State University of Printing Arts.
After graduating, Boris worked as an electronics engineer authoring 165 patents while at the same time advancing his artistic career. Boris attributes the beginning of his original style to a 1973 portrait he did of Svetlana. The couple met while on vacation in Crimea and married in 1967. Svetlana also has Jewish roots. As part of a Jewish theater in Moscow, her mother had been arrested as a Polish spy and sent to a labor camp. Svetlana identified with Judaism, but limited her observance to holidays. She moved in with Boris, who lived with his mother and two other families in the same three-room apartment where Boris grew up. His artwork continued evolving.
"You had to pass low-level censors to exhibit paintings," he says, remembering the Soviet times. Bureaucrats withdrew his paintings at one exhibition because they didn't fit in the Communist vision. At another, a woman complained that Boris' abstract portrait of Lenin was denigrating. Still, Boris' successes include major exhibits at the Central House of the Artists and other venues. Today, his paintings are privately owned in France, Germany, Switzerland and the United States.
Leaving Russia was an easy decision for the couple. "We have our son and grandchildren here," Svetlana says. Alexander works for Intel and lives in Hillsboro with his wife and two sons. Both boys attend Catlin Gabel.
"Family is the most important thing," Svetlana says. "At first it was tough because we left all our friends, but now we've made friends with different kinds of people." Still, after living in Moscow all his life, Boris continues roaming the streets via Google Earth. "I think he misses it," Alexander says. The family nods.
See Boris Uan-Zo-li's work at uanzoli.com or go to artslant.com, enter Uan-Zo-li in the Search Box and press enter.