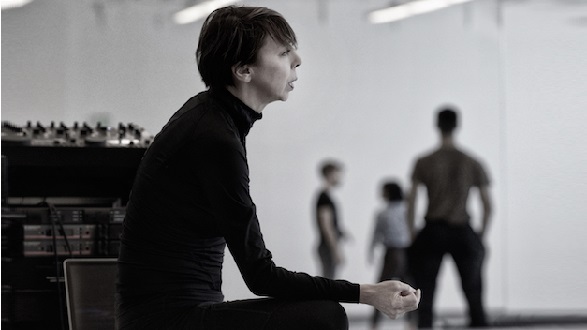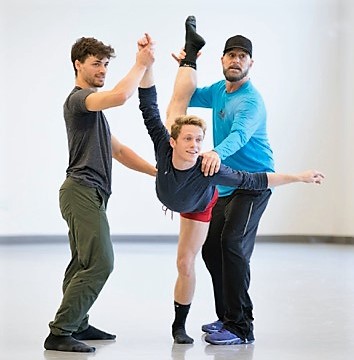 PHOTOS: Above, NW Dance Project Founding Artistic Director Sarah Slipper (photo by Michael Slobodian).
At left, choreographer James Canfield (in hat) with NW Dance Project dancers Anthony Pucci (left) and Kody Jauron (photo by Blaine Truitt Covert).
Last week the NW Dance Project hosted a preview of its "Summer Premieres," a trio of new works to close the company's 15th Anniversary season. Created by choreographers James Canfield, Felix Landerer and Sarah Slipper in honor of the NW Dance Project anniversary milestone, the performances will debut for three nights, June 13-15.
NW Dance Project supporters and the media were treated to short snippets of two of the dances, a Q&A with the three choreographers and a spread of wine, beer, bubbly and appetizers featuring the award-winning hummus made by NWDP Executive Director Scott Lewis (see story below). The Behind the Scenes advance peek featured two of the three world premiere dance works in the Summer Premieres, which open tonight at Lincoln Performance Hall — James Canfield's A Streetcar Named Desire-inspired Sketches of Connotation, and Felix Landerer's All's Been Said, which examines inertia in the face of climate change.
The summer premieres will also include a new work by NW Dance Project's Founding Artistic Director Sarah Slipper.
"Summer Premieres" celebrates 15 seasons and highlights some of NW Dance Project's most extraordinary talents:  June 13-15, 2019 at 7:30 pm at Lincoln Performance Hall, PSU, located at 1620 Park Avenue in Portland, OR.
JAMES CANFIELD
WORLD PREMIERE – "SKETCHES OF CONNOTATION" (BASED ON "A STREETCAR NAMED DESIRE")
The founding Artistic Director of Oregon Ballet Theatre and more recently former Artistic Director of Nevada Ballet Theatre returns to Portland and NW Dance Project, for which he has created eight previous works. For his latest, James takes on Tennessee Williams' classic A Streetcar Named Desire, which is as relevant today as it ever has been, setting the story to a collection of pop songs from the 1940s to today.
FELIX LANDERER
WORLD PREMIERE – "ALL'S BEEN SAID"
This award-winning German choreographer is another NW Dance Project discovery! Felix's two previous works for NW Dance Project have been noted for their intense physicality and dramatic vision. For his latest work, a gripping 15-minute trio, Felix takes a look at our collective paralysis with respect to combating climate change … kind of like the lifelong smoker who is told they have lung cancer and are only then motivated to change the situation they had been warned was coming for years.
SARAH SLIPPER
WORLD PREMIERE – "SAVE ME THE PLUMS"
No one knows NW Dance Project's talented and fearless dancers quite like the company's founding Artistic Director Sarah Slipper, whose dramatic works have been wowing audiences for the past 15 years. For her latest creation, an intimate male/female duet for Princess Grace Award winners Andrea Parson and Franco Nieto, Sarah has found inspiration in Pablo Neruda's poem, "Tonight I Can Write the Saddest Lines."
NW Dance Project "Summer Premieres"
June 13-15, 2019 | 7:30 pm
Lincoln Performance Hall, 1620 SW Park Ave, Portland, OR 97201
Tickets: $34-$58 Advance (no service fees) at www.nwdanceproject.org
SCOTT'S AWARD WINNING HUMMUS
PHOTO: NW Dance Project Executive Director Scott Lewis sets out a bowl of his hummus for the pre-show event. His hummus won the "2017 NW Dance Project International Hummus Competition." Photo by Deborah Moon
Before the NW Dance Project's Summer preview, Scott shared not only his hummus, but also the story of how his hummus became so famous.
"A couple years back, it seemed that all the dancers were deep into hummus," explains Scott. "Some bought various brands (the horror, the cost!) and some made it, as did our company manager. Then a board member bragged about how good her hummus was so I decided we needed a hummus-off. There were four or five varieties and the dancers were the happy (blind) judges. I won what I later dubbed the "2017 NW Dance Project International Hummus Competition" – "International" because the board member is French and a dancer was Philippine."
"Our Resident Choreographer Ihsan Rustem (who is Turkish), heard about my hummus win and said he'd challenge me anytime … so it goes on," says Scott.
"I have more than once considered making it into a real, city-wide thing – it would be a great way to get a new crowd into our wonderful space."