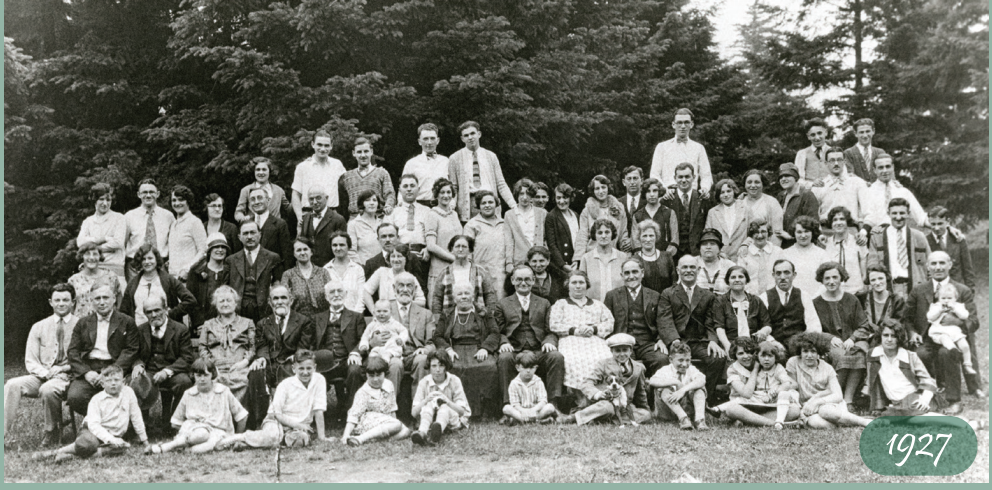 By Claire Delman (sixth-generation Portland Nudelman descendant)
Gatherings of the Nudelman family have been happening in Portland since the early 1900s. The tradition continued this past summer when 90 descendants attended a family picnic.
Eleven children of Mordechai Nudelman immigrated to the United States from Russia (modern-day Ukraine) between 1882-1901. All of them had different immigration journeys, some living in other states before arriving in Portland. These stories were collected in 1969 by Eugene Nudelman, Sr. in a family history project dedicated to his grandfather Joseph Nudelman.
The Nudelman siblings were: Joseph, David, Phillip, Israel, Samuel, Rose Barde, Kayla Lauterstein/ Bromberg, Moishe, Reuben/Robert Delman, Hyman, and Jacob Harry. A twelfth Nudelman sibling Sara Lea Wagner immigrated to New York City. She never moved to Portland, but her daughter Pearl did in 1917, joining her Nudelman aunts and uncles.
Once the siblings were together in Portland (1902), family photographs show they liked celebrating important events like anniversary dinners and milestone birthdays as one big extended family. Ten of the siblings are buried by each other at Neveh Zedek cemetery in Portland.
When Carolyn Weinstein married into the Nudelman family (David branch), she was interested in the extended Nudelman family and learned the 12 branches from her mother-in-law Noralee Leopold. She originally wrote the sibling branches on separate brown paper bags to keep the names organized. Carolyn hosted a Nudelman family picnic in 1980, inviting descendants of all 12 branches.
During 2008-2009, Carolyn's daughter Robin Weinstein entered over 1,000 names on the family tree into an online genealogy database called Geni. Carolyn once again hosted a family picnic to celebrate this project. From the original 12 Nudelman siblings, there are presently 1,170 descendants plus their spouses entered into the Geni family tree. Of those relatives, more than 750 are living descendants, with two-thirds located in the Pacific Northwest.
At the picnic in 2019, many family members are now fourth-, fifth-, and sixth-generation descendants of the original siblings. Two honored guests were: Eve Overback Rosenfeld and Edith Nudelman Bean. Eve celebrated her 90th birthday this year and is the granddaughter of original sibling David. Eve's father, Oscar, and Aunt Sophie married into two different branches of the Nudelman family (Joseph and David). Edith Bean, 89 years old, has the distinction of being the only living second-generation Nudelman descendant. Her father was Jacob Harry, the youngest of the original Nudelman siblings.
Lori Delman, coordinator of this year's picnic and wife of Mike Delman (Joseph branch) says, "It's such a privilege that the Nudelmans know so much of their family history. Genealogical research can provide dates and locations but not stories. Eugene Nudelman, Sr. and Carolyn Weinstein need to be credited for their role as family historians, collectors of the stories."
These family picnics are an opportunity for descendants to be reminded of the 117-year history of Nudelmans in Portland. As Carol Miller Danish (David branch) told attendees at this year's picnic, "It's a time to come together and remember the values that our Nudelman ancestors gave us. The connection to family and the importance of being involved in the Jewish community."