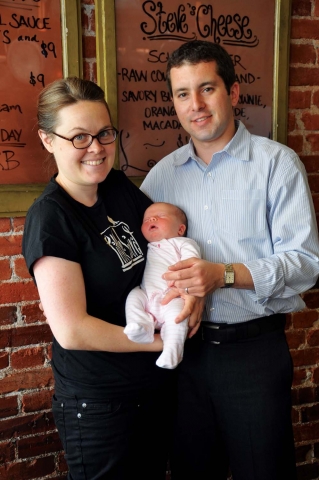 Since moving from New York in 2007, culinary power couple Lauren and Andy Fortgang have made an indelible mark on the Portland restaurant scene. Lauren serves as the pastry chef for Le Pigeon and Little Bird, while Andy is the co-owner and general manager. The couple's combined resume reads like a list of the finest restaurants in New York. Andy worked as the beverage director at Craft Restaurant Group and managed Gramercy Tavern, while Lauren applied her talents at Craft, Hearth and Sullivan Street Bakery.
Although they thrived in New York, the couple envisioned a life outside the city. "We knew we were going to move," says Lauren. "My husband and I were looking for a place where we could someday open a restaurant. It's not easy to do that and to also raise a family affordably in New York City. Our final two picks were The Hamptons and Portland. We had Portland in our heads; we came out and fell in love with it."
Lauren soon started working at the renowned Paley's Place, while Andy immediately got a job at Le Pigeon. "Le Pigeon was exploding in popularity, so it was perfect timing," explains Lauren. "Chef Gabriel Rucker had just been named one of the Best New Chefs of 2007 by Food & Wine Magazine. Andy's background was in fine dining; he aimed to refine service, to make the front of the house as good as the back of the house." In 2010, Lauren joined her husband at Le Pigeon; Little Bird opened at the end of the year.
Their transition to life in Portland was seamless. "I always thought I would live in New York my whole life," Andy says, "but when we finally made a decision to move, I was excited, it was new. I had a job right away and met a lot of people through that… I had a real focus." For Lauren, the adjustment was equally smooth. "I kind of had a good idea of what Gabriel was looking for in desserts when I started working with him. It's been a real collaboration."
Both Andy and Lauren have found Portland diners to be unfussy, but especially concerned with quality ingredients. "I wouldn't say people in Portland or New York are any more or less demanding; they're demanding of different things," explains Andy. "I think in New York, there's more focus on the show, and here, there's more focus on quality of the product." Lauren agrees: "Everything is a little more casual here. That is a good thing."
That emphasis on the essentials of the dining experience has freed Lauren and Andy to focus on what is important. Andy says, "We really concentrate on three things: delicious food; service that's correct, warm, and unassuming; and wine and beverages that represent a lot of value. We don't focus on uniforms, stationery, or deals; for us, it's just about consistently doing food, beverage, and service as well as we can. Everything else is really secondary."
Lauren has found inspiration in Gabriel Rucker's vision and in unique ingredients. "Le Pigeon is Gabriel's baby, so when I come up with desserts, it's us working together, something we're both happy with. With Little Bird, it's more my thing; it's nice to have both places." Lauren recently discovered the bounty of bay laurel trees, which led her to concoct a pot de crème with fresh bay leaves. She has also been working with chocolate, creating a line of chocolate bars called Fancy Pants. "We sell them at Steve Jones' Cheese Bar. The most popular flavor contains fleur de sel and caramel crumbs."
One of Lauren's signature desserts at Little Bird is the Chocolate-Caramel Croquant. This decadent pastry features layers of chocolate sponge cake, caramel custard, chocolate mousse, and wafers of crunchy chocolate, all garnished with seasonal fruits like amarena cherries.
Recently, Andy and Lauren gave birth to their first child, Dora Jean Fortgang. When asked about the future of their burgeoning restaurant enterprise, Andy answers, "Dora is our expansion plan for the next little while." However, Lauren will soon return to the pastry kitchen, working one day a week. "That's the nice thing about being owners in a restaurant – we have some flexibility," she remarks.
Diners who want to experience the excellent service and memorable cuisine of Le Pigeon and Little Bird are encouraged to make reservations in advance.
Le Pigeon:
738 E Burnside St., 503-546-8796
Little Bird:
219 SW 6th Ave., 503-688-595.