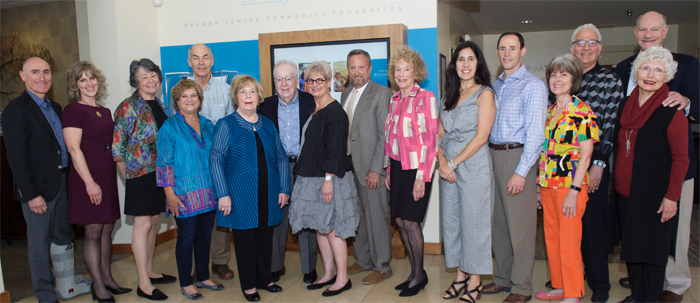 Photo: These Legacy donors added their names and personal stories to the community-wide Endowment Book of Life, on display at the Mittleman Jewish Community Center. For the new partner organizations starting out, their legacy donors can also sign the Book of Life. You can visit the Book of Life online at ojcfbookoflife.org.
The LIFE & LEGACY  initiative has its roots in San Diego, CA. Gail Littman, z"l, and Marjory Kaplan, former CEO of the San Diego Jewish Community Foundation, launched the Endowment Leadership Institute in 2004.
Word of its success soon reached philanthropist Harold Grinspoon, and in 2008, he invited Gail to launch a similar initiative in his hometown community in Western Massachusetts.
After the success in Western Massachusetts and other pilot initiatives, LIFE & LEGACY was launched in 2012 and is now in almost 70 communities across North America. More than a billion dollars has been committed to Jewish legacy giving through this program.
After five years of being a formal partner in the Harold Grinspoon Foundation's LIFE & LEGACY program, the Oregon Jewish Community Foundation is now sponsoring, independent of the Grinspoon Foundation, a new group of smaller organizations that are interested in building endowments and legacy giving.
The OJCF will bring training, support and monetary incentives to nine new partner organizations, stretching from Vancouver, WA, to Ashland, OR. These organizations' leaders know how vital it is to secure resources that will sustain their work for the next generation and beyond.
Since the pandemic began, Google searches reveal that interest in estate planning over all demographics is at an all-time high. Charitable gifts within estate planning are also at an all-time high.
The new organizations' legacy teams participated in a LIFE & LEGACY virtual kick-off meeting in November 2020, with guest speaker Arlene D. Schiff, national director of the LIFE & LEGACY program at the Grinspoon Foundation. On February 23, they had their second training session via Zoom with presenter Julie Diamond, OJCF president and CEO. There were 27 people on the call, both professionals and volunteers.
Legacy teams consist of a professional staff person and at least three volunteers. Often a past board president will take on this role after concluding their time are president.
These organizations will have three virtual trainings a year together. They will also work one-on-one with the foundation legacy team of Tara Siegman, donor relations and development officer, and Julie Diamond.
Incentive grants of $3,600 per organization per year for meeting program goals are provided by the OJCF Community Endowment Fund, for a possible total of $64,800 for these organizations.
The new nine participating organizations are:
Congregation Kol Ami, Vancouver, WA
Congregation Shir Tikvah, Portland
Greater Portland Hillel, Portland
Havurah Shalom, Portland
Jewish Federation of Lane County, Eugene
Maayan Torah Jewish Day School, Portland
NCSY Oregon, Portland
The Oregon Hillel Foundation, Eugene
Temple Emek Shalom, Ashland
For more information on the LIFE & LEGACY program, visit ojcf.org/create-a-jewish-legacy/life-legacy.
The importance of a legacy donation and the impact it can have is demonstrated by Dr. Jerome M. Reich, z"l. Dr. Reich was a member of the OJCF Legacy Society. He regularly attended OJCF's legacy celebrations and appreciated the connection he felt with other legacy donors.
"OJCF is deeply honored to have Dr. Reich's trust and confidence. Because of his generous bequest, we've established two new funds: the Jerome M. Reich Memorial Endowment Fund and the Jerome M. Reich Memorial Donor Advised Fund," says Julie Diamond. "These funds will provide important financial resources for our Jewish community, now and for generations to come."
Dr. Reich's daughter Sacha Reich wrote this loving tribute about her father:
Jerome M. Reich, born in 1936, was a pulmonologist, polymath, environmental steward, and outdoors enthusiast.
Jerry's grandfather, a cantor, brought his growing family from Jerusalem to New York in 1902. Jerry's father, Sidney, was born after their arrival, and by his 30's, was a successful liquor magnate, raising his secular family in Queens, spending summers in the Catskills. Jerry's rather idyllic childhood ended abruptly with his parents' death: his father when he was eleven years old, and his mother when he was thirteen. Jerry and his younger brother were then raised by an orthodox grandmother from the old country. Jerry did not take to her religious dogmatism and grew rebellious, even joining a Jewish gang. An attentive uncle intervened, urging him to use his intellectual gifts to make something of himself. He urged Jerry to go to college and suggested he consider the medical profession.
College kindled passions for language, literature, music and lifelong learning. Dictionaries, encyclopedias, and the great books were among his most prized and used possessions. Medical school in New York led to an internship and residency in Utah, where Jerry discovered his lifelong love of the natural environment. He served as a captain in the U.S. Airforce in Waco, TX, where he became adept in reading lung scans and met his future wife, Norma. In search of a natural setting that rivaled Salt Lake City, with a less religious undercurrent, he accepted an offer from Kaiser Permanente that brought him to Portland.
The Pacific Northwest became Jerry's beloved playground, and, as a committed Mazama, he climbed its mountains, led hikes in the Columbia Gorge, and rode his bicycle until he couldn't. His nearly 25 years as a pulmonologist was followed by another quarter-century dedicated to research. Jerry completed "Reappraisal of Prevailing Premises in Sarcoidosis,'' a collection of his scholarly work, in the final year of his life.
To use his own words, Jerry felt "strong tribal identification" as a Jew, and even though he "couldn't find himself in organized religion," "the Judeo Ethics that evolved over 3.5 millennia" spoke to him, especially the call to tikkun olam. He saw his medical practice and research, motivated by his desire to improve or preserve patient quality of life, as lifelong contributions to tikkun olam.
Jerry staunchly supported the Portland Jewish community through annual gifts. His final bequest to the Oregon Jewish Community Foundation is a testament to his commitment to this community and to making vital resources available to it as it seeks to meet its evolving needs in the decades to come.
Jerry died in June 2020 at 83 and is survived by two children and four grandchildren.