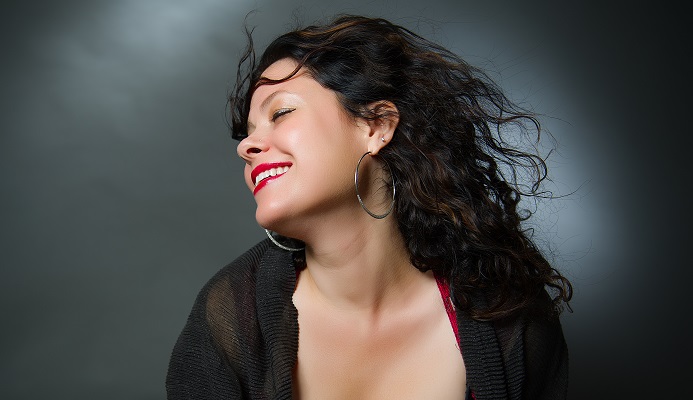 PHOTO: Neshama Carlebach. Photo by Michael Albany
Neshama Carlebach returns to Oregon for two February concerts (see below).
Last year, when Neshama returned to the world stage after a four-year hiatus from performing, we featured her on the cover of our March issue. Neshama is once again singing the beloved songs of her late father, Rabbi Shlomo Carlebach, and sharing his message of love for all humanity.
Now Portlanders have two opportunities to experience Neshama as she shares that music and her message of harmony in a world that seems divided.
"In my humble opinion, love is our only hope," Neshama told us last year. "Music is a manifestation of love. There is harmony in music. It is a language we can all relate to. … Music is a very big unifying force in our world. We all need each other."
The Feb. 10-11 Weekend with Neshama Carlebach will feature a Saturday concert at Congregation Shaarie Torah and a Sunday community concert at Congregation Neveh Shalom. Reflecting Neshama's broad appeal, the weekend is a collaboration of Congregation Beth Israel, Congregation Neveh Shalom, Congregation Shaarie Torah and the Mittleman Jewish Community Center. The Leonard and Lois Schnitzer Charitable Foundation of the Oregon Jewish Community Foundation provided funding for the weekend.
Saturday's event, "Come Together! Songs of Unity for a World Divided," is an intimate evening of music, food, drink and singing. Neshama and Rabbi Joshua Rose will reflect together on how music and Jewish community can help create unity at a time of division.
The PDX Community Concert with Neshama on Sunday afternoon will be preceded by a meet and greet for concert patrons at 4 pm.
Neshama's father, Reb Shlomo, has been called the most influential composer of Jewish religious music of the 20th century. The folksy, guitar-playing Orthodox rabbi created hundreds of uplifting melodies including legendary classics such as "Am Yisrael Chai."
Although her father was Orthodox, Neshama says he embodied the harmony she shares in her music. "I feel just Jewish," she explains. "It is time to break down the walls and be one and be present together. Let's be one."
A Weekend with Neshama Carlebach
Come Together! Songs of Unity for a World Divided
WHEN: 4 pm, Feb. 10
WHERE: Congregation Shaarie Torah, 920 NW 25th Ave., Portland
TICKETS: $18
PDX Community Concert with Neshama
WHEN: Feb. 11 – Doors open at 4:30 pm, show at 5 pm
WHERE:  Congregation Neveh Shalom, 2900 SW Peaceful Lane, Portland
TICKETS: $18/adults; $10/children and seniors; $180/patrons per couple.
For tickets or information about both concerts: oregonjcc.org/neshama or 503-452-3427