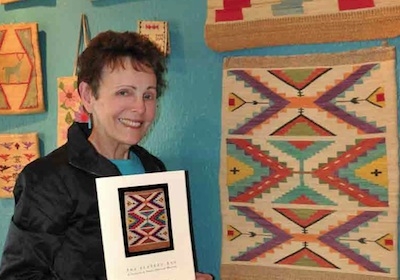 Natalie Linn's journey to becoming a national expert on Native American basketry began with the purchase of a $5 "Indian basket," which turned out to be a fake.
Nowadays Natalie is a frequent appraiser on "Antiques Roadshow" and has appeared on "History Detectives." She has lectured on Native American art at museums and universities across the country and/or helped develop exhibits of Native American baskets or plateau bags at the Portland Art Museum, Panhandle Plains Historical Society Museum, Johnson County C.C. Gallery of Art, DePauw University, Stanford University, several Oregon universities, the National Cowboy Hall of Fame and many others. She's also appraised or consulted for other art museums and auction houses includ- ing The Cleveland Art Museum, New Orleans Art Museum, Seattle Art Museum, Bonham/ Butterfields, Sotheby's and Christies. But how did she gain such a reputation after her first failed purchase?
Natalie was a fourth- and fifth-grade teacher in California when she returned to her hometown of Portland for a wedding and met Dr. Merritt Linn. She moved to Oregon in 1965 where Rabbi Yonah Geller, z"l, married the couple (who divorced 26 years later, though Natalie reports they are still good friends).
When they bought what was supposed to be their transi- tional home (Natalie still lives there), Natalie thought it had a very cold feel and wanted to decorate it with warm colors. Remembering the warmth of the Native American art she first encountered teaching a fifth-grade social studies class on California history, she decided to buy an "Indian basket" at a local antique shop. It only cost $5, but when she learned it was not tribal art, she returned it.
"I swore I'd never be taken again," says Natalie. "I started reading, studying and going to auctions and asking questions. I started collecting and meeting people."
About 38 years ago, she set up a show in Eugene and sold a few baskets. She also gave a "cradling basket" to a pregnant Native American woman at the show. "She was so impressed she told her friends." Natalie met more Native Americans around that time when she was tutoring adults seeking to further their education. "My first student was a Native American woman," whom she talked to about baskets.
She also decided to return to college and took classes at Portland State University and Reed College, from which she earned a master of liberal studies-art history in 1990 with her thesis: "The Artistry of American Indian Basketry."
After earning her master's she taught a fine arts senior seminar at PSU. She focused on Native American basketry as an example of botanical sculpture. She also has lectured at Reed on the art of basketry, which she says is amazing since no Native American language has a word for art – they simply decorated the items they created for everyday use.
She makes that point in an appearance on "History Detectives." It's just one of the many stories of discovery Natalie can share.
She calls her appearances as an appraiser on "Antiques Roadshow" "quite an honor … you don't refuse 'Antiques Roadshow' – it's the highest honor for an appraiser." At a recent filming of the show, for an episode slated to air in early 2015, Natalie says she brought a lot of joy to one woman. The woman brought in a basket she had purchased for about $150. "The basket was from the Yokut tribe in California. It's worth over $26,500; before (the economic crash in) 2008 it would have been $65,000." "She was shocked when I told her," says Natalie with a smile.
Other stories pop up walking through Natalie's SW Portland home, which has baskets or plateau bags in every room. When evaluating a basket's worth, Natalie says she looks at form, design, condition and tribe. Since weavers seldom signed or marked their baskets, those that do have a maker's mark from a few well-known weavers are especially prized. Natalie owns a few such baskets and even has a photo of the weaver with her 1920s-era basket that is now in Natalie's collection.
Natalie also buys and sells baskets and organizes shows with her business partner, Elaine Tucker. Elaine joined Natalie's busi- ness in 1990. Elaine holds a bachelor's degree in education from Washington University in St. Louis. For six years, Elaine pro- duced and managed the Chicago Indian Art Show and Lecture Series in conjunction with the Mitchell Indian Art Museum. She also managed and produced the St. Louis Gateway antique Indian Art Show and Lectures Series. Linn-Tucker Indian Baskets exhibit at three national antique shows throughout the year: San Rafael, CA, in February; Santa Fe, NM, in August; and Seattle in October.
The initial market for Native American baskets and bags arose during the 1870s to 1930 when people started traveling west, explains Natalie. "Whites took a real fancy to Indian baskets and would buy them at railroad stops from Indian ladies. It was chic to wear a basket purse … it showed they could afford to travel west."
This early national awareness of Native American basketry is due in part to the efforts of a Jewish couple, says Natalie. One weaver who gained early fame was Dat So La Lee, a member of the Washoe tribe who originally worked as a domestic for Abe and Amy Cohn in Carson City, NV. Recognizing the exquisite weaving she did, in the 1880s Abe began to sell her baskets, and included a certificate of origin with each, at his family's Cohn's Emporium; he also promoted her baskets at the 1893 World's Fair in Chicago. In 1897 one of her baskets sold for $1,200, "when a man's salary was $5 a week," says Natalie.
A dealer in Arizona once called Natalie to appraise one of Dat So La Lee's baskets. After appraising the basket for $150,000, she says she and Merritt considered mortgaging their home to buy it, but decided against it. "P.S., the basket we were offered for about $150,000 sold a few years later for over $1 million," Natalie says.
The Cohns have become known as the first patrons of Native American art. Natalie is another link in that Jewish chain of promoting the work of women who often worked anonymously. "I don't take fees for lecturing," Natalie says. "I do it to get the word out about these amazing women who weave these magnificent pieces."
Natalie has ties to three Portland congregations as well as many Jewish charitable groups. She grew up at Temple Beth Israel, where she was confirmed by Rabbi Julius Nodell. Her father is buried in the cemetery of Shaarie Torah, whose rabbi later officiated at her wedding. She belonged to Congregation Neveh Shalom while her two children were young, and she taught religious grade school and high school at both Beth Israel and Neveh Shalom.
"I was on the first JWF ( Jewish Welfare Fund) women's committee with Renee Holzman. I was also in City of Hope and Brandeis women's committee," says Natalie, adding she helped fundraise for many other groups. "I was co-chair with Toinette Menashe of a Russian resettlement lunch. And I'm in the longest-running book club in Portland (46 years) with 12 other Jewish women."
Now when she's not busy with baskets, Natalie enjoys spending time with her two adult children and three grandchildren. Her son, Keith Linn, is a forensic psychologist whose son, Walter, is 5. Keith's wife, Lisa Ludwig, is an attorney in Portland. Daughter Jodi Coleman is a therapist for Clackamas County Crisis. She and her husband, Ken Coleman, have 6-year-old twin daughters Casey and Jane Coleman.
Natalie says one of her favorite speaking engagements was when her granddaughters asked her to tell their kindergarten class about Native American baskets.
"They were so excited. It was very cute and I got a big kick out of it," says Natalie, who adds the girls love the baskets.
Who knows, maybe Casey and Jane will be the next Jewish link in promoting this Native American art form.
HISTORY DETECTIVES
Natalie Linn appeared on "History Detectives," Episode 809, Story 2: Modoc Basket, to help solve this case: "Our contributor believes she has a basket woven by a woman who played a pivotal role in the Indian Wars that helped define the settlement of the West.
The weaver worked the name 'Toby' into the pattern of the basket. Could this be Toby Riddle, the woman who thrust her body into the line of fire to save the life of a peace negotiator?"
The episode is still available online at pbs.org/opb/ historydetectives/investigation/modoc-basket/. In the episode, History Detective Wes Cowan asks Natalie Linn if she thinks the basket is from the Modoc tribe. Natalie replies, "Well, I think it is definitely a Modoc basket. And we know that because of the materials
that were used."
Wes adds, "Natalie explains the traditional material for Modoc basketry was tule, a type of reed that grows along the rivers and marshes of
Northern California. Now…what do you think of the age of that basket?" Natalie replies, "I think 1890s to 1910, maybe at the latest. And by the way, a few years makes a lot of difference. There's a certain patina that is added. The reeds here have had a chance to fade. And we don't get as vibrant a basket."
When Wes tells her the name Toby is woven into the basket and asks if it could refer to Toby Riddle, Natalie tells him "It is very rare to have the name of a weaver on the basket. If they were very proud of their work, oftentimes they would use a maker's mark. And a maker's mark was usually a couple of stitches that do not belong to the original design. It was never a signature per se." She later adds she cannot say for sure if the basket was indeed woven by Toby Riddle.
Regarding the use of such baskets, she says, "The baskets were used for cooking. For gathering. For storing. Even though basketry was originally made for utility, everything was embellished. And it's funny, because there is no name for art in any Native American language. But baskets became the vanity point for certain wonderful weavers that incorporate, what we know.
as art, into their production."