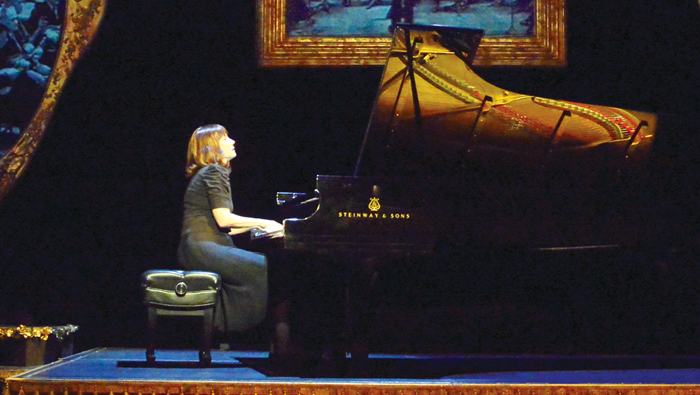 Concert performers often become associated with a particular piece of music; this bond grows from their natural affinity for the work, or a particular facility for interpreting it. When Mona Golabek was a young concert pianist at the beginning of her career, she connected in a particularly personal way to Edvard Grieg's Piano Concerto in A minor. For Mona, the relationship wasn't simply musical; she was nurturing a familial association that stretched back to World War II.
In her 2003 book, The Children of Willesden Lane, Golabek tells the story of her mother, pianist Lisa Jura, who escaped Nazi-occupied Vienna as a teenager and arrived in London, one of 10,000 children rescued by the Kindertransport. Golabek brings her mother's story to life in a one-woman show, "The Pianist of Willesden Lane," presented by Portland Center Stage from April 2-May 1 at the Armory in downtown Portland.
" 'Hold onto your music. It will be your best friend in life.' As long as I can remember, these precious words have accompanied my journey through life," writes Golabek. "They are the last words spoken by my grandmother to my beloved mother, Lisa, at the Vienna train station in 1938 as hundreds of crying children said their good-byes forever to their parents and boarded the Kindertransport to escape persecution by the Nazis.
"My mother started teaching me the piano when I was 4 years old," Golabek continues. "She told me fantastic tales of that journey, from old-world Vienna to a rambling orphanage at 243 Willesden Lane in London. I became a concert pianist because of those words and stories, and because of my mother's passionate connection to music … I was so overwhelmed by the love my grandmother showed in sending her daughter away, losing her forever to save her, that I vowed to share this story with the world."
These stories were woven into the fabric of Golabek's childhood and became an essential part of her identity. "I was moved and fascinated and perplexed by them," she recalls. "These were like my fairy tales, but I don't think I fully understood their impact until I was engaged to play the Grieg, when I was in my late 20s. After that, I started to write down the outline of my mother's story."
It took Golabek more than 20 years to complete The Children of Willesden Lane, in collaboration with author Lee Cohen. The book, written from the teenaged Lisa's perspective, has become a touchstone for thousands of young people.
"I see how this story affects young people all over the world," says Golabek, who has presented it at reading events for children in cities all over the country. "They say, 'If Lisa can do it, I can do it.' I met a Thai refugee in Hartford, CT, a young girl, crying about what it was like to be in a refugee camp before her family emigrated here. The Lisa Jura story will give her strength every time she thinks about her own situation."
Golabek arrives in Portland on the heels of the London debut of "The Pianist of Willesden Lane," where it sold out its eight-week run.
"The audiences have been overwhelming wonderful, and they've embraced the story … after all, it is their story, too," writes Golabek in a recent email. "Hundreds line up to speak with me after the shows; many want to share their stories, and audiences love the references in the play about life in London."
Golabek began performing in "Pianist" four years ago, when it opened in Los Angeles. Since then, the play has garnered rave reviews and packed theaters in Berkeley, Chicago, New York and several other cities. Taking on another persona is the essence of an actor's work, but for Golabek, the challenges of inhabiting her mother's persona run deeper.
"This story is so personal," she says. "I'm out there on stage, and I remember things about my mother, pieces of my childhood. Sometimes I get overcome; once I almost couldn't finish a line because I was so overcome." Golabek worked with Howard Fine, a well-known acting coach, who is also the son of refugees, to learn basic acting techniques and how to use the stage in her performance. "He has a tremendous sensitivity; he helped me transfer the principles of being a concert pianist to acting."
Golabek's career has traced an interesting arc that has led her to acting, after years onstage communicating through music rather than words. In 1979, she won a prestigious Avery Fisher Recital Award; for the next 15 years, she toured internationally as a concert pianist, earning a Grammy nomination along the way. In 1998, she created and hosted a classical music radio program, "The Romantic Hours," which is still heard in syndication around the country. Now, with "Pianist," Golabek combines her music with spoken words (she narrates much of the play seated at the piano, telling Lisa's story while simultaneously playing excerpts from music, like Grieg's Piano Concerto, that Lisa studied as a teenager in London).
Meanwhile, the telling of Lisa's story continues, on and offstage. "We have an exhibit with the Los Angeles Museum of the Holocaust, the oldest Holocaust museum in the country," says Golabek. "They've just created a beautiful exhibit on my mother's life, the Lisa Jura Musical Showcase. We plan to take it around the country."
Portland Center Stage presents
"The Pianist of Willesden Lane"
At the Armory, 128 NW 11th Ave., Portland
April 2-May 1, 2016
Based on a book by Mona Golabek and Lee Cohen; Adapted and directed by Hershey Felder
Tickets start at $25 | pcs.org/pianist
Related Events:
Creative Conversation: Perspectives on "The Pianist of Willesden Lane"
April 17, 3:30 pm (following the 2 pm performance)
Guest speakers from the Oregon Jewish Museum discuss the impact of the Kindertransport.
Free; in the Ellyn Bye Studio
April Social Hours: Social Hours connect the community with Portland artists for casual happy hours. During the run of "The Pianist of Willesden Lane," musicians will host and perform selections.
Light hors d'oeuvres and the first drink on the house!
Free on the Mezzanine pcs.org/community
April 7 at 6:30 pm – Hosted by Portland Piano International – Arnaldo Cohen performs
April 10 at 1 pm – Hosted by Third Angle New Music – Evan Kuhlmann performs
April 24 at 1 pm – Hosted by Third Angle New Music – Sarah Tiedemann performs
April 28 at 6:30 pm and May 1 at 1 pm – Hosted by Portland Jazz Composers' Ensemble