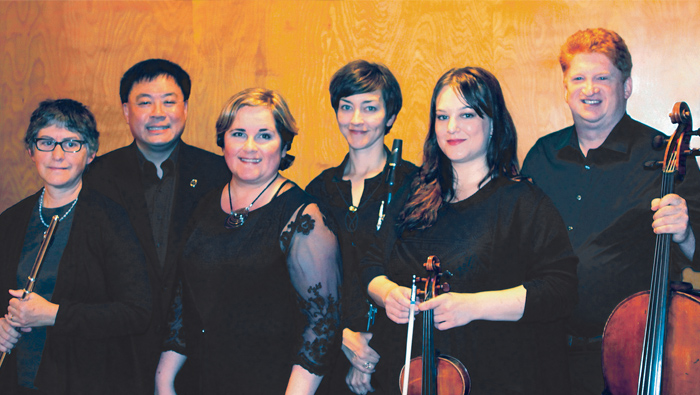 A March 4 concert will give voice to musicians who refused to be silenced by the Holocaust and  raise money to bring music to underserved neighborhoods.
For most of the year, Portland Chamber Music brings free concerts to neighborhoods whose residents might never attend a concert because of lack of money, transportation or awareness of chamber music. Once a year, the nonprofit group presents a fundraiser to make that work possible. This year's concert gives voice to musicians who refused to be silenced by the Holocaust. The concert will include works by two composers who survived the Holocaust, two who perished in the camps and a Brahms piano trio in memory of a woman who conducted the Women's Orchestra in Auschwitz before her death.
Portland Chamber Music's proposal was the first Innovation Fund granted by Institute for Judaic Studies.
"The PCM concert, we felt, was innovative, cultural and educational," says IJS Executive Director Sylvia Frankel. "Bright Voices of the Darkest Hour will include works which were performed at Nazi ghettos and camps or written during, or influenced by, the Holocaust. It is a most original way to bring awareness of the lesser known history and music of Holocaust musicians."
The concert was the brainchild of PCM Executive Artistic Director Anya Kalina, a vocalist who moved to the United States from Russia in 2000 at age 25 when she "won the green card lottery." Anya sang with the PCM when it was first organized in 2010 and then stepped up to rekindle it a couple years after the previous director ran out of time to organize the concerts. Anya was searching for pieces suitable for small chamber groups when she discovered a piece commissioned for a small chamber group that included the same instruments in her group. The piece was a poem by Auschwitz survivor Primo Levy with music by Simon Sagan.
She began searching for other pieces from the Holocaust suitable for small groups. Amazed by the music and the stories she discovered, Anya wanted to share those discoveries with the community.
She says people often wonder why those fighting for their lives would bother with music. "To me it is obvious," Anya says. "Music is a basic need for human survival. It brings us comfort and joy and for many of us the meaning of life. … It can make people happy for a half hour by taking them to a different place."
She fell in love with the work of Leo Smit, a Dutch Jew who perished in Sobibor. The concert will include a "very uplifting, jazzy and lush" sextet he wrote in 1933 and the last piece he wrote in 1943, a flute sonata. "It has a totally different feel – more somber of course, but not sad," says Anya. "The flute is so desperate. It is haunting, more naked."
PCM is creating a panel for display at the concert that will share more of Leo's story than can be included in the concert. Anya also wants to develop a panel sharing the story of the Auschwitz Women's Orchestra under the direction of Alma Rose. After the concert, the panels will be donated to the Oregon Jewish Museum and Center for Holocaust Education.
Alma was the daughter of Vienna Philharmonic violinist Arnold Rose, who performed the Brahms piano trio with the composer in 1889 after Brahms rewrote the work he first composed in 1854. After escaping to Britain, Arnold performed the piece again in London, not knowing his daughter had been sent to Auschwitz and was conducting the camp's women's orchestra. Alma perished before the camp was liberated.
Composer Gideon Klein also perished in Auschwitz after composing a lullaby in the "model" concentration camp of Terezin. Anya calls the piece, which will be featured in the concert, "absolutely beautiful. A mother singing in Hebrew is trying to calm a child before going to sleep."
The concert will also include works by two composers who survived the Holocaust, a clarinet trio by Hans Gál and three songs without words by Paul Ben-Haim.
The concert will feature Michael Liu, piano; Lynda Hess, flute; Jennifer Crockett, clarinet; Meghan Van Cleave, violin; Gemma Taylor, French horn; Jonathan Cheskin, cello; Anya Kalina, soprano; and Deborah Gitlitz, storyteller. Special guest performers will be Lisa Lee, violin; Ann Van Bever, oboe; and David Taylor, bassoon.
Bright Voices of the Darkest Hour: Music and the Holocaust
Saturday, March 4 at 7 pm
Community Music Center
3350 SE Francis St., Portland
Portland Chamber Music presents a special tribute to the power of music from a time that should never be forgotten. Come and learn amazing stories of the human spirit and hear music by Leo Smit, Gideon Klein, Hans Gál, Paul Ben-Haim, Simon Sargon and Johannes Brahms.
Suggested donation $15 at the door, but seating is limited.
RSVP to reserve a seat at
pdxchambermusic.org/upcoming
Rabbi Joshua Stampfer Grant
The Innovation Grant Fund of the Institute for Judaic Studies offers financial assistance between $500 and $2,500 to promote innovation and to launch new projects consistent with the IJS mission "to encourage people throughout the community to join together to learn about Jewish history, culture and life."
Applications must be submitted at least six months before funds are needed.
Contact: IJS Executive Director Sylvia Frankel at info@portlandjudaicstudies.org