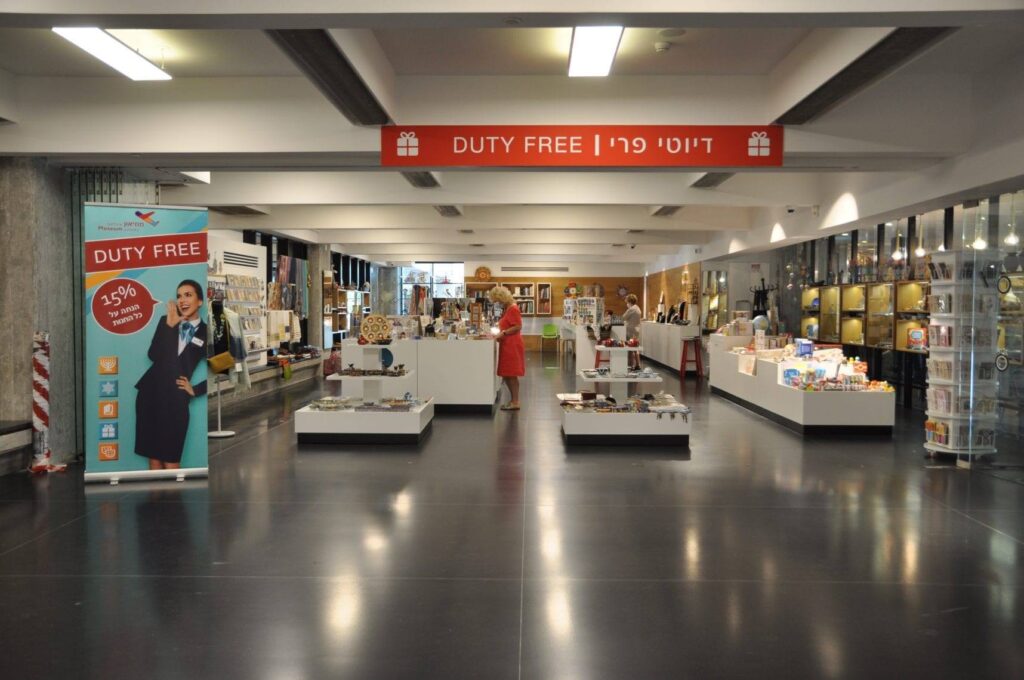 Photo: The mock airport terminal includes a duty-free shop.
The Museum of the Jewish People has temporarily transformed itself into an "airport terminal" so children and families can "travel" the world both in-person and virtually despite ongoing air travel limited due to COVID-19 safety concerns. There's even a "Museum Airlines" to help visitors' imaginations take flight.
The museum's fun new immersive and interactive experience, which is geared toward children ages 8-14 and their families, includes a simulated airport terminal, complete with all the sights and sounds. The pretend terminal features a flight desk, flight board, baggage claim with luggage, passport center, and much more. There's even a money exchange desk and a duty-free shop as well as signage directing travelers to their gates, concourses, check-in, customs, and ground transportation including car rentals, among other things.
Upon arrival at the museum's front desk, visitors are issued a "passport" and a "boarding pass," the former stamped with destinations to visit and questions and riddles for the entire family to solve. Visitors will take a "flight" in an elevator up to the second floor, where they'll embark on their global travels via two exhibits, "Hallelujah! Assemble, Pray, Study — Synagogues Past and Present," and "Let There Be Laughter — Jewish Humor Around the World."
While touring the exhibits and engaging with installations, interactive displays, videos etc., visitors answer the related passport questions and riddles, and are transported to cities such as New York City, Venice, Paris, Amsterdam, Fes (Morocco), Kochi (India) and Willemstad (Curaçao), among others. For example, while in the "Let There Be Laughter" exhibit, visitors are asked to answer questions including: "In this city, a plot about nothing takes place — a group of four friends in a TV series about nothing. What is the city?"
Upon completion of the "trip," visitors can return to the flight desk, and, as a reward for being a frequent flyer, receive complimentary tickets (one per person) to the museum's new Core Exhibition, which is scheduled to open in late 2020.
Complementing the in-person "travel" experience, which runs through September, is a free English language online version and interactive digital quiz so kids, families and groups globally can embark on the activity virtually. The museum, which reopened in July with enhanced health and safety measures in place, has mapped out the entire experience with its 360 degree video technology so people can navigate on their own and activate embedded media. The virtual experience will be available indefinitely.
For more information about the "Museum Airlines" experience and the museum's full offering of online tours and activities, visit www.bh.org.il.