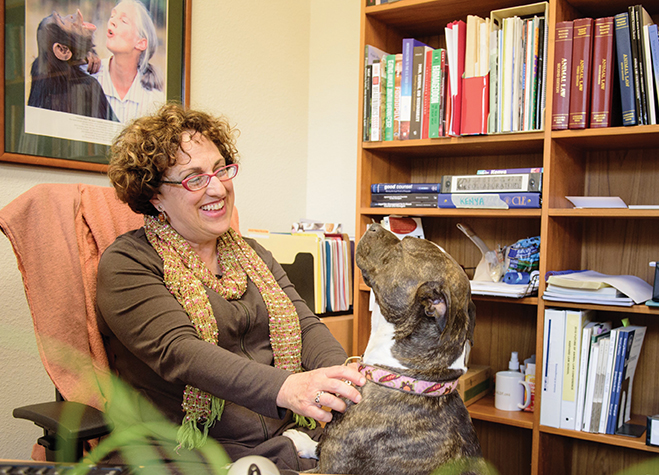 PHOTO: Joyce Tischler and her dog, Deja.
When Joyce Tischler was a law student 40 years ago, animal law didn't exist. Now the Animal Legal Defense Fund Joyce cofounded in 1979 has 180 student chapters, three offices on the West Coast and thousands of attorneys protecting animals' rights.
For Joyce, protecting animals is all about tikkun olam, mending the world. "Tikkun olam runs very deep for me," she says. "I never wanted to practice in a big firm and make a lot of money. I wanted to work for a cause and change the world."
Joyce, who is 63, has been called the "Mother of Animal Law." As a law student she wrote a groundbreaking article for the law journal at the University of San Diego School of Law: "Rights for Nonhuman Animals: A Guardianship Model for Dogs and Cats." She served as the founding director of ALDF for 24 years and is now general counsel at ALDF, which is headquartered in San Francisco with offices in Portland and Los Angeles. ALDF protects the lives and advances the interests of animals through the legal system.
As an attorney who has devoted her life to animal welfare, Joyce doesn't expect everyone to jump in as deeply as she has. But given the love and care so many of us lavish on our dogs and cats, she does hope everyone will take one small step toward improving the lives of animals.
"There is a lot of information on the internet about problems faced by animals," she says. "Many people don't want to know the painful truth. Allow yourself to be broken open to the suffering."
As it says in Ethics of the Fathers, "You are not obligated to complete the work, but neither are you free to desist from it."
We cannot be bystanders, we have to start somewhere, and it doesn't really matter where: pick an issue, pick a species, pick what you are passionate about, then roll up your sleeves and take action," says Joyce.
Herself a vegan, she encourages others to consider adopting Meatless Monday to reduce the demand for animals raised in intense confinement on factory farms. Or volunteer to clean cages, walk dogs or play with cats at the Oregon Humane Society. ("This one is a sterling, wonderful example of a humane society," Joyce says). Or visit aldf.org and sign up for action alerts. Attorneys can do pro bono work to help ADFL extend its reach. If you are interested in politics, thank Rep. Earl Blumenauer, D-OR, for the many bills he has introduced to support animals or encourage other politicians to support laws that protect animals.
"Whatever level you want, there is so much people can do," she says. "It starts with tikkun olam. This concept encourages each of us to stretch our hearts and embrace more of this world. To stand beside the wounded and the defenseless, to embrace those who suffer, to acknowledge and reach out to those who are ignored or abused. … The world needs more generosity, more mercy and better care."
Joyce grew up in a culturally Jewish home. The family attended synagogue on the holidays and she spent summers at a Jewish camp in the Catskills. She says her commitment to tikkun olam grew out of her exploration of concepts she encountered on the Days of Awe. "I had to teach myself a lot," she says. She took Yiddish in college and visited Israel when she was 19. But she notes Birthright didn't exist then, and Israel was just part of her travels. By contrast, when her daughter, Margeve, now 27, went to Israel on Birthright, she was so moved that she took a volunteer job at a hostel in Tel Aviv in exchange for a place to stay and spent two and a half months experiencing Israel.
Joyce says that now, "The Days of Awe have become a very special time of the year for me, not only as a Jew, but as a human being striving to be my best version of myself."
For the first few years, ALDF (initially called Attorneys for Animal Rights) was a group of attorneys who met monthly to study state and federal laws relevant to animals and the abuse animals suffer. In 1981 Joyce filed a case against the U.S. Navy to halt its plan to shoot approximately 5,000 feral burros at its Weapons Testing Center in China Lake, CA. The Navy had already killed more than 600 burros before Joyce filed the suit, which lasted eight months but ensured no more burros were killed.
The victory netted the group a grant from the Animal Protection Institute, which enabled her to begin to work full time for ALDF, with a first annual budget of $12,000. Since then, the group's website notes, "ALDF has sued to stop bear hunts, mountain lion hunts, the removal of wild horses from federal lands, and challenged the intensive confinement of farmed animals and even the 'patenting' of animals. We've assisted prosecutors in numerous cruelty cases, rescued animals from hoarders and saved the lives of many animals, including dogs, cats, birds, chimpanzees, horses and, of course, those beautiful burros."
Joyce lives in Petaluma, CA, but visits Portland three or four times a year to work at the Portland ALDF office, speak at the Center for Animal Law Studies and to visit family. One year she taught an animal law course at Lewis and Clark, commuting to town once a week. She was in Portland in October to deliver the keynote address for the First Animal Law Student Convention hosted by Lewis & Clark.
She says Lewis & Clark's Animal Law program, which ALDF helped found in 2008 and still funds, is "by far the most robust animal law program anywhere in the world," though other universities including Harvard and Georgetown have started programs. Today more than 140 law schools offer at least one class in animal law.
"One of the things I am enjoying about getting older is that a lot of the constant chatter in my head has fallen away – the doubts, the worries, the second guessing that defined my younger years," she says. "I can see now that I've done exactly what I was put on this earth to do. I've been able to put my beliefs and values into action."
aldf.org