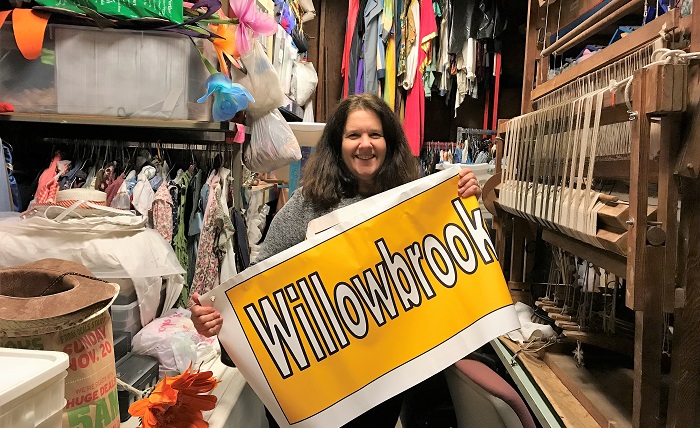 PHOTO: Monica Brenner looks over the stored supplies that each summer convert a park into an arts camp.
Monica Brenner has spent the past 25 years raising money for or leading nonprofits, primarily in the arts.
"I love what the arts can do for our city," says Monica. "I'm drawn to help arts serve our community and youth."
Most recently she served as interim executive director of The Circus Project, which "transcends social barriers and inspires personal transformation through circus instruction and performance" with classes for adults and children of all ages including homeless youth. She also headed the Portland Festival Symphony, which provides free classical concerts in parks each summer.
"Everybody has the right to share in the beauty of classical music," she says. "I'm drawn to raising money for the arts and running arts organizations."
Now she is drawing on her administrative experience and passion for the arts to help the family that created Willowbrook Arts Camp transition the summer arts camp to a new era. Its 37th summer will be the first time the camp has not been family run. Monica was hired last spring to work with the family for the 36th year. This year, as interim director, she will ensure the camp is up and running and that the heart and soul the family has poured into it for decades continues to shine through.
Willowbrook Founder Althea Pratt-Broome launched her arts and nature summer camp in 1982 with a group of 20 children. Willowbrook now serves some 1,900 children with more than 225 staff at Brown's Ferry Park in Tualatin.
"Her vision flourishes," says Monica. "Arts and nature spark creativity."
"Willowbrook is a nomadic camp," she says. "It is a massive undertaking. We set up an entire camp at the park in just two weeks, then we pack everything up in two weeks at the end of summer."
Monica enjoys both the problem-solving skills needed to meet those logistic challenges and the opportunity "to see the arts through the eyes of kids."
Younger campers are exposed to arts including puppetry, weaving, ceramics, drama and music, as well as nature study. As children age, they are able to choose from those same activities as well as additional options such as learning to play an instrument, photography, stagecraft, fused glass, dance and creative writing.
Since moving from Chicago to Portland in 1989, Monica and her husband, John Henrichsen, have been members of Congregation Neveh Shalom. Their sons, Eli, 16, and Ethan, 21, attended Foundation School. Eli is now vice president of his BBYO chapter, and Ethan is active with Chabad at the University of Oregon.
"The Jewish community helped me shape my kids' Jewish experience," she says.
Monica sees a similar emphasis on tradition at Willowbrook. "The history of the camp feels like how I feel about my Jewish community," she says. "I hope I can keep up the heart and soul the family has put into this organization."
willowbrookartscamp.org