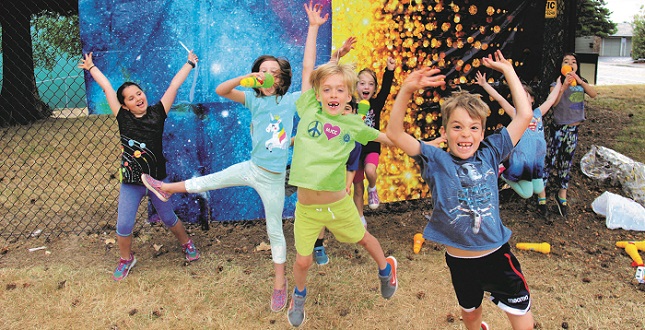 Photo: This summer the MJCC will pilot a program encouraging campers to wear sun hats.
By Lisa Katon
Did you know that Oregon has the fifth highest rate of melanoma in the U.S., surpassing many other "sunny" states like California and Florida?  We receive nearly a quarter of our lifetime sun exposure before age 18, and we know that the strongest UV radiation occurs during the day, when kids are at school.
The Mittleman Jewish Community Center just received funding through the Knight Cancer Institute Community Partnership Program at Oregon Health & Science University to pilot a program encouraging kids attending summer day camp to wear sun hats. The goal is to limit sun exposure among kids and reduce the risk of developing skin cancer.
The MJCC is adapting the Uriel Medical Foundation's SHADE program for elementary school students, an evidence-based intervention that grew out of a 2015 Knight Community Partnership grant.  Using SHADE's educational materials, the MJCC will develop and implement a program that involves parent and staff education, science-based projects for campers (in grades 1-4) and the promotion of sun safety behaviors.
Participants will be issued sun hats, have access to sunscreen and additional tents for shade in outdoor areas. The grant will allow the MJCC to hire a science specialist to lead the science sessions to help campers understand UV light, the skin cancer risk associated with exposure to sunlight and techniques for skin cancer prevention.
Grant funds will also cover training materials, science equipment, pop-up sun shades and more. Tammy Wisco, the SHADE program manager with the Uriel Medical Foundation notes, "Our next step to build on the success of the SHADE science program is to adapt it to other settings and we are excited that the MJCC will be the first to teach this important sun safety curriculum at their summer camps."
The MJCC is honored to be among a cohort of 10 organizations receiving a 2018 Knight Community Partnership Program Grant.  MJCC Assistant Executive Director Jennifer Harrington has played a key role in developing this cancer prevention project.  "We are thrilled to be able to undertake this exciting project, teaching our campers, in a very hands-on way, how they can develop sun-safe habits to reduce their risk of developing future skin cancers," she says.
MJCC Summer Day Camp kicks off on Monday, June 24, 2019, and runs through Friday, Aug. 23, 2019, with Vacation Day Camp options available the weeks prior and the week following Summer Day Camp. For more information, visit MJCC's website at oregonjcc.org.