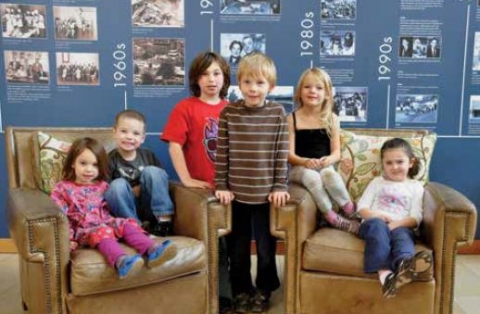 During its first century, Portland's Jewish Community Center met varying social, cultural, educational and recreational needs of Oregon natives, successive waves of immigrants and transplants from other communities across America.
As the Mittleman Jewish Community Center enters its second century, it must meet the needs of a population that continues to shift and evolve. The campus renovation, completed in 2007, provided enhanced fitness and recreation facilities – along with a lobby, kosher café and ballroom – all of which may well be a boon to reaching the new dynamic. The experiences of members in recent years support the center's claim as the "living room of the Jewish community." But just what is the makeup of the new population?
Jewish population studies, including the most recent Pew Research Center survey, "A Portrait of Jewish Americans," have shown a growing rate of assimilation – or at least a lower rate of religious affiliation, though the Pew study reported high rates of "Jewish pride."
In a Nov. 6 article in Florida's Sun Sentinel, Alan Cooperman (deputy director at the Pew Research Center's Religion & Public Life Project) and Greg Smith (the … [More] project's director of U.S. Religion Surveys) discussed some of those statistics: "Our survey report describes two main categories of Jews in America today: those who say their religion is Jewish (which we call "Jews by Religion") and those who say their religion is atheist, agnostic or nothing in particular but who also say that, aside from religion, they consider themselves Jewish or partially Jewish and that they have at least one Jewish parent or were raised Jewish. This second category, which we call "Jews of No Religion," now comprises 22% of all U.S. Jewish adults and appears to be growing. "… The first page of our report, for example, shows the rise in 'Jews of No Religion' among recent generations of Americans, from just 7% of the Greatest Generation to 19% of Baby Boomers and 32% of Millennials."
But religious or not, Jews tend to connect with their local JCC. And newcomers are no exception. "For many families, the JCC is their first stop in a new community," says Lisa Horowitz, who recently moved to Seattle after serving as MJCC campus director for seven years. "It may be our tagline, but it's authentic, we are 'the living room of the Jewish community.' This is where people call when they move to Portland. We play a central role in connecting people. It really is a central address. That's why we have a community concierge, Linda Singer, to connect people."
"We are a low barrier," says Horowitz. "We try to welcome everybody and help people find their way into the community. We are a gateway for some and a destination for many."
Bob Philip, MJCC co-president with Barry Benson, says center leadership plans to continue and expand that role in the center's second century. Looking at successful JCCs in other parts of the country, Bob says they have learned those centers succeed by reaching out to the non-Jewish community near the center and by taking center programs out to other geographic areas.
"We are the living room for the Southwest Portland community as well the Jewish community," he says. "We try to encourage all our members to take a more active role." Center leadership also is exploring ways to take center programs to people who do not have easy access to the campus in Southwest Portland. Bob says they are considering both annual programs such as Jewish Book Month events and ongoing programs such as child care. "We want to bring the community center to the community," he says. "We want to be more inclusive and bring programs out to the community."
To see how the center has met the needs of community members in recent years, we spoke to several members. Longtime member Anna Kodesch says, "I grew up going to the JCC to swim, do gymnastics, BBYO, etc. My kids now go for sports class and to swim in the warm pool. It is a place they feel comfortable with and it is familiar. My husband and I both work out there, where we run into my mom and various friends. And my kids always have fun there, whatever they are doing."
For Sarah Korach, "The JCC is a place for my family to be active and connect with other Jewish families. Equally important it is a place to play hoops! The regular women's basketball game that I have participated in for the last three-plus years is a highlight of my week and highlights what is important about the J for me – building friendships, getting a workout and having a good time. My son Ben shares my passion for basketball, so we often take him and his sister Mia to the gym after school or on weekends to shoot around and run around. The kids have also enjoyed classes like dance, soccer and gymnastics."
Sarah says her family also enjoys many of organized activities such as classes, Friday Night Lights and the Sunday afternoon movies. "It is a great way to be with other Jewish families, especially since it offers a way for those of us who belong to different temples or who are unaffiliated to get together," she says. "These gatherings and others like the summer day camp allow us to build Jewish connections and identity in a fun, communal setting. It builds Jewish identity in part by seeing Jewish symbols such as the menorah or Star of David in an everyday setting."
For Patty Magid-Volk, the MJCC has been a place for fitness, community and even spirituality. The MJCC has been the place she turns when facing health challenges. Years ago when she hurt her back she says the therapy pool was really helpful. Now she works out six days a week and says many people tell her that her commitment is inspirational. "It is a community of people," she says. "Even if I don't know them, the people I see in the locker room or the weight room are still part of my community. It's very welcoming."
"Being in my body and exercising is a spiritual experience," says Patty. "Exercising can be very prayerful – exercising in a Jewish context even more so. … the locker room is a spiritual place too. You can relax in the whirlpool or sauna." Longtime member Eddy Shuldman, who worked for BB camp for years and often did children's programing at the J , says that more recently the J has been "an important part of my life both as an athletic center and a cultural arts center for the community." Following physical therapy after elbow surgery, she worked with Lisa Franco, a personal trainer at the J "who helped rehabilitate my elbow and gave me a greater sense of power and control in my arm."
As a glass artist and the director of ORA Northwest Jewish Artists, Eddy also appreciates the MJCC's cultural role. "With the help and support of the MJCC we (ORA) were able to write a major grant to initiate Jewish Arts Month," says Eddy. "We were able to renew that grant and the MJCC hosted numerous theatrical and musical events, discussions
and exhibitions. The J continues to offer support to the Jewish arts community by hosting ORA each spring for month long exhibitions in the lobby. This year our exhibition and sale will run the first three weeks of March and the first week of April." (No exhibit during Spring Break.)
For Steve Friedman, the MJCC has long been his "home away from home." "I learned how to play racquetball there and remember great times with my father (the late Dr. Leonard Z. Friedman) on the court. My grandfather, Milton Margulis, is a past president of the center and was a huge role model for me in his leadership of the J and as president of B'nai B'rith men's camp, which the center owned at the time." BBYO meets at the MJCC every Tuesday evening during the school year, a tradition that started many years ago. Steve says he was often at the J for BBYO meetings as well as to play basketball or hang out after school."I believe those two things are the main reason I grew up with purpose and sense of community," says Steve. "Our peer group focused on community service and philanthropy, which kept us away from trouble and drugs. … Great, great times and I hope to have my kids experience the same enjoyment from the center as I did."
Barbara Robertson also grew up in Portland but moved away in the '80s and says she did not begin her Jewish journey until many years later when she converted to Judaism in 1999. "The MJCC was one of the first places I wanted to join when I returned to Portland in 2007, and I've been a member since. It was important to me to find ways to integrate my Jewishness with living back in my hometown. It remains a special place for me still!"
Camille Pasarow became a member of the MJCC in 2009 shortly after moving into the neighborhood. "I wanted/needed a gym close by that offered classes for my daughter," she says. "My father played racquetball in the 1970s at the MJCC during college, so I knew it was a good place. "The MJCC has impacted my life enormously. Since joining, my daughter has enjoyed all the activities the J offers, from swimming, to ballet to martial arts, to soccer, basketball and racquetball, not to mention good child care and the Zone. With the economy in bad shape and not a lot of work to be had, I started aggressively spinning and for a period of time, I was exercising almost every day at the J… and it really paid off. I lost 30 pounds and have been able to keep most of it off.
"The MJCC is a special place to me because the members and staff are so kind, I feel safe and respected, and the structure itself is beautiful and full of culture – a piano, famous art, and bagels and lox in the same room." Immigrants, too, still find a place at the J. Originally from Russia, Anton Borisov came to the states to visit a friend in 1999. Anton suffers from osteogenesis imperfecta, "brittle bone disease," and says for more than 45 years all he could do was just lie on his back. Once in America, the immigration service gave him asylum status.
"Now I can sit straight and only because I have the opportunity to work in the pool," says Anton noting that the warm water therapy sessions with therapist Doug Kinnaird have been very helpful. "I want to say thanks to all of you for this amazing opportunity to use a pool," he says, adding that belonging to the MJCC and using its facilities has changed his life in a big way.
As long as it can keep changing lives in a positive way, the MJCC has a bright future ahead as it enters its second century.
FRIENDS OF THE CENTER HONOREE
For its centennial dinner, the Mittleman Jewish Community Center will honor Gayle Schnitzer Romain, pictured here in front of the center's history wall featuring a photo of her grandparents Harry and Helen Mittleman, after whom the center is named. The MJCC Friends of the Center 100th Anniversary Dinner will be Sunday, Feb. 23, beginning at 5 pm with dinner at 6:30 pm. Now serving on the board for a second decade-long stretch, Gayle says when she was on the board in the late '70s and '80s, she served with her grandfather Harry Mittleman until his death in 1986.
"Gayle is a tremendous leader," says Lisa Horowitz, former MJCC CEO who moved to Seattle in November. "She has quiet graciousness that epitomizes the best of our community. She is warm and inclusive. Many times, working behind the scenes, she gets things done and makes sure the community has what it needs."
Gayle is a third generation Portland native, the daughter of Leonard Schnitzer z"l and Babette Mittleman Schnitzer z"l and Lois Schnitzer. She is married to Paul Romain and has two children, Bryan and Laura Rosencrantz, and stepdaughters Danelle and Mikhael Romain. Several times a week Gayle volunteers for the Inpower fitness program, created and directed by Laura Rosencrantz to help patients use exercise to fight the side effects of cancer treatment.
Tickets are $100. RSVP by Feb. 17: James K. Phelps, 503-535-3594 or jphelps@oregonjcc.org