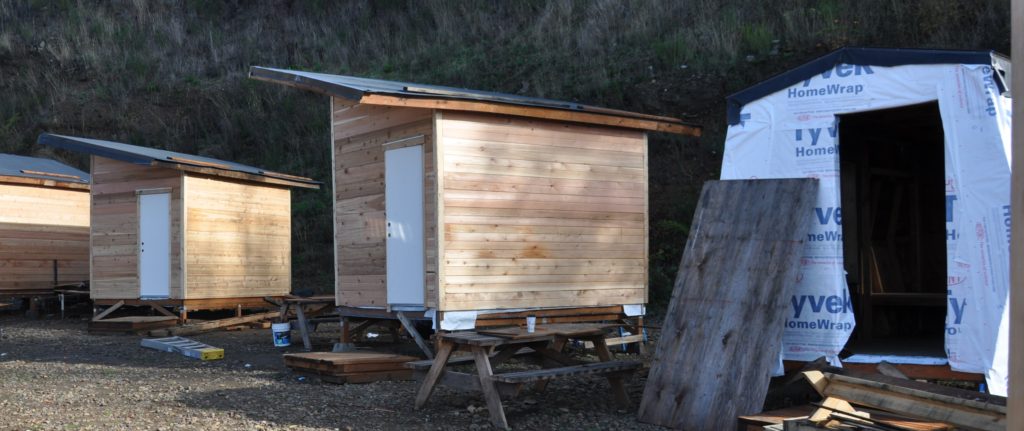 The Mittleman Jewish Community Center has granted Cascadia Clusters permission to use the northern edge of the playing field as a site to build "tiny houses." These structures will be moved to other locations as they are completed.
Cascadia Clusters was founded by Andy Olshin, who developed his concept and displayed two tiny homes built by Tivnu in 2016 in Congregation Beth Israel's parking lot. (Read the story.)
Cascadia Clusters is a 501(c)3 nonprofit organization that trains houseless individuals to build tiny homes, with a focus on framing, roofing, insulating and finish carpentry. The tiny houses that are constructed offer cost-effective, lockable, insulated, solar-powered transitional housing. They are placed in villages that offer safety, community and social services.
"The J's mission emphasizes our role as an inclusive and welcoming community and our commitment to undertaking programs that are grounded in Jewish values and culture," says MJCC Executive Director Steve Albert. "The opportunity to engage in tikkun olam ("repair the world") on an institutional level is central to our mission and this particular initiative is one that enhances the inclusivity of our community by addressing the needs of homeless individuals. Many of our programs and services are focused on meeting the needs of the most vulnerable members of our community, and our new partnership with Cascadia Clusters is a natural extension of this effort."
The playing field is rented by the MJCC from the Jewish Federation of Greater Portland, which is supportive of this project. Cascadia Clusters' use of the field will not impact the use of the field by the MJCC, PJA or our regular renters. Cascadia Clusters plans to build a wooden fence on the property to separate their construction area from the playing field.
They are using the land to create a "maker village," where Cascadia Clusters plans to have 10 "build spots" at any one time (they are also doing building at Congregation Neveh Shalom). It takes 2-3 months to build a tiny home and costs approximately $18,000 in parts and labor. When the houses are completed, they will go out into the community where they are needed. No one is living at the site.
As the project gets underway, there will be opportunities for our community to volunteer and assist with the construction of the tiny houses. More information about these opportunities will be available in the fall. In the past, there are a number of groups that have volunteered with Cascadia Clusters, including Congregation Beth Israel, Congregation Neveh Shalom and Tivnu (see story). In addition, the Jewish teen youth groups had a work day with Cascadia Clusters during this year's Good Deeds Month. The MJCC will announce volunteer opportunities that are being coordinated by the J in their weekly e-blast, "What's Happening at the J!" To be added to that list, call the J's Welcome Desk at 503-244-0111.
Cascadia Clusters has tools and materials for up to 50 volunteers at any one time.  If interested in helping to build, please contact
Cascadia Clusters
.