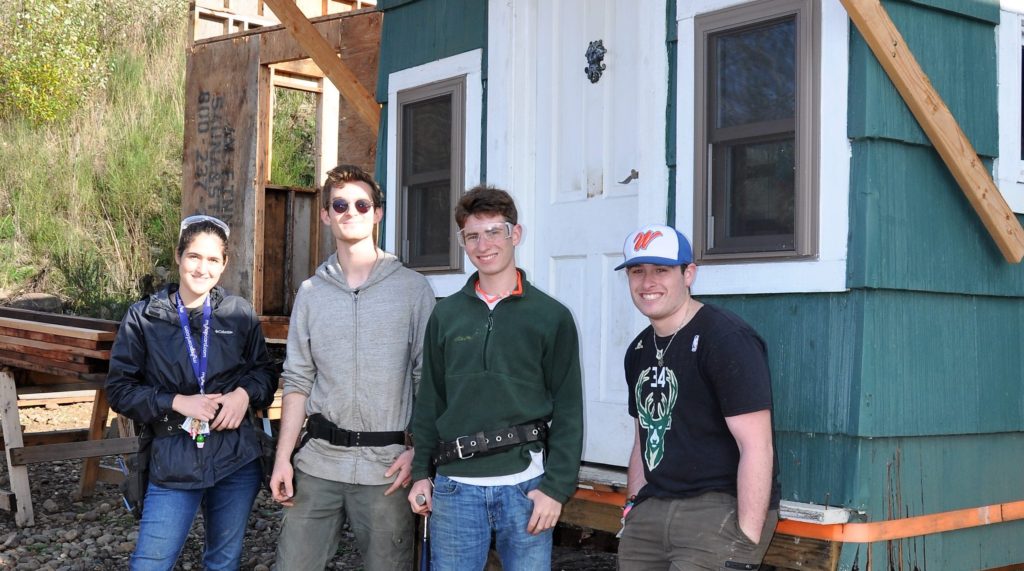 PHOTO: Tivnu gap year participants (from left) Devida Osher, Erik Walter, Tamir Eisenbach-Budner and Josh Grobart stand in front of one of the tiny homes under construction at Agape Village. The homes are raised to reduce problems with rodents.
A Jewish gap year program based in Portland is working with a church and local nonprofit to create a village of tiny homes to transition houseless people back to secure, healthy lives.
"It takes a village to build a different village," says David Cahana of Cascadia Clusters, which is developing Agape Village for the Central Nazarene Church. "This is a big interfaith effort."
When it is completed later this year, the self-governing village will include 15 solar-powered tiny homes, some of which are being built by participants in the gap year program Tivnu: Building Justice. Tivnu participants learn basic building skills and volunteer with grassroots organizations during this nine-month Jewish gap year program.
Tivnu teams work at the village four days a week alongside six formerly homeless trainees hired by Cascadia Clusters, with which Tivnu has been involved since its inception.
Cascadia Clusters, founded by Andy Olshin, trains houseless individuals in framing, roofing, insulating and finish carpentry. Trainees are paid a daily stipend and receive housing while building tiny homes for other houseless people. David, who does development and operational work for Cascadia Clusters, is the son of Rabbi Michael and Cantor Ida Rae Cahana of Congregation Beth Israel, where Andy developed his concept and displayed two tiny homes built by Tivnu in 2016 in the synagogue parking lot.
Central Nazarene Church Pastor Matt Huff met Andy at a community meeting on homelessness.
"The church has always had (homeless) camps on its property," says Pastor Matt Huff. "We wanted to look at how do we love our neighbor when our neighbors are homeless? I started hearing about villages, and we had property not being used."
"They (village residents) get stability and structure, and the church get the added security of having people here we know," he adds.
Agape Village, located on the church's property on Powell Boulevard next to I-205, is the first all privately funded homeless village in Oregon. Similar villages are sponsored by a municipal government, says Agape Village Project Manager R. Toma Solano. Though Agape Village had to obtaining zoning from Portland, the city is otherwise uninvolved.
David says Cascadia Clusters wants to build 300 tiny homes for villages over the next three years, and Tivnu is poised to aid that effort.
"Tivnu has been an invaluable partner," says David. "Their enthusiasm, insightful questions and respect for our houseless construction trainees has been a joy on the worksite. They embody the spirit of tikkun olam, or making the world a better place."
Tivnu Executive Director Steve Eisenbach-Budner agrees that working on the villages is a good fit for Tivnu.
"We are doing exactly what we want to do – building homes and working alongside homeless folks and getting to know them while working side by side on a common goal," says Steve. "You can study Jewish texts and the statistics about homelessness, but once you meet people, you understand each other's humanity."
The two groups not only work side by side, they also eat lunch together daily. Recently the trainees and gap year participants went bowling together.
Steve says, "Tivnu is the Jewish face to a lot of the organizations we work with. These grassroots organizations get to know Jews are on their side."
This year 13 young adults are participating in Tivnu, including Steve's son Tamir Eisenbach-Budner.
"I would have chosen this regardless," says Tamir. "It's the perfect fit."
Devida Osher is from Israel, but has lived in Portland the past four years. She is still attending high school online through Oregon Connections Academy, but is able to do Tivnu while she finishes school.
"I was tired of school and wanted to do something more," she says. "Tivnu lets me be active and do something that helps someone other than myself."
Tivnu participant Josh Grobart, from Chicago, wanted to do a gap year program in Israel, but his parents wanted him to stay in the States. He says the community service aspect of Tivnu appealed to him.
Erik Walter, from Brooklyn, was likewise attracted to the social justice aspect, and he also liked the idea of communal living. Gap year participants live in Tivnu's two houses, each of which has a resident assistant.
Tivnu also offers programs for Jewish high schools and synagogues. This year three high schools and six synagogues are participating in 3- to 10-day building justice programs. The visiting groups are from Northern and Southern California, Chicago, New Jersey and New York City.
Last June, one of those visiting groups was the first outside group to spend a day working at Agape Village. In October, 12 students from San Diego Jewish Academy spent a week with Tivnu, including two days at the village.
"Only a couple (students) have done any building," says Yvonne Webber, the Judaic studies teacher who accompanied the students. "A couple girls didn't know how to open a paint can – another life skill. The gap year (participants) are helping oversee what they are doing today."
Applications are now being accepted online (tivnu.org) for next year's gap year program.
tivnu.org | cascadiaclusters.org | portlandcentralnaz.org/agapevillage