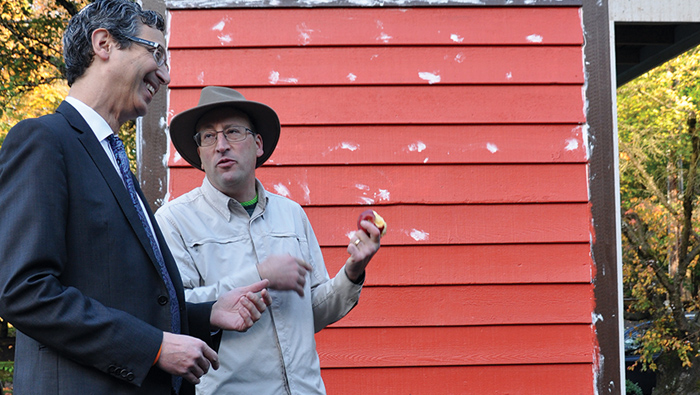 Many, many years from now, Andy Olshin hopes his tombstone notes: "He built a thousand homes for the homeless."
To date the coalition he created has built four "safe sleep shelter pods," which Andy says are "a place to live, but not home. It is temporary shelter." Two of the mobile shelters have been deployed to Hazelnut Grove, a homeless village near Overlook Park that has the blessing of the city, at least for now. The other two are spending 10 weeks in the parking lot of Congregation Beth Israel – not to house anyone, but as a display for other faith groups and nonprofits that might accept future pods in their parking lots to shelter homeless families.
Beth Israel Executive Director Josh Kashinsky notes that CBI's parking lot is not suitable for hosting pods for use by homeless families since it is very small (30 spaces) and is not adjacent to CBI's buildings, hence it does not have access to power, water or restrooms. But CBI can and is using part of its lot through mid-January to show others what the shelters look like and how they could be used. A variety of educational programs will be scheduled at the pod's temporary home at CBI.
"As an urban congregation we see firsthand the impact of this problem daily," says Josh. "This piece felt like a good way we could participate and be impactful in the process."
Andy says his hope is to engage the faith community in the conversation. "Our objective is to have the pods in an urban environment, so folks can see each shelter is quite cute or nice. We are going to show them off so the faith-based community can see this is what we can put in your parking lot."
He says each pod will fit in one parking space, weighs less than a ton so it can be moved easily with a forklift and is attractive.
"I know they need to be built," says Andy, adding he knows shelter is only part of the answer; people living in the pods will need other social services to transition into permanent housing, but he is leaving that part of the equation for others to address. He says one reason he has focused on putting pods in the parking lots of faith organizations is because people in faith communities "care about other people. They help – that is part of being a faith-based organization."
A longtime member of CBI and its social action committee, Andy is now brotherhood president. But he emphasizes this is a personal project – the bar mitzvah project "I never got to do."
Beth Israel Senior Rabbi Michael Cahana says, "When the government, public and religious groups come together, we can do amazing things. … Andy has built an amazing coalition and united a lot of passions and communities."
The project began in May when Andy met City Commissioner Dan Saltzman, Multnomah County Chair Deborah Kafoury and Portland Business Alliance president and CEO Sandra McDonough.
He was able to start building the prototype pods after he received a check for $18,000 from his Uncle George Olshin, a college professor in special education who has spent nearly 50 years helping transition people out of institutions into stable living situations.
Rabbi Cahana joined Andy on Nov. 2 to testify before the city council on a zoning amendment to make it legal for religious institutions and some nonprofits to put the pods in their parking lots if they meet certain conditions. The amendment passed on second reading Nov. 9.
"I told them (city commissioners) the mayor had charged religious organizations to help in this state of emergency," says Rabbi Cahana. "The Abrahamic faiths are united in the commandment not to stand idly by while our neighbor bleeds. …The issue I wanted to speak about was lifting certain restrictions on religious institutions to allow institutions, if they chose, to house more people for longer. It opens the door to more options."
Caring for those in need has been a major focus for Andy's family over the past four years. He has helped his sons with their bar mitzvah projects. His older son, Solomon, now a sophomore at Catlin Gabel, made and distributed more than 3,000 meals to the homeless with his soup sack project. In June, his son Benjamin completed two projects – a monthly food pantry in the CBI lobby and providing math tutors for the Homework Club that CBI's sisterhood has organized for low-income residents in Northwest Towers next to Beth Israel. Andy describes his wife, Rebecca Mischel, a neonatologist, as "the rock behind all of this and the depth of our commitment."
When the couple moved from San Francisco to Portland in the late 1990s, Andy served as a professional consultant for the Citizens Crime Commission before serving as a volunteer on the board for more than a decade. He says he learned a lot about homeless youth and poverty through his work with the commission.
So with the help of many volunteers and gap-year participants in the Tivnu: Building Justice, he has begun building the shelters. He hopes that many institutions will agree to accept some of the pods and will organize services for those who find shelter there.
"There is no one solution to the homeless crisis," says Rabbi Cahana. "It is going to be many different groups responding to the emergency using different talents, passions and connections. If every congregation had a congregant like Andy Olshin, we would succeed."