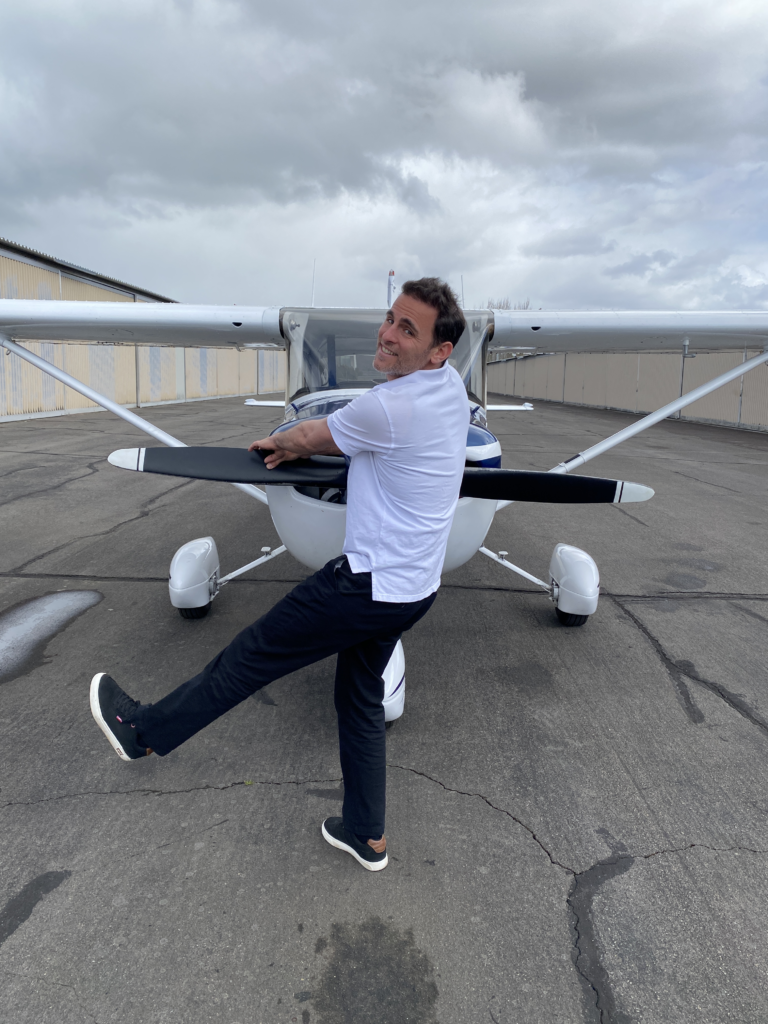 Flying with his uncle as a child inspired Elad Segal, an Israeli native, to learn to pilot an airplane.
Three decades later, he has realized his dream of opening his own flight training school, NW Wings Aviation, in Beaverton. The school offers courses for students seeking various piloting licenses including becoming a certified flight instructor themselves.
NW Wings Aviation, which opened in January 2021, also offers aircraft rentals, Pilot for a Day flights and a 40-minute sightseeing tour of Lake Oswego, Sauvie Island and downtown Portland at 3,000 feet. The school has four models of aircraft: a Cessna 150, 152, 172 and 206.
Segal himself has been flying since he began his own training in 2014. "I decided this is what I wanted to do in my life, have a flight training school. I flew with my uncle and this is where I got hooked on aviation and flying."
"For me, flying is freedom, the freedom to see everything from above, to go to and explore new places and come back." (Elad Segal)
Segal earned all his credentials at Hillsboro Aero Academy, where he went on to serve as a senior certified flight instructor. He also became interim assistant chief of ground training for Hillsboro Aero Academy.
Segal is passionate about flying. "For me, flying is freedom, the freedom to see everything from above, to go to and explore new places and come back."
He enjoys introducing people to aviation. "To take that person who doesn't have any knowledge of flying and in the end he can fly an aircraft and continue pursuing his dream to be a pilot, it's this fulfillment of bringing more people into aviation."
Segal trains people with no experience all the way from being a private pilot to those who go on to become commercial aviators. "There is more and more interest in flying because people see that it's reachable and available. More people want to give it a try and fly and fulfill their dreams."
The investment in learning to fly and getting a private pilot license is $10,000 to $13,000, he said. "After a few months, you can fly an airplane" at 1,500 to 7,000 feet. "With that knowledge and the smile on someone's face when we complete any stage, it's priceless."
Back in Israel, Segal earned a Bachelor of Science degree in middle east studies with a minor in human resources in 2013 from Ben Gurion University in Tel Aviv. He served as a commander in the IDF's Army Special Unit where he was also a medic. Following his army service, he worked for Israel's Ministry of Transportation where he served as deputy manager traveling between marinas along the Israel coast
Emma, 4, Arel, 6, Elad and Etti.
performing security checks on vessels.
He chose to bring his family to Portland in 2016 because of a well-respected flying school, Hillsboro Aero Academy, and an active Jewish community.
Segal, 39, and his wife, Etti, are members of Congregation Neveh Shalom in Portland. They are the parents of two children, Emma, 4, and Arel, 6.
Etti Segal, 39, earned a law degree at College of Management Academy Studies in Rishon LeZion in 2012. While in Israel, she was a personal injury and malpractice attorney as well as a legal advisor for a construction company. Today, she teaches Hebrew and Jewish studies at Congregation Neveh Shalom and helped start the synagogue's Ivrit Israelite for children. She is a volunteer for the local Israeli group, Kirov Levavot, which builds a vibrant local Israeli and Jewish American community through shared identities.
"This is what we were looking for, a place where we can actually have a Jewish community to be a part of," Elad Segal said.
Find more information about NW Wings Aviation, email info@nwwafly.com or visit nwwafly.com or call (503) 906-0945.