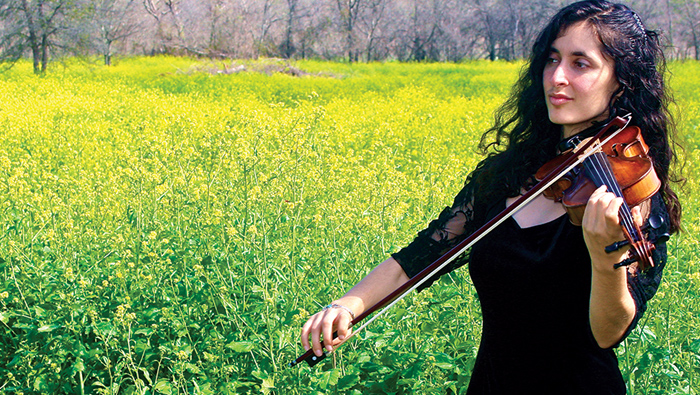 Classically trained violinist and vocalist Michelle Alany draws on an eclectic background to perform fiddle-driven Sephardic, klezmer, Balkan and Mediterranean soul music.
"I consider songs a vehicle for culture and language," says Michelle, now in her early 30s. She describes her musical focus as "celebrating differences and appreciating similarities. … Music can reach that space more than I ever could with words. If you can open hearts, then you can open minds."
She calls herself "an ambassador and educator of Sephardic, Eastern European and Mediterranean folk music."
When she was 2½, Michelle moved from Santa Cruz, CA, to Bozeman, MT, with her mother, Vivienne R. Rose, and older brothers, Avi and Benjamin. She grew up listening to her mother sing Hebrew, Hungarian and Gypsy folk songs – "She was an encyclopedia of folk songs," says Michelle. When she was 10, Avi, eight years her senior, bought her klezmer albums, which he encouraged her to play along with on the pawnshop violin he gave her. She didn't hear Sephardic music, which is now a primary focus of her repertoire, until later.
She was largely home-schooled, but after moving to Portland at age 15, she attended Lincoln High School; concert rock violinist Aaron Meyer was an assistant in one of her classes, and she took some private violin lessons from him. She studied jazz and composition at Cabrillo College and UC Santa Cruz.
She moved to Austin, TX, in 2009 to pursue music professionally. She says her father, Ray Alani, initially tried to dissuade her from a career in music but is now one of her biggest fans.
Visiting Spain with Avi shortly before graduation, she first heard Sephardic music. Having studied Spanish in high school, she found singing the Ladino lyrics "accessible." Back home she played a tune she had heard while in Spain, and her mother taught her the Hebrew words to the melody. Her second CD features that song, "Los Biblicos."
"I'm being called on more and more to do Sephardic music," says Michelle.
She received a city arts grant to organize a music festival called Sephardic Crossroads in Austin, TX, in 2015 and 2016. The second year the festival was held at Congregation Agudus Achim; she had previously participated in a klezmer event organized by CAA Rabbi Neil Blumofe, who hosts a weekly jazz radio program. She hopes to recreate Sephardic Crossroads in Portland, having moved back in December 2016.
While visiting during the High Holidays last fall, she went to services at P'nai Or and then played her violin at a holiday meal. "By the end of November, I had my first official gig in Portland," she says.
She moved to Portland that December to participate in Portland's "thriving music scene" and to be near family.
In Portland her mother recently wrote her first children's book, The Wild Raccoon and the Cats of Doon, available on Amazon.com; brother Avi and his friend, Chris Ellis, collaborated on a comic book, Serge the Protector; and brother Benji is pursuing his acting career. Avi's 2-year-old son starts Jewish preschool this fall.
"I created a new band when I got to Portland," says Michelle. "I build a band wherever I go. I do vocals and voice, and I do the arrangements. It's all DIY."
In Portland that band features jazz, classical and folk musicians, all of whom also perform with other bands. Guitarist Joseph Appel introduced her to the Neveh Shalom community, where Michelle Alany & The Mystics played for Purim. Michelle and Joseph were joined by Andrew Alikhanov, clarinet; Kathy Fors, accordion; Michael Beach, percussion; Tom "Euge" Goicoechea, drums; Albert McDonnell, upright bass; and Michael Shay, cello guest.
This spring she taught songs and performed at the 2017 Festival Djudeo-Espanyol VII, an annual gathering organized by Casa Sefarad in Albuquerque, NM, that explores New Mexico's Crypto-Jewish history, language and culture. The festival featured a large Return Ceremony to welcome Crypto-Jews back to the Jewish community from which their families were driven into hiding by the Inquisition. Michelle, and a band she built with performers from Santa Fe, sang Sephardic songs for breaks between intense lectures on healing from the Inquisition, Ladino history and culture, and sharing personal journeys. She says it was humbling to play "music in sacred spaces for people craving sounds to integrate their histories."
Michelle says her music has brought her closer to the Jewish community. "I'm drawn to Jewish music," she says. "It comes from all over the world. Diverse elements come together to create harmony."
"Part of my mission is to bring this music to wider audiences that haven't heard it," she says. "But it is also a gift to share with people for whom it resonates … like at the Crypto conference – they had such a hunger for it."
She found her music also resonates in Spain. She built another band for a 2016 tour in Spain. That tour arose out of her friendship with guitarist Scott Stubbe, with whom she had explored klezmer. Scott had gone to Spain on a visit and stayed two years. Scott's friends found places for the band to stay and venues for them to play. Michelle and Scott were joined for the tour by Janie Cowan on bass and Shirley Johnson on accordion and vocals. They are all featured on her third CD, Michelle Alany & The Mystics: Down This Road.
"We felt we had really found our audience … (our music) hit a deep chord of familiarity," says Michelle. She returned for another month-long tour in summer 2017, with an additional week spent in Italy.