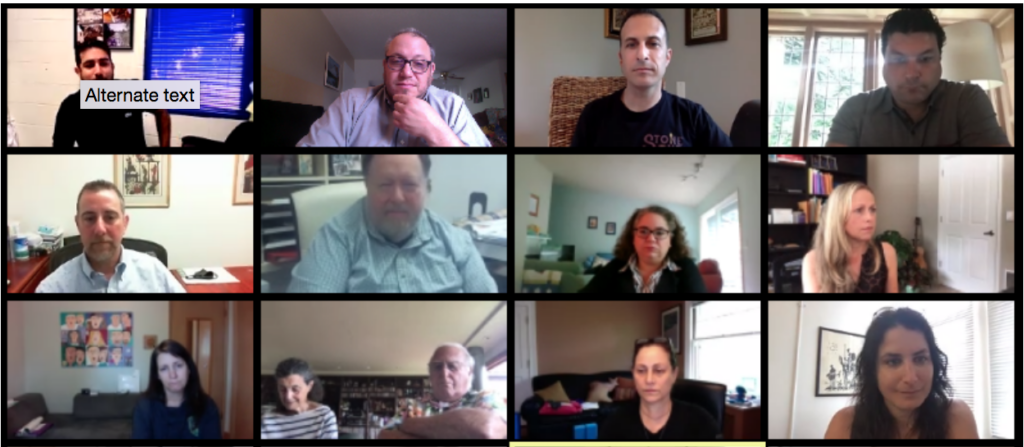 Photo: Just some of the participants from the MJCC's #PDXBIZ Series held on July 9.
The Mittleman Jewish Community Center hosted a business Zoom event on Thursday, July 9 at noon.  As part of the MJCC's #PDXBIZ Series, the topic was Houselessness Part II: Mensches in the Trenches. The panelists were Craig Gerard from Stone Soup, Andy Olshin from Cascadia Clusters and Nili Yosha from Outside the Frame. The conversation was moderated by Rabbi Rachel Joseph from Congregation Beth Israel.  Each organization discussed their model for helping build up the houseless community with shelter and jobs. Stone Soup has created a kitchen training program to help houseless individuals get off the street and learn valuable skills. Cascadia Clusters is building tiny homes, providing housing for those in need and training houseless individuals in a range of construction skills. Outside the Frame is training houseless kids and adults to make films and work as a film crew. All three organizations have the goal of providing a hand up out of poverty not a handout.
The conversation was wide-ranging and included what the primary needs are for the houseless population (shelters, showers and toilets), how to rebuild downtown, how their operations have pivoted during the pandemic and more. Each of the panelists reflected on their work and how their Jewish values and upbringings helped them to harness their passions to work towards building a better world.
The MJCC is grateful for the support of our sponsors.  The Presenting Sponsor was Portland State University. Other sponsors included Richard Barker: Wealth Management Advisor of Merrill Lynch, Barry and Karla Benson, Jonathan Singer of Barg Singer PC, Stewart Gordon Straus: Architect PC, First Republic Bank, and The Jerry & Helen Stern Grandchildren's Fund of OJCF.
Starting in August, our #PDXBIZ Series will move to a monthly virtual format at noon on the third Thursday of each month. Please mark your calendars for Thursday, August 20th when we will meet with a panel of three food entrepreneurs for Build Your Biz + Eat it Too with Jessica Hilbert (Red Duck Foods), Val Roth (Mind Your Manna) and Jenn Topliff (Roons).  The panel will be moderated by attorney David Forman. Visit oregonjcc.org/pdxbiz to learn more and sign up.
The MJCC #PDXBIZ survey is looking for input for future topics.  Click here to take a quick survey. https://docs.google.com/forms/d/e/1FAIpQLSffMg6vGrliKXXco5yyhvywuTpOu7rKbdul5zrpLWFlG4s_CA/viewform?usp=send_form
If you missed the Zoom, watch the video below: