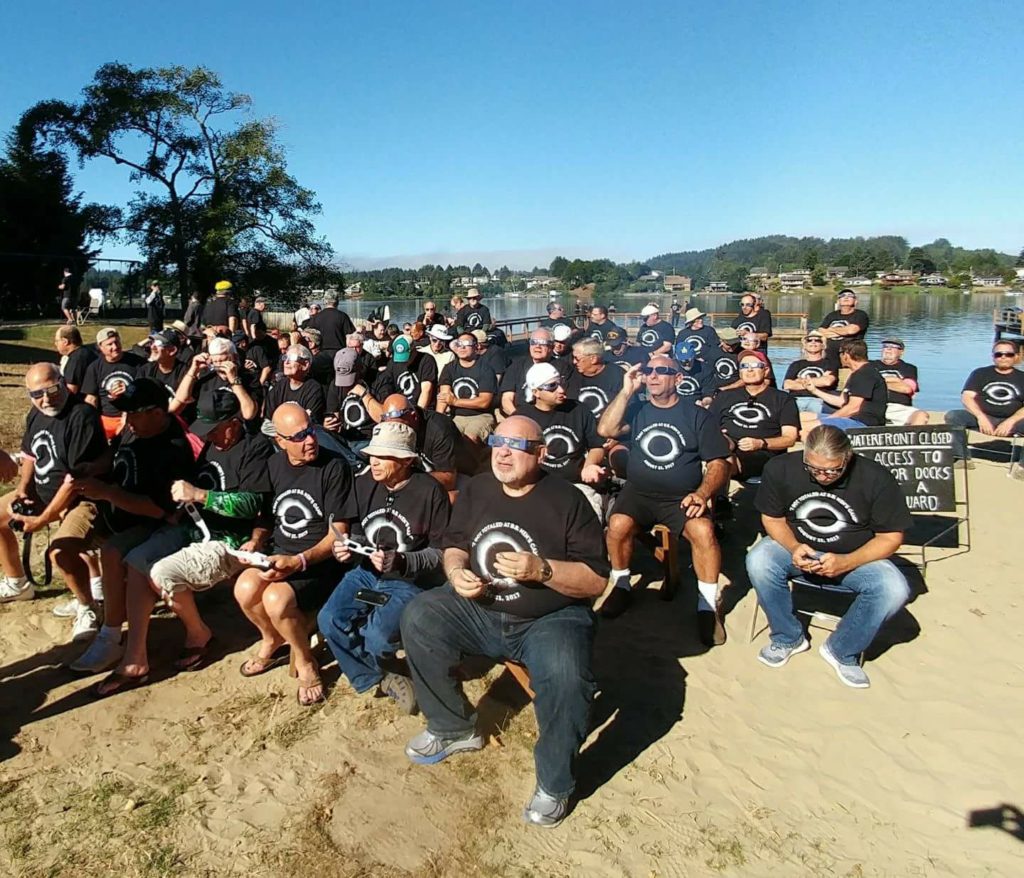 PHOTO: The great guys at B'nai B'rith Men's Camp waiting for the solar eclipse. Photo by Ken Zeidman
Since 1931, the members of Men's Camp have gathered each year at BB Camp for their own week long encampment. Many of the adult campers started at BB Camp as kids, continuing their connection to BB Camp throughout their lives. Men from 25 to 100 return each year to BB Camp, staying in the same cabins and using the same facilities as the kids. The oldest camper, Jack Lakefish, turns 100 in a couple weeks.
About 150 men gathered Aug. 21 at BB Camp to watch the eclipse from BB Camp, which is located in the path of eclipse totality on the Oregon coast.
"We played dark side of the moon and served bloody Mary's for the Eclipse at the waterfront. Approaching totality, Rabbi Arthur Zuckerman offered a blessing and we all sang Oseh Shalom. At totality, we listened to the sounds of the lake, we screamed, heard screams from across the lake, and were collectively awe-struck. After totality, a fog rose from the lake and swallows flew over our heads," says Aaron Pearlman, BB Camp Development Director.
"This is the 87th encampment – every year the third week of August," adds Aaron.  "This year we raised $264,000 to support camper scholarships and infrastructure for the camp.  The most by far – $14,000  more than last year."
Men's Camp has gone on for 86 years. Funds raised at the camp support camp programs, facilities and camperships. B'nai B'rith Men's Camp Association is the parent organization of BB Camp.
Located on a lakeside campus on the scenic Oregon coast, BB Camp is a Jewish premier camp and conference center in the Pacific Northwest. Since 1921, BB Camp has been dedicated to providing the finest Jewish summer overnight camp experience for today's campers while preparing them to be tomorrow's community leaders.