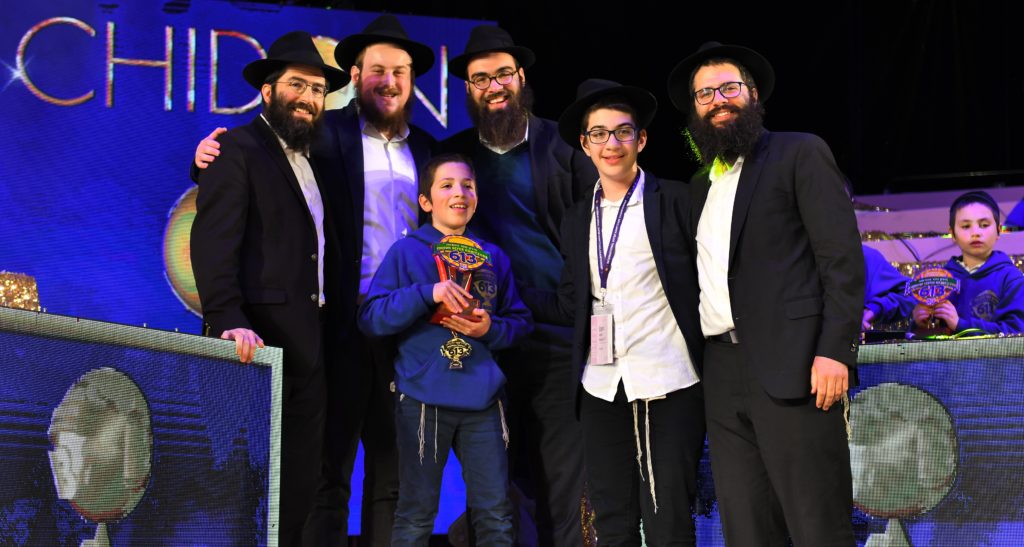 PHOTO: Bronze trophy winner Mendel Mishulovin, 11, brother, Shmuel, and father, Rabbi Chayim Mishulovin, pose with Chidon managers, at the International Chidon Sefer HaMitzvos in New York last week. Mendel's brother Shmuel Dovid, one of the 1,200 semi-finalists who earned the trip to NY. 
Oregonians were well represented at the annual International Chidon HaMitzvos in Brooklyn. Chidon Sefer HaMitzvos competitions test students on their knowledge of the 613 mitzvot.
Nearly 10,000 children from more than 150 schools worldwide participated in this year's competition that includes three rigorous exams to qualify for a trip to the Chidon Shabbaton in Crown Heights. The Shabbaton is an incredible four-day program packed with amazing trips, delicious meals, fun activities and exciting competitions culminating in the grand Chidon event on Sunday.
Two Oregon boys were finalists. Mendel Mishulovin, son of Rabbi Chayim and Simi Misulovin, won the bronze trophy. Shneur Rivkin, son of Chabad of Hillsboro Rabbi Menachem and Chaya Rivkin, was also one of the 107 finalists.
Three of Mendel's siblings also traveled to New York as semi-finalists at their respective Chidon Shabbaton. As a semifinalist, his brother Shmuel Dovid was one of 1,200 boys in New York for the Boys Shabbaton April 4-7. The week before the brothers flew to New York, their sisters, Chaya, 13, and Sterna, 10, also earned a trip when 1,400 girls gathered to participate in their own similar showdown. The Girls Shabbaton was March 28-31.
"Nachas is to watch your 10- to 14-year-old children diligently study to become knowledgeable in the details and intricacies of the 613 mitzvos, sometimes even more than their parents," says Rabbi Mishulovin who oversees Chabad's Everything Jewish store in Southwest Portland.
Mendel and his siblings are students at Maimonides Jewish Day School. When Mendel was in fourth grade, he won gold and last year when he was in fifth grade he won silver.
The Lubavitcher Rebbe, Rabbi Menachem M. Schneerson OBM, encouraged children to thoroughly study all of the Torah's 613 commandments as enumerated and elucidated by Maimonides in his Sefer HaMitzvot. His followers have taken to his words, hosting an annual Chidon (contest) that challenges children to study large volumes of detailed texts delving into the intricacies of each mitzvah and compete for trophies, medals and prizes.
Organized by Merkos L'Inyonei Chinuch, the educational arm of the Chabad-Lubavitch movement, together with Tzivos Hashem, its children's division, the Chidon saw thousands of children ages 9-14 staying late at their respective schools to study the mitzvot with their classmates and friends.
For more info on the Chidon Sefer HaMitzvos visit Chidon613.com