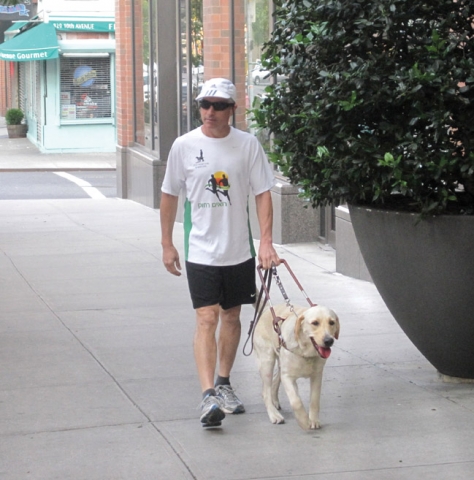 Many students are required to complete a mitzvah project, but the challenge is in finding a project that will be meaningful and truly connect the students to a great cause in Israel. We spoke with Michael Leventhal, executive director of the Israel Guide Dog Center for the Blind. He says, "Many students are drawn to us, because we combine the humane treatment of animals with helping people who are blind – and we do all of this in Israel. In fact, we are the only accredited guide dog training facility in the entire Middle East. The students also get a kick out of the idea that the dogs only respond to Hebrew commands, so the puppies are learning Hebrew at the same time that they are." So how can students in the United States feel connected?
"The most important thing for a small organization like ours is awareness-raising," Leventhal reports. "We want the kids to learn about the unique obstacles that confront people who are visually impaired in Israel, and why it is so important for us to be there, and then develop meaningful projects that shine a light on a great cause."
Some of the students have been amazingly creative. One young lady created a "Best in Shul" dog show, another did a "Walk Your Human 2K" community event, where people made a gift to the Israel Guide Dog Center and participated in a walk around a school track. Another student visited Israel with her mother and met 12 people who are blind and working with guide dogs, and she made a calendar that she sold at mitzvah fairs. A young boy pitched for his little league and had family and friends sponsor him for every strikeout he recorded.
The main thing is that the students experience the satisfaction that comes from helping others through tikkun olam – making the world a better place. The center created a wonderful package that they will send to students, which includes a DVD that explains their work. They also have personalized web pages that the students can easily set up to help raise awareness in their communities. "We want the students to feel connected – and most importantly – we want them to come to Israel and visit us," Leventhal adds. "We want them to put on a blindfold and walk through an obstacle course with a guide dog to experience what it is like for a person who is blind to trust their four- legged companion and best friend."
How do guide dogs in Israel react to missiles and sirens?
The Israel Guide Dog Center for the Blind is the only accredited guide dog training facility in Israel. Located between Gaza and Tel Aviv, their work is regularly interrupted by the sounds of the Red Alert siren. But our thoughts have turned to the many guide dogs working with their "partners," who are blind. How do the dogs cope with the sirens and explosions?
Dror Carmelli and his guide dog, Lyn, live in Ashdod, which is one of the areas that were regularly fired upon. Asked to share his experiences, Dror said, "Lyn's puppy-raising family did good work. They lived in Be'er Sheva (also frequently attacked), so Lyn is very used to the siren. Lyn likes the siren because to her it means we move and usually join with other people – so she actually becomes excited. Lyn runs to our front door and leads me into the building shelter, where we join other families and pets. I think the pets help to calm people and children. For her, it is like a game – and not a dangerous missile attack. At the end of the danger, she runs and plays with the children outside.
If we are outdoors during an attack, the first thing I do is try to listen for people to ask for help in getting to a shelter. Most of the time I was not so close to a shelter, and we have to lie down, and I put my hand on my head. Sometimes Lyn lies down next to me and sometimes not. It is hard to explain to her about the danger of standing on the legs. I have to thank her trainers for the good training. She is not afraid of the booms. Lyn stays calm and happy."
This is a perfect example of why it is crucial for the dogs to be trained in Israel. Can you imagine the reaction of a dog to an explosion a block away if it had not been exposed to the noise and vibration as a puppy? Dror says a dog trained in America would not be equipped to deal with the sirens and the "booms."
For those of us who do not live in southern Israel, it is impossible to imagine what it must be like to be forced to seek shelter at a moment's notice.
For more information visit israelguidedog.org, email info@israelguidedog.org or call 215-343-9100 and request an information packet.