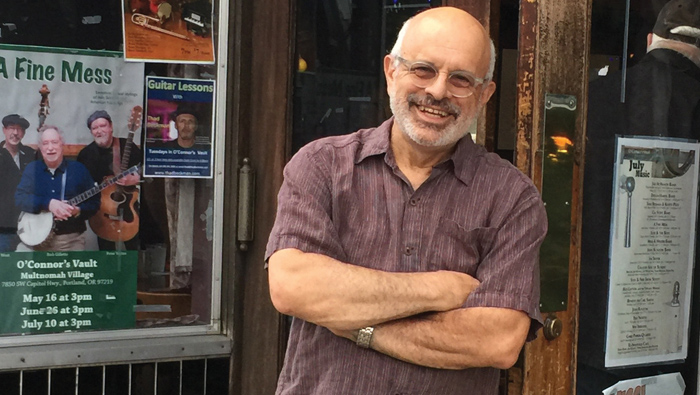 A story on National Public Radio about house concerts featuring professional musicians in private settings inspired Matt Miner to launch his second career. Matt and his wife, Sasha Kaplan, started presenting great music and delicious food in their home; things grew from there.
Matt grew up in Gladstone, across the Willamette River from my family in West Linn. Our families became friends. Both families had migrated here from the East Coast, were Jewish and lived in small towns outside Portland. Our families got together often when we were little kids. Matt and I both attended West Linn High School.
Many years later, with a successful career at Oregon Public Broadcasting behind him, Matt now fuels his passion for live music by booking the best live music from all over the country. The following Q&A has been edited for brevity and clarity.
Any anti-Semitic memories from growing up in Gladstone?
Not really anti-Semitic, but confusion born of ignorance. There were only two Jewish families that we knew of, us included, in the town of about 2,000. I kept a low profile. I did not show off my Hanukkah toys until the other kids had their Christmas goodies.
Where did you go to college?
I started at University of Oregon, retreated to Clackamas Community College for a while and then graduated from U of O in 1972.
How did you meet Sasha?
I bought my first house in 1980; I put an ad in the Willamette Week for a roommate. Sasha answered the ad; she decided she didn't want to live there, but we started dating. We got married the next year.
Sasha grew up immersed in the Jewish community of Providence, RI. Besides a mean pot of chicken soup, Sasha has a wide variety of ethnic culinary expertise. She spent most of her working years as a chef and caterer.
Our first son, Michael, was born in 1982, second son, Haven, in 1989. Michael and his wife, Llewelyn, live in Seattle and blessed us with our first grandchild, West Leo Miner, last April. Haven lives in Chicago and is an English teacher.
What do you think of being Grandpa?
When you see the child for the first time, you recognize the connection with personalities, genetics and history of both families. With a grandchild that connection spreads even wider. You realize that those nice people you met at your kid's wedding really have become family. Their connection with your grandchild and you is permanent.
What are your thoughts on the 30 years you spent at OPB?
I started there right out of college. It was a small, very conservative state agency careful not to offend the legislators who held the purse strings. By the time I left in 2005, it was a large, less conservative, private nonprofit, careful not to offend the corporate underwriters who held the purse strings. I had the best job, being paid to be clever – writing, producing and directing promotional spots for both local and national programs.
How did you start presenting music events?
I have always been a musician, playing drums in various bands. I started putting on shows in high school. A friend and I put on a dance with three live bands and actually made money. In late 2004, I decided to try my hand at house concerts. I asked a couple of local singer-songwriters and we did well. We did about 50 of those shows in our home over a six-year period with some 40 guests at each. The ticket price not only compensated the performers but also paid for a buffet dinner prepared by Sasha. Finally, we decided that we had had enough wear and tear on our house and ourselves and decided to present shows in public venues.
Where are your venues in Portland?
I do most of my shows at O'Connor's in Multnomah Village, but I have presented at the Alberta Rose Theatre, Secret Society, The Clinton Street Theatre and the Alberta Street Pub.
Why O'Connor's?
My relationship with O'Connor's began with the Cal Scott-Richard Moore Songwriter Circle. Cal and Richard had played my house concerts several times and asked if I would produce a series of Songwriter Circle concerts. After one in another venue, we settled into O'Connor's. We have done the shows in O'Connor's Vault every other month for the past five years, selling most of them out. Steve Arel, the owner, is super supportive and lets me do what I want to do.
What is it you are trying to do?
I realized long ago that there is a huge middle class of singer-songwriters who do not go from gig to gig in private jets and tour buses playing to thousands of fans. These artists are as talented and creative as Paul Simon, James Taylor and Carole King, but they either never got the big break or chose not to risk the personal sacrifices that often come with fame and fortune. These artists fly coach or drive cross country with a guitar and a box of CDs; they play small venues like O'Connor's and folk festivals, making fans and real friends at each stop. I want my friends and neighbors to hear and enjoy this music in an environment where artists and audience can make a real connection.
I create an intimate music experience like I did in my home. O'Connor's works well because the environment lets you focus on the music. It's not about the scene; it's about the music.
Tell me about the music.
Most of the artists play solo – just voice and guitar. They play original songs that often tell stories. Many are as adept at speaking as they are at singing, and the stories often start as monologue and end up with verse, chorus and accompaniment.
What is the Songwriter Circle you have every other month?
Cal and Richard host the circles. Each show includes a guest artist who completes the circle of three who take turns singing their own original songs and help each other out with harmony and instrumental support. Cal is a multi-instrumentalist who will pick up a harmonica, cornet or mandolin to fill in a solo on a song he just learned from the guest. Richard Moore's contribution is as much standup comedy as it is a contributor of songs ranging from sweet to outrageous.
Mostly these concerts are acoustic performances in what is called "Singer-Songwriter" or "Americana" style.
Do you have sponsors for your shows?
I thought a hearing-aid dealer would be ideal to associate itself with the work I have been doing. Many who attend the shows are over 50, and some are dealing with hearing issues. My first and only cold call was to Duane Smelser at Hearing Health. He was on board immediately. The walls of his office in Raleigh Hills are covered with photos of rock stars; I knew we were on the same wavelength. Duane and his wife, Donna, attend almost every show. I often remind people that musicians have families and mortgages like the rest of us. Some have day jobs, but many do not. They rely on ticket and CD sales to pay for childcare as well as guitar picks.
What is your reputation?
Over the 11 years I have been doing this, people who come to my shows have grown to trust that they will get more than their money's and time's worth spending an evening with us. I have built an email list, I have great talent, I love putting together quality evenings celebrating music. Our crowds guarantee a decent payout for our talent plus something for myself. It is a labor of love – keeping the music live and alive. I will keep on doing this for a long while.
UPCOMING CONCERTS:
Oct. 3, O'Connor's Vault: Songwriter Circle with special guest Steve Bradley
Oct. 23, Secret Society: Kenny White and Amber Rubarth (touring singer-songwriters)
Oct. 28
, O'Connor's Vault: Anne Weiss and Beth Wood