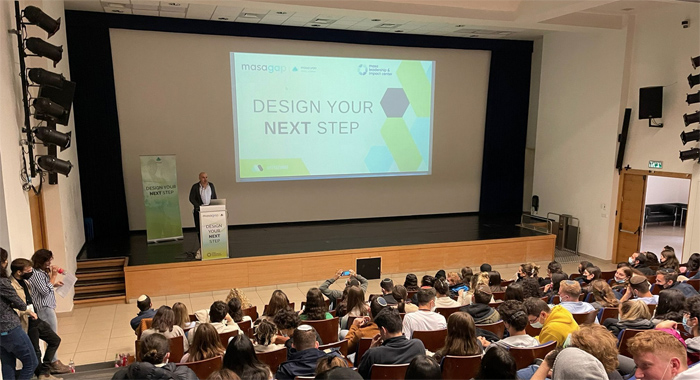 Masa Israel Journey, founded by the government of Israel and The Jewish Agency, hosted its Design Your Next Step Interactive Conference in Jerusalem on Tuesday, December 7, 2021. Over 350 Masa Gap Year Fellows attended the event designed to enhance their next step following their time in Israel.
With this cohort concluding their programs in Israel, this interactive conference provided a wide range of sessions, tools, and insights to help Fellows integrate back into their home countries and maximize the impact of their programs. Masa's CEO Ofer Gutman gave opening remarks and Joanna Landau, Founder and CEO of Vibe Israel, led the opening session on Sharing Your Israel Story. Five elective sessions and informational workshops were offered, with topics ranging from identifying campus antisemitism to instigating social change such as:
Creating Student Led Israel Movements on Campus
Anti-Israel Sentiment vs. Criticism: What's Legit and What's Not
How to Maintain Your Connection to the Humans of Israel Through Netflix
The Israel Conversations on Social Media
Methods of Social Change
"Just as they left their marks on Israel, we encourage these soon-to-be Masa alumni to reflect on all the ways Israel will stay with them," Masa CEO Ofer Gutman said. "As they return to their campuses, our goal is to ensure that those community connections will remain and that young adults have the tools needed to make meaningful impact wherever they go. If they can get involved and engage with others, Masa's global community, and the Jewish world overall, will remain stronger and more united."
The conference provided Fellows from South Africa, Australia, North America, South America, Germany, and England with the tools to maintain their connections to Israel and the Jewish world as they return to their work or campus lives. In addition, several sessions were designed to help Fellows respond to the surge in antisemitism globally and on college campuses. A major goal of the conference was to encourage Fellows to pause and reflect on their experiences as they prepare for an impactful next step.
"When deciding to go on the Nativ Gap Year in Israel, I knew that I'd be embarking on a journey of a lifetime," Becca Isenberg, a Masa Gap Alumni, said. "People ask: did you grow, did you change, did you experience? Absolutely. Israel is multifaceted, exposing me to so many wonderful and challenging questions. This time in Israel helped me grow into myself, working to be strong and sensitive to the world around me. I am beyond thankful Masa allowed me to embrace the multiculturalism and diverse atmosphere around me in Jerusalem and Tiberias, ultimately preparing me for college at Columbia University in New York City and shaping me into the independent person that I am today."
Naomi Acoca, 19, from Germany, said: "The event was great! I learned so many new skills about how to describe Israel in front of my friends at home, which leads to having a way better and more informed conversation. Further, it was very interesting to get to know more about the Israeli initiatives who depict Israel on social media and show the world a completely different image compared to the one they typically see in the media."
Julian Frucht, 18, from Connecticut, United States, and on a semester program of Masa Gap Year with Aardvark Israel, said: "I thought the conference was a good way to reflect on my experience here and how I'll use this experience in the future and while attending Syracuse University. I've become better at advocating for myself here through learning independence and living on my own. I've also always been in favor of Israel, but now after living here for 4 months and experiencing the culture, I'm more likely to advocate for it [Israel] when I go to college."
During this year, Masa is facilitating more than 1,500 gap year experiences in Israel. Currently, there are more than 8,000 Masa Fellows in Israel participating in long-term educational experiences, and thousands more are expected to arrive later this programming year.
Fellows also shared their experiences celebrating Chanukah in Israel. A group of eight Masa Fellows attended a candle-lighting at President Isaac Herzog's residence on the eighth night of Chanukah, reflecting the president's long-standing support of Masa Israel Journey stemming from his tenure as Chairman of the Jewish Agency for Israel. The Fellows in attendance shared their personal stories and Israel experiences with President Herzog, who emphasized his continued support for the organization and its work to connect the Jewish world.