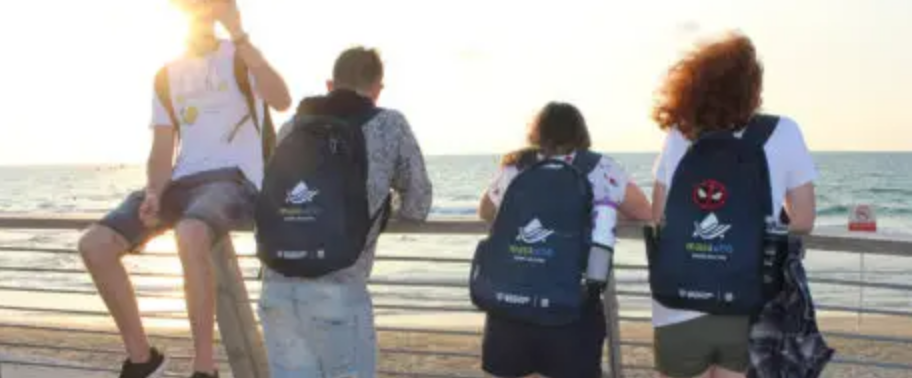 Masa Israel Journey, founded by The Jewish Agency and the government of Israel, announced this week that Israeli skies have re-opened for Masa Fellows arriving in Israel from abroad, with special precautions to ensure the safety of its Fellows and communities. This announcement came shortly after Israel's Ministry of Interior confirmed it will approve entry for travelers with Masa visas. During April, the organization expects to welcome more than 1,300 Fellows from around the world for long-term, immersive experiences in Israel, with more than 1/3 of participants arriving from North America. Masa intends to work closely with Israel's government to help participants obtain visas while adhering to health and safety guidelines.
Masa is successfully adapting its programs in real-time to improve participant safety and provide support for participants on the ground. It is one of the only organizations that continued operating without pause throughout the pandemic, supporting thousands of Fellows who stayed in Israel for long-term experiences.
As economies fluctuate, universities adapt, and the job market changes, Masa programs offer an unparalleled opportunity for Fellows to prepare for the post-Pandemic world with gap year and study abroad opportunities, service learning and internships in Israel's renowned high-tech and bio-tech sectors. A majority of Fellows arriving in Israel are participating in Masa Gap and Masa Career programs, the highest ever recorded, with a steep rise in registration for gap year (40%) and internship (33%) programs.
Daniel Loevy, 23, from Philadelphia, started his internship as an analyst at Equitech Financial Consulting through the Masa Careers program. Loevy said: "I knew I wanted to return at some point to live here, then Covid happened, and an opportunity arose for me. The fact that Tel Aviv is the start-up capital of the world and hosts the 2nd best FinTech scene in the world was the cherry on top."
Benjamin Bercovitch, 23, from Montreal, came to work for a startup in a business development role. "For me, Israel is so important because it's the homeland of my people. When I was thinking about what I wanted to do this summer and where I wanted to work, Israel was the first place in mind, so I applied for the [Masa] program," Bercovitch said.
The organization remains in regular contact with Fellows, their parents, and alumni to share new public health information, regulations, and precautions. Israel stands at the forefront of coronavirus-fighting efforts, vaccinating its population faster than any other country.
"During this challenging time for many young people around the world, we are proud to offer immersive opportunities for personal and professional development in Israel. While career and travel options may continue to be limited internationally, Israel remains an accessible bridge for youth seeking growth, experience, and knowledge. Our ability to re-open Israel's skies to Masa Fellows is the culmination of hard work and coordination with Israel's government and The Jewish Agency, our program providers, and communities abroad," said Ofer Gutman, Masa Israel Journey's Acting CEO. "We will continue this coordination to ensure the safety of participants, as we look forward to welcoming thousands of new Fellows to Israel and the Masa family."
Masa ensures safe and comfortable 10-day quarantine conditions for all incoming Fellows. Those who bring official documentation of vaccination from their home countries and receive a negative PCR test upon landing in Israel are exempt from quarantine. During quarantine, Fellows can stay engaged and active through virtual enrichment activities like orientations, Hebrew-language courses, and educational seminars. Additionally, Masa's Leadership and Impact Center has innovated unique products to support the Masa community throughout quarantine, including customized content packages with activities, digital tools to overcome obstacles posed by social distancing, and health and wellness courses.