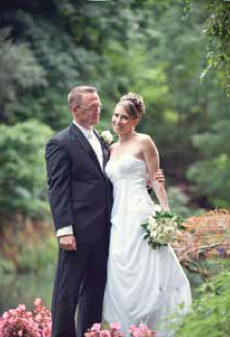 The upcoming program "Open Hearts = Open Minds, People of Faith Supporting Freedom to Marry," provides first-person accounts of gay and lesbian couples. (see page 22)
Of course, marriage diversity within today's Jewish com- munity extends beyond this program to couples of all stripes, shapes and sizes including gay, straight, interracial, intercultural, interfaith by birth, interfaith forever and certainly more. We asked people from different perspectives to share their memories and ideas.
Drs. Michele and Bob Goldschmidt are both Jewish now, but things didn't start that way. A Catholic school graduate, Michele met Bob in her physics class at Lehman College in New York. She is African-American and from a family of eight chil- dren. He is a first-generation German Jew. His initial attraction was Michele's voice and joviality. Michele found Bob's intellect dazzling. They married at the United Nations Chapel in 1977.
"I was no longer a practicing Catholic," Michele says, re- membering her wedding day. "Judaism matched my soul's bend. I wanted to challenge concepts. I converted when our eldest was an infant. When people ask why, I say, 'I needed to wrestle.' "
They had three children, worked and earned PhDs. Their move to Portland began with Michele's postdoctoral fellowship. Today Michele is the Health Promotion and Disease Prevention program manager for the Portland VA Medical Center – "I love doing what I'm doing; I speak, live and dream prevention" – and Bob is an information security specialist.
"My son became a bar mitzvah at Havurah Shalom," Michele says. "I learned to chant Torah at the same time he did. Bob kept up with African-American culture, and I with Jewish culture. We want our kids to be culturally rich."
Childhood sweet- hearts Jenn Director and David Knudsen kept their respective religions when they married. He grew up active in Presbyterian youth groups, she
at Congregation Beth Israel. They met in English class during their junior year at Sunset High. She invited him to the school's annual girl-ask-guy dance by showing up at his door with a balloon. A long-distance relationship lasted throughout his years at Stanford and hers at the University of California, Santa Barbara. She knew he was serious when he rearranged his schedule and scrounged money to visit during her junior year in France.
"We wanted a co-officiated wedding in a house of G-d," Jenn says. "We found a rabbi in the Bay Area who knew Rev. Charlie Brown of St. Andrew's Presbyterian Church in Portland. We married in Lewis and Clark College's chapel. It worked out perfectly."
Today David is a strategic planner at Intel, while Jenn works for the Harold Schnitzer Family Program in Judaic Studies at Portland State University. She also serves on the board at Congregation Neveh Shalom. Daughters Alyssa, 12, and Hayley, 10, attend Oregon Episcopal School.
"Alyssa's bat mitzvah is next July, and while she's steeped in studying for it, she also understands a number of church rituals," Jenn says. "To me this is significant because the vast majority of my friends growing up in Portland were not Jewish, and I felt foreign when I was invited to go to church with them. Our daughters are getting a Jewish education so they can be comfortable in any Jewish ritualistic space, and they are learning the same at OES for Christian spaces."
For some couples, marriage is just an extension of a lifelong connection. Toinette and Victor Menashe met at Ahavai Sholom Sunday school when they were 6 years old, but they didn't "connect" until they were summer camp counselors at the Neighborhood House. They will celebrate their 62nd wedding anniversary with their two sons and four grandchildren this June.
"I went to Irvington and Grant High, Vic to Shattuck and Lincoln," Toinette says. "I was supposed to go to Reed, but four days before classes started Vic talked me into going to the University of Oregon. We were married five years later. I had taught for a year, and he was in his last year of medical school. We were the last wedding to take place in the old synagogue on Park Street. They closed it the next day."
In contrast, Evan and Ardyth Kalik met later in life. The founders of the CAT Adoption Team in Sherwood, each had previously been married when they saw each other at work in Florida. She loved cats. He was a dog person. All that was about to change.
"Evan's wife passed away, and both of us were lonely," Ardyth says. "We love and respect each other, and it works out fine. I'm in church every Sunday. Evan is Jewish so I've cooked a Passover dinner for 27 years. I make latkes on Hanukkah, but my daughter-in-law makes the matzah balls. She's better at it."
Today the couple has three children each from their previous marriages, grandchildren, great-grandchildren, 12 cats, three llamas, two horses and two goats. Evan blames Ardyth for his obsession with helping injured and homeless cats. In fact, they are building their new CAT Alliance Team Sanctuary on their multi-acre property with spaces for feral cats, cats with AIDS and cats with behavioral problems (email LeonLuan2000@yahoo.com for more information). Inkwater Press will publish "The Man Who Wouldn't Kill Cats," a book on Evan's life this year.
Cantor Ida Rae Cahana of Congregation Beth Israel married Victoria and Justin Haugen just over two years ago. They are expecting their first baby in June and plan to raise the child as a Jew.
"Justin wasn't half- bad looking, and he had a good heart," Victoria says, remembering first impressions. "He was never strongly affiliated with an organized religion. We took an Introduction to Judaism class together so he'd know what he was in for and what would happen as we raised kids. I wanted to get involved in the Jewish community, and Justin was that final push to rejoin and become an active participant. I've read that interfaith marriage can cause degradation in Jewish traditions, but in our case, Justin caused a renaissance."
Meanwhile, Gabe and Michael Hunter-Bernstein have a different approach to raising children. The local organizers of "Open Hearts = Open Minds, People of Faith Supporting Freedom to Marry," the couple met while teaching third grade in Los Angeles County.
"Michael and I went to the movies to see both parts of 'Little Dorit' with dinner in between," Gabe says. "By the time that was over, we had planned our lives together."
The son of an Episcopal priest, Michael was raised in Southwest Washington, while Gabe enjoyed synagogue youth activities in Los Angeles. Both remain committed to their respective faiths.
They first married in 1991 when California permitted gay and lesbians to register as an unincorporated nonprofit family association. "We had a traditional Jewish service at the gay and lesbian temple in LA," Michael says. "The rabbi did the seven blessings in Hebrew, and we chose people to do them in English including my father and another Episcopal priest. It was a huge celebration."
Life followed including the adoption of two sons, a move to Portland for Gabe's teaching job at Portland Community College and a series of legal changes and challenges. With gay marriage now legal in Washington, they decided to marry on Michael's birthday. An Episcopal priest officiated.
Today Gabe serves as a lay leader at Beit Haverim. "Our rabbi is part-time so I lead most services when he isn't there," Gabe says. Michael belongs to Beit Haverim and attends St. John the Baptist Episcopal Church in Portland, where he has served on the vestry and belongs to the choir.
"It has worked out well," Gabe says. "When we looked at adopting, we tried to figure out how to raise the boys. We decided to let the birth mothers decide. Ethan's mother wanted a Jewish family. Then, Victor's birth mother is Irish-American and wanted her son to be Christian. Ethan's had a bar mitzvah. We celebrate all the holidays. The boys are clear on who they are, and they know both traditions."