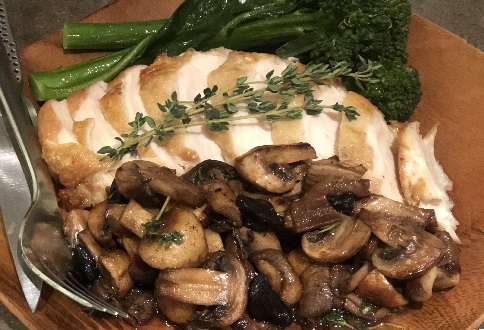 Few things are as romantic as when someone gets down on one knee and asks their beloved "will you marry me? Will you love me in sickness and in health, for richer or poorer, forsaking all others?" For me, that day was 25 years ago, and I have learned a lot along the way.
A happy marriage is not always easy. I believe marriage is very similar to good cooking. Here are a few hard and simple rules that can lead to a better shot at success.
Start with the best ingredients.
Creating a recipe with the best ingredients you can find is always a must. If you start with an inferior product, no amount of sauce or spice will make up for the fact that it was not that good to begin with. Choose carefully. Shop around.
Take your time and follow instructions.
If something wants to be cooked low and slow, speeding up this process is not advised. Forcing something that needs more time will not allow the flavors to marry resulting in the rich taste you desire. For foods that want to be seared quickly, put them in the pan and leave them alone to develop in their own time. Poking and prodding will only bruise the ingredients and not allow them to be at their best.
If you don't have something on hand, improvise!
If you are following a recipe and realize you forgot to buy agave, don't give up. Substitute honey or maple syrup or even molasses. If he hates cilantro, sub parsley or peppery arugula. Just because things don't go as you planned doesn't mean a total change of course. Make the best of what you have. Sometimes the recipe turns out even better!
Try new things.
Don't be afraid to add new spices to your cooking. Exotic flavors can be a welcome surprise. If you both find you really don't care for the flavor of white truffle, you know not to use it again. Search for new ideas and don't be afraid to experiment. No one likes the same thing day after day.
It is often said that cooking is the way to a man's (or woman's) heart. Making a commitment to be the best you can be lets you stay there. Just like cooking, marriage works best when you start with the proper equipment and don't try to change the rules. You can decide together who will do the dishes!
I recently discovered the exotic flavor of black garlic. A true umami "bomb," black garlic has a rich caramelized flavor with hints of roasted coffee, molasses and balsamic vinegar. Black garlic is made by slowly fermenting the bulbs in a process that takes weeks or even months. In this recipe, I added it to pan-roasted button and porcini mushrooms and served with a beautifully roasted chicken breast, turning something ordinary into something extraordinary!
Pan Roasted Breast of Chicken with Mushrooms and Black Garlic
2 boneless, skin-on chicken breasts
2 tablespoons olive oil or margarine
Salt and freshly ground black pepper
½ pound button mushrooms, cleaned and quartered
4 ounces dried porcini mushrooms
1 bulb black garlic, cloves removed
1 teaspoon fresh thyme leaves
Preheat oven to 375 degrees. Heat a small pan with about a cup of water to boiling. Add porcini mushrooms. Remove from heat and set aside. Heat a heavy-bottomed skillet (I prefer cast iron) to medium-high heat. Add oil or margarine to pan. Place chicken breasts skin side down and cook chicken until skin is well browned and crispy, about 5-6 minutes. Turn breasts and cook for 5-6 minutes more. Remove chicken from pan and place on baking sheet. Place chicken in oven to continue to cook for an additional 15-20 minutes. Meanwhile, place button mushrooms in the same pan, adding more fat if necessary, and allow to brown well before stirring. Remove porcini mushrooms from liquid (save the liquid) and roughly chop. Add to button mushrooms along with thyme leaves and black garlic cloves. Season with salt and pepper. Add about ½ cup of the mushroom stock to the pan and allow to reduce by half. Remove chicken from oven; let rest for 5-10 minutes before slicing into medallions. Place mushrooms and black garlic alongside and serve immediately.