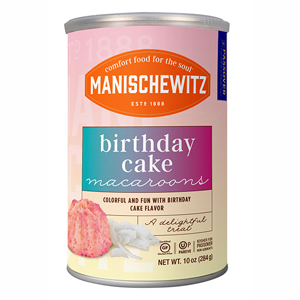 Photo: Just in time for Passover, Birthday Cake Macaroons!
The Manischewitz Company, the largest marketer of kosher foods in North America, has unveiled a fresh new look for its iconic brand. For over 130 years, The Manischewitz Company's mission has been to bring families to the table and reconnect with tradition through food. The brand's new visual identity, which includes new products, themes and more, continues to reflect their ongoing commitment to these values.
First, The Manischewitz Company is excited to announce its newest addition to its fan-favorite line of traditional macaroons: Birthday Cake Macaroons! Bursting with classic birthday cake flavor (and, as always, gluten free), the new macaroons are excited to join their seasonal brothers and sisters to bring fun to grocery store shelves this Passover.
In addition to the new macaroons, Manischewitz is also extending its line of 100% natural nut butters to include Cashew Butter and Hazelnut Butter. Much like its preexisting almond butter, the new nut butters are pure, with nothing else added to them and are both great on matzo and excellent for baking.
Since the brand's establishment in 1888, The Manischewitz Company has delivered a broad range of product categories, continuously seeking to bring its products to more consumers. "We are so excited to unveil our new brand image to our consumers," said David Sugarman, President and CEO of The Manischewitz Company. "Our new logo's tagline, 'Comfort Food for the Soul,' represents our brand's familiar place in the hearts and kitchens of the families that we serve."
The new brand vision will not only include updated packaging designs but will also extend to a redesign of The Manischewitz Company's website and advertising campaigns. As part of its commitment towards modernizing the Manischewitz brand while still retaining its classic roots, The Manischewitz Company will also be releasing several exciting new products which they will proudly be announcing in the upcoming months.
As it looks to provide "Comfort Food for the Soul" for the next 130 years, The Manischewitz Company believes its new brand direction will also endear people from all backgrounds seeking new ethnic cuisine experiences.
Visit www.manischewitz.com for more product information, and keep up with The Manischewitz Company on Facebook at www.Facebook.com/Manischewitz and on Twitter and Instagram @ManischewitzCo.