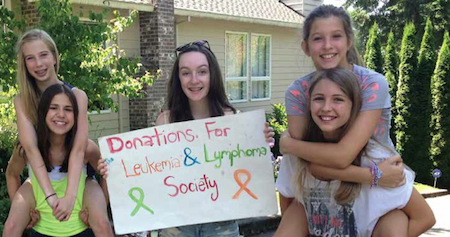 Preparing for a bat or bar mitzvah in America today means more than simply learning your Torah portion, writing a drash or picking the DJ for your after party. Many synagogues also suggest their b'nai mitzvah students undertake some kind of community service, commonly known as a mitzvah project. Mitzvah projects range from fundraising for a favorite cause to collecting food and clothing for homeless people.
Mallory Gradow has a deeply personal connection to her mitzvah project, raising money for the Leukemia and Lymphoma Society. "I chose LLS because my grandfather, Stan Eastern, has leukemia, so I wanted to help find a cure," Mallory explains. "I call him Poppa; he's doing well at the moment." Eastern, who was diagnosed four years ago, takes Gleevec, an anti-leukemia drug co-developed by oncologist Brian Druker at Oregon Health Sciences University in Portland.
Community service works best when it's performed communally, as Mallory has discovered. A year ago she asked four friends to help her organize her mitzvah project. None of them are Jewish, so Mallory filled them in on the idea of mitzvah.
"I told them mitzvah means good deed, so you do a good deed to help other people. It made sense to them, and they were eager to help me with it." Her friends Gigi Harn, Katie Hornecker, Talia Milionis and Sophie Rehlaender came up with the idea of bake sales and lemonade stands to raise money for LLS. "It feels good to give back to the community and it wasn't hard at all," says Mallory. "It's fun to involve all your friends," she adds. "Everyone's helping to do it together. My friends have been doing the project with me all along, so I'm not doing it alone. They've sold lemonade and cookies and candy out in front of Zupan's, and their families have also donated." Over a two-day sale in front of Zupan's Market on Boones Ferry Road, Mallory and her friends took in more than $300.
After her bat mitzvah at Congregation Beth Israel in mid-October, Mallory and her friends will participate in the LLS Light the Night Walk. Mallory and each of her four friends raised $100 to participate. Their team, the youngest participating in the walk, is appropriately named "What a Sweet Idea."