Photo: Uma Frost-Hausman and Stefanie Hausman, the mother-daughter duo behind Lawn Party.
Stefanie Hausman and her 17-year-old daughter, Uma Frost-Hausman, have gone to several birthday and bar mitzvah parades during this time of social distancing. Attending these events inspired them to start their business, Lawn Party.
"Some people had balloons or banners, but we thought why not go big and bold and bring something to peoples' lawns to help them celebrate," says Stefanie.
Lawn Party delivers those big, bold – and personalized – lawn messages to your front yard.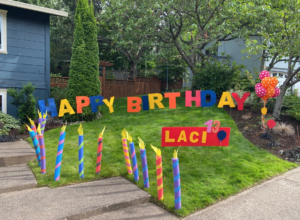 After doing research, the mother-daughter duo created the reusable letters out of corrugated plastic attached to "H" stakes, like the kind used for campaign signs. "We put a call out on Nextdoor for donations right after the primary," says Stefanie.
They also make custom signs with the guest of honor's name on it and age for a birthday or a Jewish star for a bar mitzvah. For one bar mitzvah, they included rubber ducks wearing tiny tallitot and yarmulkes.
For children's birthdays, they like to include "candles," but the materials to create them – pool noodles and duct tape ­– proved a challenge to acquire.
"We aren't going to stores to be cautious, and we were putting in an Instacart order, and you can't order certain items," says Stefanie.  "The Instacart guy who was shopping for us happened to call, and we asked him to see if there were any pool noodles available. He showed up with 20!"
Another challenge the ladies encounter is installation. Prior to arriving, they look up their destination on Zillow to try and figure out the best placement.
"We set up after dark, so we have to be really stealth," says Stefanie. "We've learned to army crawl," adds Uma. The army crawl came in particularly handy at one location where the family was watching television on the other side of the large picture window looking onto the lawn where they were putting up the signs.
So far, they haven't been caught, and everyone they have set up signage for has been surprised. People can choose if they want the signs to stay up for 24 or 48 hours.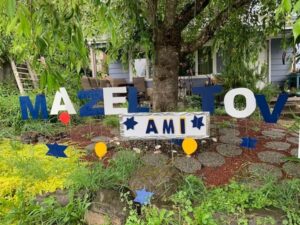 Uma doesn't drive, so Stefanie has to be on hand for deliveries. It's a juggling act since she works full-time for an education technology company. Uma lost her job as a swim instructor when the pool closed due to the pandemic.
There is also a philanthropic aspect to the business. A portion of Lawn Party's proceeds is donated to Portland Homeless Family Solutions COVID-19 Relief Fund and Don't Shoot PDX (BLM), based on the customer's preference.
Stefanie says that the feedback they are getting is positive, and it's rewarding knowing that they can make these times a little happier for people.
"We did a birthday for a boy who was turning 18," she says. "He's in a wheelchair, so we had to position the signs so he could see them from his window. It made his day special."
Adds Uma, "I think it's fun to think about the people who are going to wake up in the morning and see it and be happy. It adds some excitement – especially when you can't have a party."
For more information, visit lawnpartynw.com.