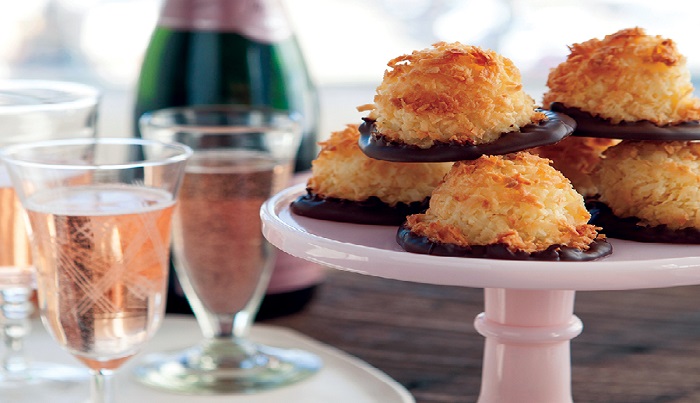 Traditionally, macaroons have been relegated to the chametz-free Passover menu. Most people don't miss them during the rest of the year, since they're often dry, heavy and sickeningly sweet. However, a new Portlander is making macaroons so palatable that you'll want to eat them all year long. Toronto-born Jenn Topliff, daughter of renowned cookbook author and food critic Jim White, has made it her mission to elevate the humble macaroon into an irresistible dessert. In October, she started baking her treats at a commercial kitchen in inner Southeast, and she's now selling them through her website, eatroons.com.
Jenn explains, "(Macaroons) were always so disgustingly sweet. You either had the cloyingly sweet, squishy (packaged) macaroons or the huge 'artisanal' macaroons in the stores with the chocolate as an afterthought. It's like, let's drizzle seven tons of bad chocolate on top of this coconut bomb. They're so white, and they have very little toastiness on them, so they're almost like a bad decoration."
After resolving to revamp the macaroon, Jenn experimented with recipes for close to a year. She tried many different coconut strands and brands of chocolate (she settled on Guittard). She agonized over whether or not she should use sweetened condensed milk, before deciding it makes macaroons far too sweet and lacking in balance. Finally, she came up with the seven-ingredient concoction that she lovingly terms the "roon," a dark chocolate-dipped mouthful of delight.
While the basic macaroon flavor is coconut dipped in chocolate, Jenn has also created a chocolate-espresso variety as well as a special flavor for Chanukah. "We have a very limited-edition roon just for the month of December: peppermint bark. I ate five yesterday of the test subjects, and they are maybe the best thing I have ever had." Jenn plans to introduce a new flavor every couple of months.
The graphic-designer-turned-baker originally launched her macaroon business in the Bay Area, but she recently moved to Portland with her growing family. She has big plans for her cookies with her online store just the start. "I anticipate lots of local accounts with coffee shops," she says. "We just got our first account with Portland Bottle Shop in Sellwood. We've already solidified several corporate gifting programs for the holidays. I imagine we'll shoot for retail."
Jenn hopes eventually to open a tasting café in her commercial kitchen, hold macaroon-making classes for kids and launch a line of macaroon-decorating kits for birthday parties. "I envision selling a monster-themed kit with some edible eyeballs or animal parts or a princess kit. I have a bajillion ideas and just not enough arms and legs and hours of the day, but all in good time!"
For a sweet Chanukah present, visit eatroons.com.