PHOTO: Will Lipman, standing right, was a member of the 1891 MAC football team. Team photos courtesy of the MAC archives.
In 1891 the MAC was founded by 26 athletes … 9 of them were Jewish
By Lori Delman
The Multnomah Athletic Club (the MAC) is a private athletic club in Portland founded in 1891. Contrary to a common misconception that membership was restricted for Jewish applicants until the late-1950s, nine of the 26 founders of the MAC were Jewish.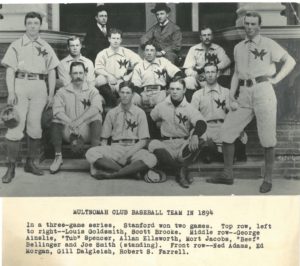 The nine Jewish founders were: Felix Friedlander, Louis J. Goldsmith, Hugo Goldsmith, Melvin Goldsmith, Moses Kline, Julius Lang, Isaac Lipman, William Lipman and Milton Wasserman. Louis Goldsmith and Will Lipman were members of the original eight-member board of trustees.
These early MAC members were, for the most part, the young adult sons of established German Jewish Portland businessmen. Their fathers were merchants (Lipman, Wolfe & Co), jeweler (Friedlander), wholesale grocer (Lang & Co), and merchant- politicians (Goldsmith and Wasserman were both Portland mayors in the early 1870s).
Moses Kline was the exception. Kline's parents were born in Russia and he grew up in Corvallis where his father had a dry goods store. Kline was sent to Portland at the age of 14 to attend a private boarding school.
In the late 1880s, the idea of competitive amateur sports was becoming more popular throughout the United States. Football, baseball, track and field, cricket and bicycle races were gaining in popularity. The purpose of the MAC founders was to form an amateur athletic association in Portland to field sports teams that could compete against club teams in Seattle, San Francisco and Spokane. The Multnomah Amateur Athletic Club teams (amateur was dropped from the name in 1936) also played against collegiate teams until the 1920s.
Of the 26 MAC founders, 17 were football players. According to the Legacy of the Twenty- Six, Will Lipman was a leader of these football players who first met in 1890 to discuss how football would be played in Portland. The style of play was changing from a rugby-style to the "American" gridiron style. The popularity of football for amateur athletic clubs led the MAC club to lease pastureland in Tanner Creek Gulch (Goose Hollow) for their own playing field. A 3,000-seat grandstand was built in the northwest corner of Multnomah Field and a training house in the southwest corner. The first football game at this field was played Jan. 1, 1894, against Stanford launching a 25-year rivalry.
When a much larger stadium was built in 1926, Jewish merchant Charles F. Berg was a member of the MAC Stadium Executive Committee. Multnomah Stadium was sold to the city in 1966 and renamed Civic Stadium (now Providence Park).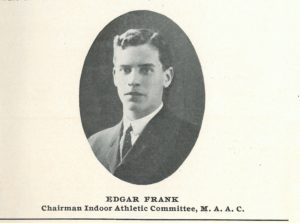 Edgar Frank was an early Jewish leader at the MAC Club. Edgar's father, Emil, was the first Frank partner to join Aaron Meier in 1872 to establish the Meier & Frank department store.  At the 1905 Lewis and Clark Games, son Edgar won the West Coast wrestling championship. Edgar is credited with establishing the wrestling program at OSU. In 1907 at age 22, Edgar became the youngest MAC board member, serving until 1915. When his unexpected death was announced in the March 1917 Oregonian, the headline read "Multnomah Club Members Especially Mourn Loss of Young Athlete."
Portland Jewish architect Edgar Lazarus was also an early MAC member, becoming a member in 1901. Lazarus, the descendant of Sephardic Colonial Jews in South Carolina, moved to Portland in 1890. Over his 45-year career, he designed civic projects and residences including Bernard Goldsmith's house. Lazarus' best known project is the Vista House on Crown Point in the Columbia River Gorge.
In the 1915 social directory called the Portland Blue Book, the MAC membership list states that Edgar Frank, Felix Friedlander, Louis Goldsmith, Edgar Lazarus, Will Lipman, Moses Kline, and the Frohman brothers as all having lifetime MAC memberships.
Several of these young Jewish MAC founders also belonged to a social club called The Concordia Club. Although the club's name does not sound Jewish, chapters of the Concordia Club were established around the United States in the late 1800s for Jewish businessmen. Concordia Clubs were the Jewish equivalent to private social clubs like the Arlington Club in Portland. In 1912, a group of Concordia Club members purchased 100 acres along the Tualatin River to establish the Tualatin Country Club.
Writer Lori Delman received research assistance from Eliezer Froehlich and Wendi Menashe for this article.
Name
Age (1891)
Spouse
Family
Business
Notes
Felix Friedlander
20
Vivian Levy
William Friedlander and Cecilia Levinson
Partner at his father's downtown jewelry/ optician business
Felix and four other MAC founders belonged to the Concordia Club- a private social club for Jewish men.
Hugo B Goldsmith
22
Carrie Meininger
Solomon Goldsmith and Lena Frohman, nephew of Bernard Goldsmith
By 1900, Hugo had relocated to San Francisco with his brother Milton (another early MAC member).
Hugo and Milton were members of the Oregon Camera Club.
Louis J Goldsmith
26
Alice Hitchcock
Bernard Goldsmith and Emma Frohman
Louis's father Bernard, Portland mayor 1869-1871, helped bring 7 brothers and several cousins/ nephews to the United States.
Louis was on the MAC's first board of trustees. He played on the MAC's 1894 baseball team.
Melvin Goldsmith
25
Nelle Charters
Anson and Judith Kuhn
In 1896, he was a shareholder in the Sunnyside Gold and Copper Mining Company of Portland
Melvin moved to Ohio where he married and raised a family
Moses L Kline
26
Ida Califf
Lewis Kline and Adaline Hill
Moses built a wholesale plumbing supply business for commercial and residential construction.
Moses moved from Corvallis to the Portland area at the age of 14 to attend private school at Bishop Scott Academy. This school was known for its early football teams. A teacher there had seen the game played at Yale.
Julius C Lang
19
Grace Elsinger
Max Lang and Phillipina Loeb.
Julius's older brother Isadore moved to Portland from California to build a wholesale grocery business, of which Julius later became president.
Julius was president of BB Lodge No 416 in 1898. He moved to Seattle in the 1910's to oversee a branch of the family business there called the National Grocers Co.
Isaac N Lipman
27
Jessie Rosenfeld
Solomon Lipman and Dena Frank
Involved at Lipman, Wolfe & Co. until 1925 when he sold his interest in the business. Isaac and and William's father, Solomon Lipman, was a founding partner of Lipman, Wolfe & Co.
Solomon Lipman with his nephew Adolphe Wolfe (another early MAC member) moved their dry goods store from Sacramento to Portland in 1880. At the department store's high point, it had buying offices in London, Paris and Berlin.
William F Lipman
23
Rebecca "Bessie" Minsky
Solomon Lipman and Dena Frank
Involved at Lipman, Wolfe & Co. until 1925 when he sold his interest in the business.

Will helped organize the city's first taxicab company.

Will played on the MAC's 1891 football team. He was active at the MAC (board of trustees, booster committee).  His obituary stated "He was known as a sportsman"
Milton H Wasserman
20
Beatrice Ross
Philip Wasserman and Sophie Oberdorfer
Milton clerked at Fleischner Mayer& Co. He later owned a wholesale hat company.
Milton's father Philip was Portland mayor 1871-73 and co-founder of the First National Bank.