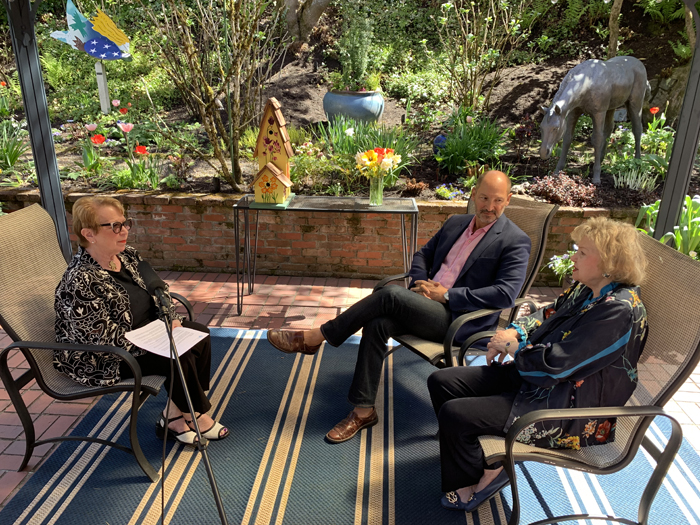 Photo: Carolyn Weinstein interviews Larry and Renée Holzman for the unLuncheon. Photo by Jenn Director Knudsen
For the second year, Jewish Family & Child Service will be holding a virtual unLuncheon to celebrate its caring community. The theme of this year's event is " Hope, Healing & Looking Ahead."
"This is not about the past; it's about all the places we're going and the things we've learned from COVID," says Ruth Scott, executive director of JFCS. "What we can take away in the way of improving services like telehealth, which is something that's come to be very important in all of our programs."
Ruth also notes that mental health support has become an essential integrated element in all of their programming since the pandemic.
"Mental health issues is not a pandemic – it's an epidemic right now," says Susan Greenberg, deputy director for JFCS. "We need to focus on our mental health services."
JFCS began a weekly Community Connection Zoom group that the entire community is welcome to attend every Friday at 10 am. Moderated by JFCS's clinical director, this time offers individuals a space to discuss the struggles and anxieties of living in the world today and vent, laugh and learn from others.
JFCS is also looking to hire a child therapist to join the counseling program to help children with, among other things, reintegration when they are heading back to school in the fall.
"There is a waitlist for services for adolescents. The need is great, and we are going to find that we will have a waitlist," says Susan. "It's exciting that we are expanding that way."
"When I came here three years ago, we weren't doing any work with children," says Ruth. "Getting it started and beginning to see it blossom, and to be at the point where we're ready to hire a child and family therapist is very inspiring."
The Keynote Speaker for the unLuncheon will be Dr. Elizabeth Steiner Hayward, Oregon State Senator for Northwest Portland and Beaverton. She will be talking about the mental health challenges facing the children of Oregon.
"Oregon is currently 41st in the nation when it comes to accessibility for youth services," says Larry Holzman, president of JFCS's board of directors. "What we've learned as the pandemic gone on, initially we were tasked with managing a beefed-up emergency aid program, then the ongoing mental health stresses to everyone has continued to compound. We've been fortunate to see that by being able to do more telehealth, we have been able to expand our reach to the people that need it."
Part of this expanded reach includes the LGBTQ community, parents of children with disabilities and increased support for Holocaust survivors.
"The pandemic experience and the national unrest that we've been dealing with has triggered trauma for many of our Holocaust survivors," says Ruth. "Many are not only experiencing isolation, but what they see on TV has been very much of a trigger. We have been working with mental health counseling for several years under a grant from the Jewish Federations of North American."
JFCS is currently doing strategic planning to see how society may look six to 24 months from now. The organization hopes to be better prepared to get ahead of the curve instead of simply being responsive. Since COVID began, JFCS has distributed 11 times the financial support in one form or another as they had previously.
"One of our concerns is as COVID begins to recede, that well see a greater divide between the haves and the have nots," says Ruth. "Where people just assume that everyone is doing OK because everyone they know is doing OK."
"We are going to be there to support everyone in this community; it doesn't matter if you are Jewish or not Jewish," says Susan. "We are JFCS, and that's important,  but we are also a social service agency that's meant for everybody."
 HONOREE
Renée Holzman, co-founder of The Holzman Foundation, Inc., will be honored at the UnLuncheon for her generous contributions to the community.
"Renée is about putting the 'child' back in JFCS," says Ruth. "It is the Holzman Foundation and the Holzman's personally that have been helping us restore the child to our service structure."
"My mother could just write checks, but she has been in the trenches. She has volunteered for years, and she has done counseling; she's worked in the soup kitchens, and she does the site visits," says Larry. "She has a broad diversity of interests, whether it's chairing the Oregon Symphony Board or the Oregon Council for the Humanities. This last year she's been focused on food insecurity and children, helping those that can't help themselves. She's inspired me and other people to do more because most of the time, we can always do a little more."
JFCS unLuncheon: Hope, Healing & Looking Ahead
When: Sunday, May 23 at 5 pm
Where: Zoom
Cost: Free to attend online
Virtual event about servicing the needs of all with crucial programs, now and for tomorrow.
Honoring Renée Holzman with Keynote Speaker Senator Elizabeth Steiner Hayward, MD. Also featuring musical performances, an overview of JFCS services, community testimonials, and a live Mitzvah Moment. For more information, contact 503-226-7079 or visit avlaunch.me/jfcs-portland.