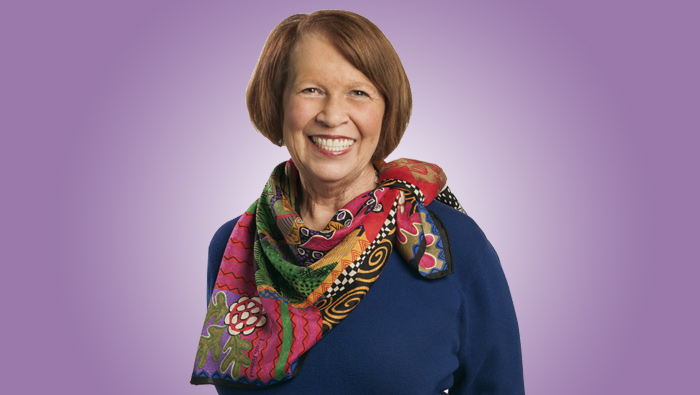 In recognition of decades of volunteerism and philanthropic leadership, Portland Realtor Carolyn Weinstein will receive the Kipnis-Wilson/Friedland Award this fall at the International Lion of Judah Conference (see sidebar at https://orjewishlife.com/lion-of-judah-award/).
Carolyn began her volunteer career as a Sunday School teacher at Congregation Neveh Shalom and as fundraising chair for the March of Dimes Ventura Park area in 1964. Since she started working full time, she seems to have redoubled her volunteer efforts.
Despite working as a Realtor since 1978 and averaging well over 40 hours a week, Carolyn has logged a truly impressive list of boards, committees and events that have benefited from her volunteer hours. Running the list would take too much room – even single-spaced, the list fills nearly three pages. At age 78, she continues working and volunteering at a dizzying pace. The Jewish Federation of Greater Portland, Jewish Family & Child Services, Oregon Jewish Community Foundation, Cedar Sinai Park and Congregation Neveh Shalom are among the organizations for which Carolyn remains a dedicated volunteer, leader and mentor.
"I feel like I have so much to give back that I'm not ready to quit doing," says Carolyn. "I am very lucky – I have a high energy level and good health."
While the time commitments of real estate and community work do compete with each other, Carolyn says she also has found that being a Realtor and volunteer have dovetailed nicely in two areas – relocation/community building and historic knowledge.
Carolyn and her daughter, Robin, who has been her colleague at Hasson Realty for 12 years, are both historic-certified real estate professionals, and they are certified to help relocation clients.
"As a Realtor, I meet new people coming into the community, and I love introducing them to the community and getting them involved," Carolyn says. "I especially try to do this with all my Jewish clients. I introduce them to synagogues, organizations, volunteerism … and someone I think they have something in common with – so they have someone or something to move forward with into the community."
She has also found connections in her work as a volunteer tour guide for Urban Tour Group and in years past for the Jewish Federation of Greater Portland. She and Robin, also regularly attend architectural history lectures. All of the city's history she has explored through the tours and lectures has enabled her to share neighborhood history with her real estate clients. She knows resources for historic restoration and preservation.
Carolyn has experienced much of Portland's history personally over the past 63 years.
She was born in North Dakota, where her grandfather, a circuit-riding rabbi, had settled after fleeing anti-Semitism in Poland. After her parents, Jacob and Violet Rapoport, divorced, Carolyn and her mom moved from Spokane to Portland in 1952 when she was 15. Carolyn was a sophomore at Lincoln High School the first year the school opened. They lived down the street from Temple Beth Israel and joined Congregation Ahavai Shalom, which later merged with Neveh Zedek to become Congregation Neveh Shalom.
Carolyn married Gary Weinstein in 1956 (the have been married 60 years) and moved to Portland's Eastside to an apartment on 42nd Avenue and Stark. When son Jeff was ready to become a bar mitzvah in 1973, they moved to the Westside to be closer to Neveh Shalom, where Carolyn taught in the Sunday School and Foundation School, and served as vice president. She became the synagogue's executive director in 1975, a post she held until the congregation decided to combine the executive director and education director into one position, which Carolyn says "was not a possibility for me."
A friend from Neveh Shalom's board convinced her to take the real estate exam so they could open a real estate appraisal business. But Carolyn quickly discovered appraising "is all numbers and I'm a people person." So she started interviewing and soon joined the
Hasson Company, where she has been a top producer every year.
In 1992 when she ended her two-year term as president of the federation's women's division, Carolyn delivered a speech that still reflects her beliefs. In that speech, she said, "I believe life is a precious and sacred gift. To live it without meaning, without purpose, without making a difference, is to deny that gift."
In 2013 she received the Good Neighbor Award from the Portland Metropolitan Association of Realtors. Since so much of her volunteerism is in the Jewish community, she says she was very pleased the association realized the value of her work.
Having been recognized by her professional community, she is pleased that her Jewish community is honoring her now.
"The Kipnis Award is a big honor. Look at those who came before me," she says.