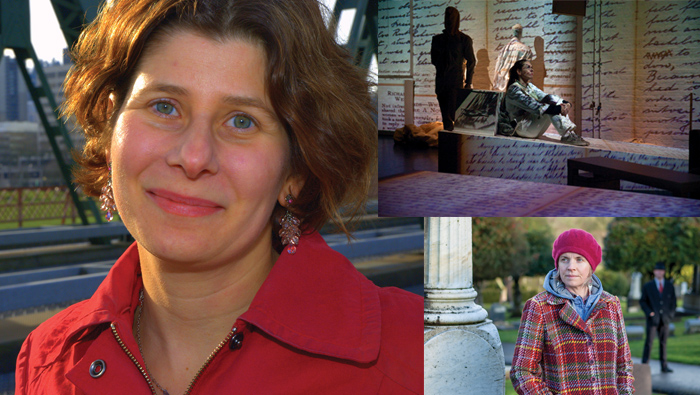 For playwright Andrea Stolowitz, weaving pieces of history into a story is what she does best. So when she came across her great-grandfather's diary in 2013 at the U.S. Holocaust Memorial Museum archives, she knew she had to weave it into a play that could be performed for a larger audience.
Andrea, who lives in Portland with her husband and children, had been writing plays since she discovered her passion for it during her undergraduate studies. She has never before written a story so personal and connected to her roots.
Andrea's great-grandfather, Max Cohnreich, escaped Berlin in 1936 and settled in New York City. In 1939, he began keeping a diary about his experiences as a new immigrant for his yet-to-be-born grandchildren. Andrea says her great-grandfather's English was good by 1939, but not perfect, and she spent over a year reading and developing the text of his journal. She spent 2014- 2015 in Berlin on a Fulbright scholarship to find clues about his life and doing the work to bring his journal to life.
"Once I began reading the diary, I realized it didn't answer all the questions I had about my family," Andrea says. She set to work to uncover her great-grandfather's social network in Berlin, reconnecting with long-lost family and trying to find pieces of his life.
The global refugee crisis was at the forefront of Andrea's mind as she wrote the play. During the year she spent in Berlin, already almost 1 million people had claimed asylum in Germany. She was surrounded by immigrants whose struggles paralleled those of her great-grandfather.
"I was there working on a story about people fleeing Germany at the same time as people were fleeing their countries to come to Germany. I drew on the parallel of what it means to assimilate and what it means to lose your home," she says.
In "Berlin Diary," Andrea explores the process of cracking clues left in great-grandfather's diary to better understand his life in Berlin and then as a new immigrant.
"It was interesting to see Germany as the same place that created a huge refugee crisis and is now the home to refugees – and the similarity of the traumas. And seeing the trauma of the people who were coming made me understand the trauma of my relatives better," she says.
While Jewish refugees from other parts of Europe fled the German invaders, "the German Jews, such as my great-grandfather, have the duality of, this is their home too," Andrea says.
Andrea is a character in the play and says the story is really about her. It's the first time she's written in this format, but says it's the first time she's written on a topic that calls for it.
"The story craves the specific and that's the reality of it," she says. "There is a lot of power in the way the story is told."
The play premiered at the English Theatre Berlin in October 2016 after her year of work in the city. She has been a Resident Artist at Portland's Artist Repertory Theater since 2014, a position she continued while in Berlin.
She has worked closely with the production team to bring "Berlin Diary" to life in Portland.
Andrea began her undergraduate studies as a Russian literature major. She studied abroad in Moscow in 1992, a time that sparked her love for theater. The government was in shambles, she says, and the university was forced to close. This meant she had plenty of time to attend plays, which were cheap and lively.
"I hadn't realized the social impact that live events could have. Here was a country falling apart, but the theater was still full," she says. The bustling theater left an impact, inspiring her to write plays of her own.
"Before that, I had never seen theater as a way to share stories communally to process history."
She finished her undergrad degree at Barnard College in New York City and then earned an M.F.A. in playwriting from UC-San Diego. She has since served on the faculties at Willamette University, The University of Portland, Duke University and UC-San Diego and has written a number of plays that have premiered across the country.
"Berlin Diary" was named one of the Top Ten 2017 New Jewish Plays by the Jewish Plays Project.
"On a theatrical level, 'Berlin Diary' is daring and exciting, stretching the formal bounds of what a play can be in amazing ways," says JPP Artistic Director David Winitsky.
Generally JPP avoids World War II-era plays, says David, "but this play looks very clearly at the way in which contemporary Jews – especially those who are less involved in daily Jewish life – continue to find connection and meaning in the memory of the Shoah. How do we process the Holocaust, how does it still define who we are as a people and as individuals, and what does all of it have to do with our fast-paced, 21st century lives?
"Andrea is getting into these questions with innovative theater, bitingly honest comedy and a big, big heart."
In addition to the Portland performances, Hand2Mouth Theatre will run a series of events alongside the run of the show on Sunday afternoons. Hand2Mouth received a large Metro grant for the programming (see box page 46).
"Berlin Diary" premiered at English Theatre Berlin in October 2016. The play was supported through a 2014-15 DAAD faculty research fellowship, a yearlong residency at the English Theatre Berlin/International Performing Arts Center, and grants from the Oregon Arts Commission, The Regional Arts and Culture Council, The Checkpoint Charlie Foundation and The U.S. Embassy. The play was developed at PlayPenn and the New Harmony Project.
"BERLIN DIARY"
Presented by Hand2Mouth in association with CoHo productions
WHEN: April 15-April 30, Thursday-Saturday 7:30 pm, Sunday 3 pm
WHERE: CoHo Theatre, 2257 NW Raleigh St.
TICKETS: Cohoproductions.org
Related Sunday afternoon events:
April 16: Searching for Family: a panel of personal stories of the challenges and rewards of genealogical searches in the face of mass displacement. Stories will draw from a range of experiences and perspectives, including Africa, the Middle East and Eastern Europe.
April 23: The Future of the Archive: an introduction to archiving in the digital age. This event will precede the 3 pm matinee performance and be a workshop that asks participants to reflect on choosing what to preserve, as well as best practices for personal archiving. It will outline how to keep digital information in formats that will most likely be accessible 20 years, 50 years or 200 years from now.
April 30: 21st Century Berlin & the Jewish Diaspora: this panel will examine Berlin's place in the contemporary Jewish Diaspora in light of the fact that Israelis are the second-largest group to hold German passports (after the Germans themselves). How does this reflect Germany's approach to reconciliation and memorialization of the Holocaust?