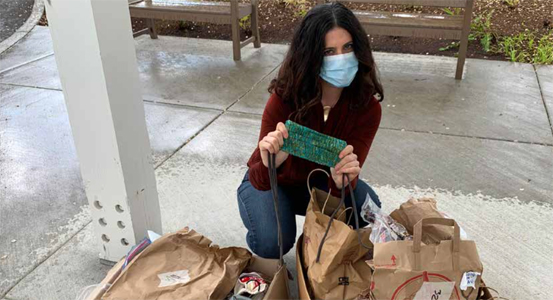 Photo: Lisa Schneiderman making a delivery of masks made by Sew to Save volunteers.
Lisa Schneiderman's 20 years as a publicist have brought her the extraordinary experiences of living in Hollywood, red carpet events, and meeting with her celebrity clientele. But the one constant for her amid the glitz and glamour of her profession has always been her passion for seeking and sharing the positive, especially bringing attention to those making a difference.
With the onset of the pandemic, Lisa had no way to predict that she would be thrust into a whole different enterprise. But being the public relations professional she is, and her strong desire for tikkun olam, she couldn't just sit by when there was such a need.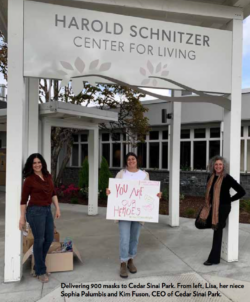 SEW TO SAVE
"I was hoping to create some positive social impact, it's one of those things where you have an idea, and you think, 'OK I'm just going to throw this up against the wall and see if it's going to stick,' and this one definitely did!" jokes Lisa.
It all started with a phone call to a friend who has been a labor and delivery nurse in Portland for more than 30 years.
"Lisa, we are delivering babies without masks," she said. Lisa couldn't believe what she was hearing. She asked her what she needed, and the nurse responded that she needed 1,000 masks for the labor and delivery department and 200 masks for their clinic.
"I told her, 'I'm going to get you your masks,' and we said a prayer, and she went off to deliver more babies, and I started calling everyone I knew, seeing who could help," says Lisa.
Lisa started doing research, and she found plenty of Facebook groups popping up with people making masks, but she thought, "We have to have this all organized – the only way I can do this is if it's automated."
She also reached out to hospitals firsthand, thinking that they would be the best place to start to gauge interest and get a feel for the need. But the hospitals all said, "No, thank you." They explained that they weren't taking homemade masks or they had their own supply chain.
But the contradiction was that Lisa's friends, who are doctors and nurses, were all working for these big establishments, and they didn't have any of the masks that they desperately needed.
So, Lisa decided, "Our little volunteer effort here in Portland, OR, is going to go doctor to doctor, nurse to nurse, and that's how we're going to do it."
One of the doctors she reached out to told her that standard protocol was to use one mask per patient, but lately, in the ER, they were only given one mask per day.
He told her that in order to clean the masks, they were going to the liquor store and buying Everclear grain alcohol, putting it in a spray bottle, spraying the masks, and letting them sit for 10 minutes to dry. The team carried out this process between each patient.
Lisa called ShiloRune, a creative tech company, and they spent all day on a Saturday working out the kinks on a website (sewtosave.org). They created three tabs and a simple form to fill out: are you a sewer, a delivery driver, or do you need a mask?
With a website, now Lisa had to think of a way to get the word out, but she feared that she would get too many requests in and not be able to fill the orders.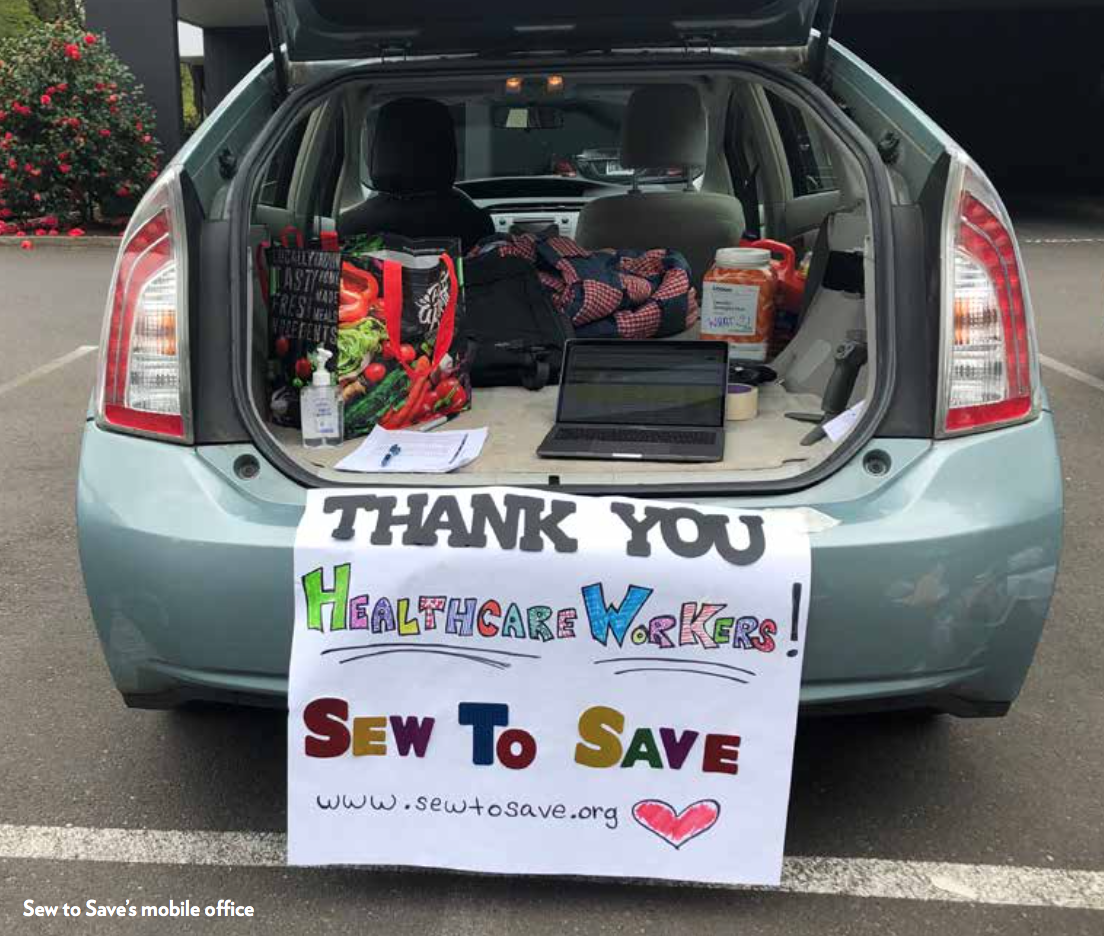 First, she put up a Sew to Save Facebook page and immediately received a response from 25 people who would like to sew. She received responses from more volunteers when she posted Sew to Save on her personal Facebook page.
Lisa then called KGW, the NBC affiliate television station in Portland, and told them the story and that they had 25 sewers, but needed more because they had already received orders for 1,500 masks.
The piece initially aired on a Sunday night. They repeated it during the newscast at 5 and 6 am Monday morning. "By 6:30 am, I was getting notifications every 20 minutes to my inbox – every time someone fills out a form," says Lisa. Sew to Save went from 25 sewers to 354 in 12 hours. They also went from 1,500 masks being requested to 5,000.
The KGW piece attracted doctors, health care workers and first responders from all over the city. She also received an unexpected request from Jewish Family & Child Service.
"They needed masks because they have more than 100 Holocaust survivors and they don't have anybody to do their grocery shopping, so they need masks to go grocery shopping," says Lisa. "They're also considered first responders, so I couldn't say no."
Sew to Save had its first delivery on April 9. They delivered 200 masks to 17 physicians and nurses.
"I was coordinating the 18 people that it took just to deliver those 200 masks," says Lisa. I had nine mask makers fill out the form who had 25 or more finished masks to pick up, and then I had
to coordinate those nine people from all over the city with nine delivery drivers."
The timeline from when Lisa had her initial conversation with her nurse friend from labor and delivery to when the site was up and taking orders was just a week and a half. "That was a huge feat in and of itself because I've never done that before," says Lisa.
"It's in my blood, but at the same time organizing it and figuring it out ­– I need to get some interns to help because it's a lot to coordinate," admits Lisa
She plans on keeping Sew to Save up and running as long they have sewers showing up and making masks as long as they have drivers to deliver them. "As long as we have requests coming in, we're going to keep this puppy going," she says. This is all in addition to her full-time job running Schneiderman Productions, Inc. (schneidermanproductionsinc.com).
As of April 17, Sew to Save had more than 600 volunteers sewing masks.
DISCOVERING HER KNACK
Growing up in Portland, Lisa attended Raleigh Hills Elementary School and Beaverton High School and her family were members of Tifereth Israel, which her great-grandparents helped found.
The Schneiderman home was always filled with music, and Lisa and her sisters, Kim Schneiderman (a musician and music specialist at Portland Jewish Academy) and Stephanie Schneiderman (a musician, songwriter and recording artist) recorded the popular Oy Baby! and That Baby! CD series.
"We spent a lot of time with our grandparents on both sides and I feel grateful we grew up with them," remembers Lisa. "It was nice to grow up in a big family and pass down the traditions that were passed down to our parents, like Shabbat dinners and lighting the candles, the importance of community."
Lisa attended the University of California San Diego in La Jolla, CA, and graduated with a communication degree with a specialty in film and video production.
"I always knew I wanted to do something in communication," she says. "We had a family friend who said, 'You know what? You'd be great at public relations. I know a position open in Oregon.' I was still living in San Diego but thinking about moving back home. I interviewed, and I got it."
Lisa's first job out of college was as public relations director at the publishing house Beyond Words. It was there that she realized she had a knack for public relations.
She worked at Beyond Words from 1994 to 1998. Every season the company published between 12 to 15 new titles.
Lisa's responsibility was to get these authors into the public eye. "Our authors were all over the country," says Lisa.  "We would send our authors on tour and I would pitch local press in different cities for them, wherever they lived, and I would also pitch nationally."
Beyond Words also printed coffee table books, and through this, celebrity photographer, Veronique Vial, became one of Lisa's clients. Veronique created Men Before 10 AM. The book revealed a secret peek into the lives of celebrities such as Keanu Reeves, Jack Nicholson, John Singleton, Arthur Miller and others first thing in the morning.
Lisa got Veronique onto "Entertainment Tonight," and being pleased with her representation, she asked Lisa in her thick French accent if she wanted to leave Beyond Words and have Veronique as her first independent PR client?
"It was a great experience, and I was ready to get on my own," says Lisa. "The premise of that publishing house was really about good messages. So I was interested in putting out good work and positive messages in the world. That became my motto when I first started my business."
In 1998, Lisa started her own business with Veronique as her first client with her new book, Women Before 10 AM. This time 100 female celebrities were in the spotlight first thing in the morning.
Lisa ended up booking Veronique on "The Oprah Winfrey Show," so she flew to Venice Beach for the shoot, which was scheduled to happen at Veronique's home.
Veronique was to reenact one of her "surprise" morning photoshoots with a celebrity. Only the celebrity, Jennifer Beals, was a no show.
Being the dedicated professional she was, Lisa stepped in. "The whole thing was hilarious," says Lisa. "I had to lay on the bed and pretend to be asleep while Veronique says, 'good morning!' There were three cameramen over the bed with two cameras in my face and I was being directed by the producers – but I was on Oprah."
Veronique was very instrumental in the growth of Lisa's business. She told Lisa if she moved to California, she would set her up to do red carpet events with nonprofit organizations and connect her to celebrities.
She moved in 2000. "I pulled together a little boutique agency out of my place in Santa Monica," says Lisa. "I had two full-time assistants and interns – we were really busy."
For five years, she organized red carpet events in which a nonprofit would reach out to her and she would coordinate all aspects of the event from booking the venue to finding items for a silent auction to locating celebrities whose views aligned with the nonprofit's cause.
It was during this time, that Lisa had three separate people on three different occasions tell her that she needed to meet Lee Solters. "You know how sometimes things come in threes?" says Lisa. "Well, after the third time, I thought, 'I should find out who this man is.' "
THURSDAYS WITH LEE
Lisa soon found out that Lee Solters was a legendary Hollywood publicist who represented Frank Sinatra, Barbra Streisand, Ray Charles, Dolly Parton, Susan Sarandon, and David Geffen among others.
She reached out and Lee agreed to give her 20 minutes. Their first meeting lasted for three hours.
At the end of the meeting, Lee asked Lisa, "Where do you see yourself in five years?" and she replied, "Sitting in your chair."
She honestly didn't know why that came out of her mouth, but from that point on, the octogenarian took her under his wing and treated her as if she were family.
For the next six months, he became her mentor, and they would have dinner every Thursday night. "He would tell me all these stories about traveling with the Rat Pack and Barbra Streisand," remembers Lisa. "I did not take those moments with him for granted for one second. It was unbelievable."
One of her favorite stories was when Lee arranged publicity for the grand opening of the iconic Nate 'n Al's deli in Beverly Hills.
He threw the soiree at a hotel with an Olympic-size swimming pool. Lee invited celebrities and press, and he turned the pool into a giant bowl of matzo ball soup.
"I don't know how he did it, he must have gotten people from Disney, or somebody, to make the noodles and these huge balls that looked like matzo balls," says Lisa. "They even turned the water the color of the broth."
The press went wild when Lee fell into the pool on "accident." Lisa jokes that it would have gone viral if they had the internet then.
One day, Lee offered Lisa the position of executive vice president at his firm, Solters & Digney.
"I was very honored that he asked me to do that," says Lisa. "I was there for two years."
While she worked at Solters & Digney, she had the chance to revisit one of her passions from college – film.
"They asked me if I wanted to head up film acquisitions, and I said absolutely," says Lisa. As they attracted more independent film clients, Lisa began developing relationships with Warner Brothers and producing screening events.
I was like Lee's sidekick for all of those big events," remembers Lisa. "He took me to all those events, and I just met everybody in Hollywood because of Lee."
LASTING LEGACIES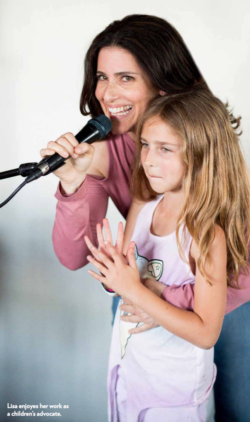 Lisa left Hollywood in 2005. "I was inspired by that experience, and I was also burned out," says Lisa. "So I decided to take a six-month hiatus and do some soul searching and
get clear on what I wanted to. What was really my passion?"
During this time, what kept coming to Lisa was that she had been a children's advocate her whole life. She started babysitting at a young age, was very active in BBYO and was a camp counselor.
In 2006, Lisa decided to create an organization called Revolution Y.E.S. (Youth Engaged in Service), inspired by the lengthy Thursday dinner conversation with Lee that veered to the topic of leaving a legacy and the work she did in her early 20s with at-risk youth.
When she first started at Beyond Words, Lisa got involved with an organization called Committed Partners for Youth. This volunteer-based program would provide middle school children who were deemed "at-risk," either because of their grades or home life, and give them the chance to change their lives for the better through a year-long program.
Lisa worked with that organization for 10 years and heard devastating stories of abuse from these kids. She started to reflect on her conversations with Lee about celebrities and pop culture and how a lot of the celebrities that kids idolized were not very good role models.
She started thinking about how hard it is for kids who are working on themselves to change their life for the better, to see celebrities behaving badly and still gaining popularity.
"I was tracking celebrities and starting to make a list of ones that we're attaching themselves to help elevate causes versus celebrities that were doing it promote their own name," says Lisa.
"I needed to start a revolution – the good kind of revolution," she says.
So she returned to the red carpet, but instead of being a publicist, she became a journalist.
"I interviewed more than 400 celebrities about, 'What are they doing to make a difference in the world with their favorite cause?' and  'How do they think Hollywood is influencing society, especially our young people?' " She would also ask them what kind of legacy they would like to leave behind.
Lisa often reflects on that question herself. She believes growing up Jewish, "I was more driven
with being involved in causes than anything else. The experience that I had in the B'nai B'rith organization impacted me with tikkun olam for sure."
I think the more we can inspire our kids to be of service in the world, to help others, you just have a better society."