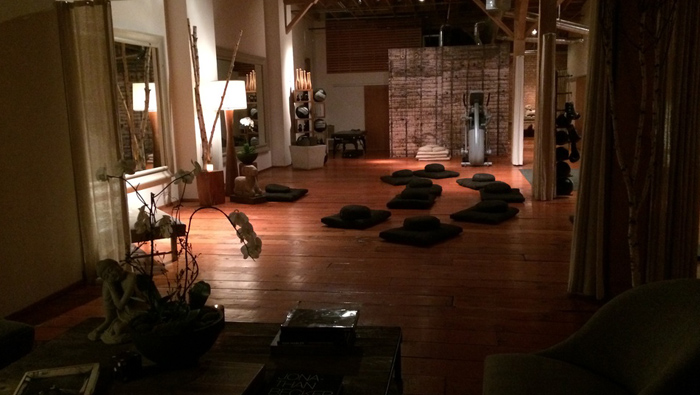 On the edge of Portland's Pearl District sits a hidden gem, a lifestyle studio that provides personalized training and services in a private and serene setting.
"You are the first person to come into this space and share it with a wider community," Morgan Dancer, owner and creator of Studio Define, tells me as we sit in the comfortable, family room-style entry that looks across the workout area and the kitchen. The only areas walled off are the two luxurious changing rooms with indulgent showers and the massage room at the far end of the high-ceiled space in a converted warehouse.
"I need it to stay a bit of a secret," she says. "People who are here are truly here because they are supposed to be doing the work we do."
Artists, executives, entrepreneurs and entertainers, including the actors of Leverage and Grimm, have found their way to Studio Define.
The privacy caters to clients who "want to be left alone. They feel normalized in this container."
"The physical realm is the way they show up, but they quickly realize this is not an in and out," says Morgan. "Lifestyle is truly what we do."
In addition to personal training, Studio Define offers massage, meditation, private dinners and a place to work in a setting where creativity can flow. There are no televisions, magazines or other distractions.
People don't say they are going to the gym, they say "we are going to Morgan's, … to my sanctuary, my oasis, my temple."
"A client told me I cater to Type-A personalities who are soul searchers," says Morgan. "Our clients are people helping to shape Portland. Lee is one of them."
Public relations guru Lee Weinstein, whom I'd interviewed and featured as our November cover subject, was my ticket into Morgan's. Delighted by the story I crafted about his family and life, he persuaded Morgan to see me. I'd asked if he had any Jewish clients who would make an interesting story. Instead he referred me to his Jewish personal trainer, Morgan Dancer.
While photos of Studio Define can be seen in catalogues and film, Morgan was reluctant to have me photograph the private space. Film companies and photographers for catalogues use the aesthetics of the place while maintaining its air of anonymity.
"Define is a beautiful, relaxing sanctuary, unlike normal gyms and workout facilities," says Lee. "What Morgan has created is unlike anything I've ever seen or experienced. It's made all the difference in my world, physically and mentally."
He says the studio's talented team treats each person as an individual.
Before finding Define, Lee says he would often skip his gym time "to hunker down and get work done."
"Having an appointment with a personal trainer at Define has made all the difference in the world. I now have muscle mass and better flexibility than ever, something I've always wanted. I've never missed an appointment because I know I have someone waiting. Define time is solely my time, and the other clients all get what a special place this is."
Most of those clients have been with her for five to 12 years, says Morgan. Many come in four or five times a week – sometimes to work out or for a massage, sometimes just to get their creative juices flowing in a place encompassing beauty through the senses. The studio draws on Morgan's background in food (she's a former chef at the legendary Portland restaurant Zefiro), film (she worked for ESPN) and athletics (she managed a professional boxer who fought for the world title in South Korea).
While her path has meandered around the globe, Oregon keeps pulling her home.
In the 1960s, Morgan's parents, Karin Peers and Jeffrey Jacobsen, "rode the hippy brigade" from New York City to southern Oregon. Morgan was born in Applegate, near Ashland. But when she was about 6 months old her mom decided she wasn't ready for the West Coast and the family returned to New York. After the family split up when Morgan was 5, Morgan and her Bohemian artist mom returned to the state, moving to Eugene.
Morgan describes her father as more conservative. He has family ties to Israel and grew up attending Hebrew school. Her mother's Eastern European roots gave Morgan Jewish experiences and culture, but she and her mom didn't affiliate with the organized Jewish community.
Morgan came to Portland as a teenager and learned to cook under the mentorship of Zefiro head chef Chris Israel. At age 21, she was hired to move to Australia to open a restaurant. Six months later the same investors sent her to California to open a Latin restaurant.
A lifelong athlete, Morgan moved to Seattle and became involved in boxing and ESPN.
But Portland's food scene called her home. She worked again at Zefiro just before it closed in 2000.
Then she decided to explore a wider vision that used all her talents.
"I created the whole thing top to bottom," Morgan says of Studio Define.
The aesthetics, the commitment to each person, the food all combine to make Studio Define a place reminiscent of the Zefiro mystique and its clientele of rich celebrities and creative Bohemians – all blending into a stew that is uniquely Portland.