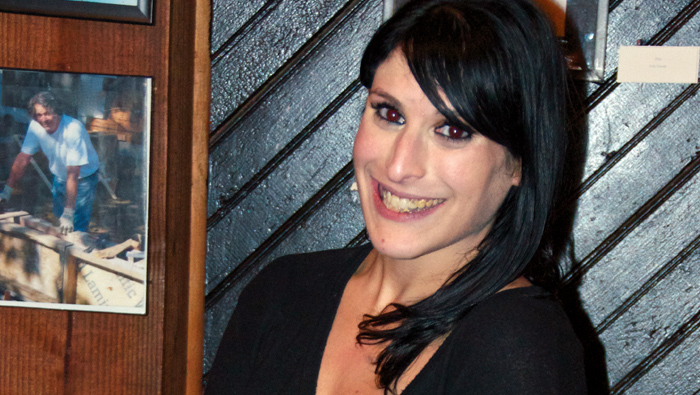 Maybe growing up in a seriously Jewish home leads some people to take refuge in a life of comedy. Or could it be that laughter has been the greatest cure for all the trials and tribulations Jews have endured throughout history? Whatever the reason, our tribe has certainly contributed more than its fair share of comedians to the world.
Portland comedian Natalie Logsdon certainly got into the game at a young age; she began her comedy career when she was voted funniest female at her eighth-grade graduation.
"Yeah, I kind of worked at being funny," she says. "I started by memorizing pages from one of those 'Truly Tasteless Jokes' books when I was in seventh grade. By the time a year had gone by, I'd established a fan base in the cafeteria. Each morning, they'd welcome me with, 'What's the joke of the day, Natalie?' "
"Not everyone approved, however. One of my best Christian friends wrote a letter telling me that my jokes were sinful, so she was going to pray each day to save me. I thought, 'That's not so bad. I get to joke sinfully, and she gets to make it right for me in heaven.' Can you believe that 25 years later we're still good friends? But I think she gave up praying for me, 'cause she never again mentioned that letter, and meanwhile I'm still telling questionably respectable jokes."
Born in North Carolina, but brought up in southwest Eugene, Natalie found plenty of joke material at home.
"I was raised by a Jewish mother and Catholic father with exposure to many varieties of guilt and some priceless traditions on both sides," Natalie says. "Can you imagine? … If you think that's confusing, consider how I felt when, just when I began feeling comfortably Jewish, I found out that I and my younger brother were secretly baptized by my dad when we were too young to know the difference between holy water and a bath in the kitchen sink."
Natalie's brother took a more serious path. "He made aliyah, then became a soldier and officer in the IDF, and is now an Israeli citizen and university student," she says. "I would have followed exactly the same path, but I'm allergic to bullets."
A very Jewish New York grandmother also played an important role in her sense of humor and upbringing. But unlike New York, Oregon wasn't exactly a citadel of diversity. "Yeah, every week friends in grade school would say stuff like, 'Why are you Jewish?' as if it were a choice like, 'Why are you vegan?' … I was definitely The Other."
Natalie never drank or used drugs in high school, but she got online bullied when she dated a guy that another girl liked. "Yup, she and her gal-pals started spreading online rumors about me, but they were naive about how easy it was to digitally trace back to the origins of those messages. They got busted and were suspended for a week. Ha!"
At 14, Natalie took a class at Lane Community College on stand-up performance. Her first year, she placed third in the Eugene Laugh Off, even though she was the youngest competitor there. She continued performing at local clubs, the Eugene Celebration, the Northwest Women's Comedy Festival and at a fundraiser for Temple Beth Israel, sometimes requiring special dispensation as an underage performer.
Natalie also had a gift for improvisation, successfully auditioning for the high school theater group "Chock full of funny" and becoming the youngest member to join a local chapter of the international improv comedy troupe Comedysportz.
At 19 she moved to attend UCLA as a science major. "I was thinking medical school, psychology, brain science. But get this: I've got the world's only Jewish mother who didn't want her kid to become a doctor. Marry one? Sure. But for me she says, 'Go be a comic. You'll be happier.'"
"Shortly after turning 22, I reconnected with a guy I had the biggest crush on several years earlier. After spending less than a week together, he says, 'Move to Portland, we'll live together, and probably get married.' So I go. Three months later, he drunkenly proposed to me in a hot tub. From there, our story played out like episodes of Comedy Central's 'Drunk History' combined with 'Cops.' Not a lot of planning on my part."
After a little abuse, a lot of alcohol and his aunt suggesting that Natalie should convert in order to stop his drinking, she'd had enough.
"I divorced him and got a rescue dog instead. Worked out much better. And the dog was neutered before we met. The rescue facility said it made males much gentler and easier to train. So then I started thinking, 'What if my ex-husband …' Wait, no, I won't even go there!"
Natalie restarted her comedy career in Portland. She's frequently a featured performer at Sam Bond's Garage in Eugene and is taking part in Portland's Bridgetown Comedy Festival running May 4 through May 7. In the meantime, follow her on Twitter (@Natalie_May) for the latest show, events and fundraiser dates and times, as well as random details about her life.