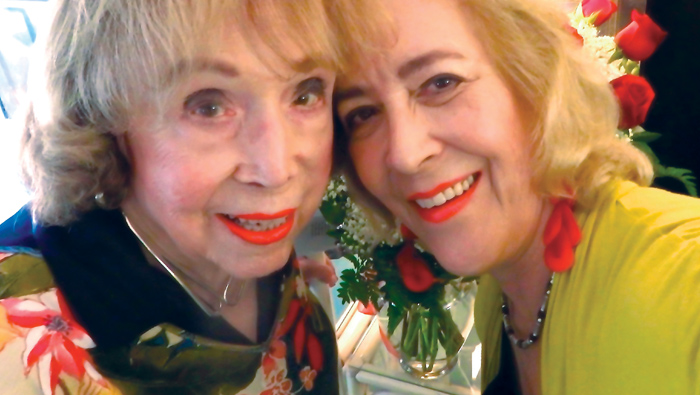 A 101-year-old artist's first show and the Northwest premiere of a play about aging will work in concert to explore how art and technology preserve personal identity as memories fade. The parallel presentations will be at Artist Repertory Theatre, Feb. 7-March 5.
"It's About Time" is the title of Estelle Meadoff's exhibit, which will feature collages and paintings that she creates prolifically. A former Artists Rep board member, her daughter, Jan Baross, 73, showed some of her mother's work to Amy Henderson, the executive director of the Geezer Gallery, which is in residence at ART.
In general, Geezer Gallery invites elder artists to read a script and create visual art responding to the play. But when Amy saw Estelle's work she realized it was a perfect complement to ART's upcoming production of "Marjorie Prime," in which 85-year-old Marjorie struggles to keep hold of her memories and identity, assisted by an artificial version of her late husband.
"This was the other way around," says Amy. "The work is not tied to the play, Estelle is."
" 'Marjorie Prime' is a story about aging and how identity is defined by memory and what happens when memory starts to fade," says Amy. "Jan's mom, who will turn 102 as the play ends, is in the last years of a long life. As memories fade, she uses her painting to make memories immortal, to document things that inspire her. Painting is something to look forward to; it's not just nostalgia. As we grow older, many of us have a hard time looking forward."
Also an artist, Jan sketches Artist Rep plays when she is in town. She travels frequently sketching places she visits and producing books on what she finds. Her most recent book, Ms Baross goes to Cuba, grew out of a writers tour to Cuba in October 2015. She also spends a few months at an artists' village in Mexico each year.
The last time she visited her mom, who lives in California, Estelle packed about 50 of her paintings in a large suitcase and told Jan to take them because she didn't have room for all her work.
Describing her approach to art, Estelle says, "My paintings and collages are spread around my kitchen, and I work at layering and painting them a little at a time. But I work quickly and sometimes I make several a day."
For her mom's first show, Jan shares this condensed history of Estelle's life:
Born on March 15, 1915, in Memphis, she earned a master's degree from UCLA in social work, married Dr. Nathan Meadoff, an orthopedic surgeon, and lived in Bakersfield, CA, for 25 years. She was involved in politics, played bridge and raised two children. After her husband's death at age 54 in 1967, she moved to London and lived in a five-star hotel for 30 years. She attended painting classes at West Dean College and various locations on the continent. At age 83 she moved to Santa Barbara, where she now lives in a hotel suite. … The only concession to old age is a walker, which she usually forgets to use. She gave up driving at 98, wears glasses to read and is careful about her diet, but thinks exercise is "an abomination."
"She paints voraciously," says Amy. "Estelle's creative efforts will help us provide access to the arts for seniors without the means to participate."
Proceeds from artwork sold at the gallery are divided between the artist and the gallery to support its programs for seniors. The Geezer Gallery provides therapeutic arts programming for low-income seniors in the Portland metro area.
Amy encourages people to drop by the gallery anytime the ART box office is open. Geezer Gallery shows are open throughout the day, not just before and after the play.
The ART
of Aging
Feb. 7-March 5
Artists Repertory Theatre & Geezer Gallery
Present
"Marjorie Prime" on the
Alder Stage
"It's About Time" in the
Morrison lobby
Play tickets: artistsrep.org, 503-241-1278, or box office at 1515 SW Morrison, Portland.
Gallery admission: free during Artists Rep box office hours, noon-6 pm, Tuesday-Sunday and during evening shows.